Welcome to my 1K Daily System review. Today we're going to be taking a look at the latest release from Glynn Kosky to see what he's come up with this time.
If you haven't come across Glynn Kosky you might be surprised to hear he hasn't got the best reputation for putting together the best products, I have reviewed a fair number and I have to agree.
Hopefully he's put together something worthwhile this time round and by the end of this in depth 1K Daily System review you will definitely know either way.
Just to give you some idea of what this review will cover, I'm going to go through the actual product before looking at the sales page to see if what they are claiming on there compares favourably to the product.
When we know that we can tell you who this product would benefit the most, be that you or just the vendor.
We'll highlight any good points as well as any bad points before taking a tour of the members area and having a look at the upsells to see what they are and how much they are going to cost you.
If you manage to stick around til the end you'll find out our final thoughts as to whether this is a product that would be a good buy for you or if you should stay as far away from it as possible.
No doubt you've got emails promoting this, singing it's praises, now's the time to get the truth….
NAME: 1K Daily System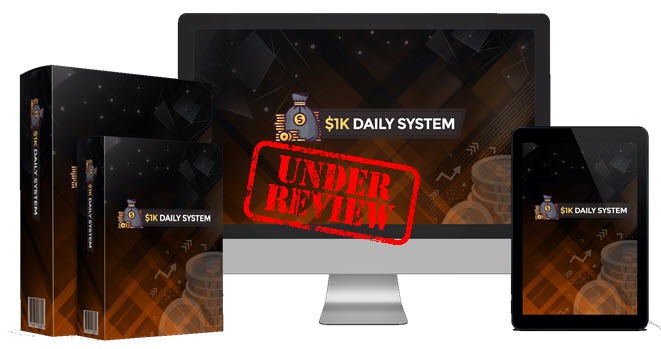 OWNERS: Glynn Kosky & Leigh Kosky
PRICE: $17
WEBSITE: http://1kdailysystem.net/
1K Daily System Review – What's It About?
In order to have something to compare to the sales page we first need to know what this product is all about and whenever I have review access I always find the best way to do that is to have a look at the training.

As with a few products lately this is about promoting high ticket webinars, I actually reviewed one just the other day.
This one has four products for you to promote:
Simple Wifi Profits
Passive Income System
Project Profit Academy
Super Affiliate System
Each of these have their own opt in page that has been done for you, but this has something else, an exit intent redirect that takes the visitor to the webinar should they go to leave the opt in page without giving their email.
It then has another exit intent pop up in the form of a free gift if they watch the webinar. If they take you up on that offer they need to give you their email in order to download the free gift which then means you can build a relationship with your list.
The trouble starts with most products like this when it comes to getting traffic to your opt in page, generally it involves paying for it.
This has a number of ways to get traffic, within the dashboard you can share your campaign on all the major social media site as well as some very obscure ones that I've never even heard of.
Unless you have a massive following this way of getting traffic isn't going to work.
Within the tutorials you actually have different strategies that you can use, Solo Ads, YouTube placement Ads and free ways to get traffic to your opt in page.
In a separate module of the menu you have a dedicated traffic section where they several of their old products including Viral News Jacker, Affiliate Traffic Lab and Triple Traffic bots.
There is also a link for free traffic which is a form you fill in and have to be a member for at least 5 days. I have no idea where these clicks are going to come from as they don't tell you.
That is basically what 1K Daily System is all about.
1K Daily System Sales Page
Now we know what's involved with this let's take a quick look at the sales page to see what the vendors have to say about this.
One thing I will say is they do like to use the claim of being "Worlds 1st" they use it in so many of their products, take a look at this headline from their last product I reviewed:
That's the other claim they love to make, everything done in 60 seconds. Hopefully you know that is complete BS and it's just not possible.
There seems to be some sort of unwritten rule when it comes to building sales pages either that or these vendors are all using the same person to build them because they all claim that you can get game changing results in just 3 steps which again is total BS.
Take a look at the 3 steps this reckons will propel you to untold riches:
Step 1 – Grab your copy of 1K Daily System
Step 2 – Configure some basic settings and add your affiliate links
Step 3 – Sit back and watch the $1,000+ sales roll in
?????????????
Who are they trying to kid? What about getting the traffic? Even with traffic doesn't mean you'll be getting any sales let alone $1,000 ones.
They then try and relate the success of people like Anik Singal and Alex Becker to this system, I'm not sure how much more BS they can fit on this sales page.
I think they are suffering from a severe case of verbal diarrhoea.
I'm not sure if the person who has done the copy for this page has got the right brief because you're going to have to pay for traffic and you are going to have to spam your social media accounts.
He reckons that this has 100% free traffic included that is going ot get you targeted visitors in record time, well in the training he admits that free methods can take months to see any results.
I really think you shouldn't take a blind bit of notice of the claims on the sales page, they are just wishful thinking.
Who Is 1K Daily System For?
I think for this to work you're going to need to pay for traffic so this is only going to be suitable to people who have enough money to experiment with Solo ads which are very expensive and by no means guarantee any sales.
But if you have the money to spare then this would benefit someone who is new because all the pages are already set up for you.
Of course if you do have a very large social media presence then you could try that, but it needs to be really big to see any sort of success.
The Good Bits
180 day money back guarantee
Done for you opt in pages
Exit intent redirection
The Bad Bits
High ticket products reduce the amount of potential customers
Have to create your own email follow up sequence
Totally unrealistic sales page
Paying for Solo Ads
Inside The Members Area
Let's go over what you're going to find inside the members area of 1K Daily System should you decide to buy this. After you buy this, but before you get access you'll see the upsells which I don't recommend you get, at the moment anyway.
I'll explain why in the next section.
Once you get past the upsells and have logged in you'll see this dashboard:
The first place you're going to want to go to is the tutorials to get an understanding of how things work. Having been through the entire training I can say that it is pretty straightforward and there is nothing too complicated about this.
The Oto's
Right, let's tackle these upsells shall we. This has totally unnecessary amount of OTO's, 7 in total and they all add up to a lot of money.
Now, the reason I said earlier not to buy them is because of the amount of money you could potentially lose. Vendors have been known to make a big deal about the money back guarantee on the front end, but then leave it off the upsells.
You naturally assume everything has a money back guarantee and buy them, you only find out you've lost all your money when you try and get a refund and get told you can't.
The same thing happened Matthew when he lost $600 on upsells, you can read his comment here.
As they say, forewarned is forearmed and hopefully you won't fall into that trap 🙂
OTO #1 – Unlimited version – $67 with a downsell to $37
OTO #2 – 100% Done for you – $97 with a downsell to $67
OTO #3 – Unlimited Traffic – $147 with a downsell to $47
OTO #4 – $30k in 30 days – $147 with a downsell to $47
OTO #5 – Super Affiliate – $97 with a downsell to $37
OTO #6 – License rights – $147 with a downsell to $67
OTO #7 – Auto profit boost – $47 with a downsell to $37
That little lot will set you back an eye watering $749! That's just totally ridiculous.
Do you need these? No way. I would suggest you try the front end first and have success with it then you can always get these then if you want because they are available inside the members area anyway.
And to get the discounts all you need to do is click "No Thanks" at the bottom of each page 🙂
Support
Knowing that you have support when you buy a product is extremely important, you need to know that any problems you run into can be sorted out with the minimum of fuss.
Unfortunately the vendors have a bit of history when it comes to offering support.
As you can see Jon had a bit of trouble when he bought one of their other products, xPress Funnels, rather than help they just tried to offer him upsells.
Final Thoughts
There seems to be an influx of products lately all having to do with promoting high ticket products. I can see the logic behind it you only have to sell one or two to make what would take you loads of sales for 'normal' products.
The trouble is the pool from which you have potential buyers is a lot smaller and because of that getting those sales is going to take a lot longer.
That means you're going to have to spend more on Solo Ads to stand any chance of making just one sale. Forget about using social media, that isn't going to cut it, you're going to need to pay for your traffic.
With that being said this does have a place. If you aren't worried about the amount of money you spend and if you aren't looking for quick results then this may be right up your street.
You can almost set and forget about this, all you need to do is keep the traffic coming and that does count a lot of people out of using this.
Most people are looking to make money, not spend it.
I'm really split on this one, the sales page is terrible, full of unrealistic claims, but the product does work and because of that and its potential I will be approving this, only just though.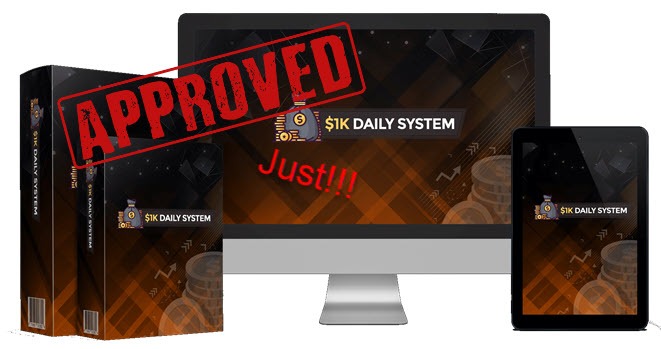 What Next?
I hope this 1K Daily System review has told you what you wanted to know and if you are less than impressed and are still looking for something then this next part is just for you.
Within the training he does touch on using free traffic to send to your offer, but as he rightly says getting free traffic takes time, you also need to know how to do it right otherwise you're just wasting your time.
I recommend using Wealthy Affiliate. They have been around for the last 15 years and I've been a member for 5 of those. I have written a full WA review that you can take a look at to get a better idea of who they are and what they can do for you.
If you like what you see and could see yourself doing that I have some great news for you. At the moment it costs nothing to become a member at Wealthy Affiliate so there is no financial risk to you.
Simply click the banner below, no credit card needed, just a name and email address and you're good to go.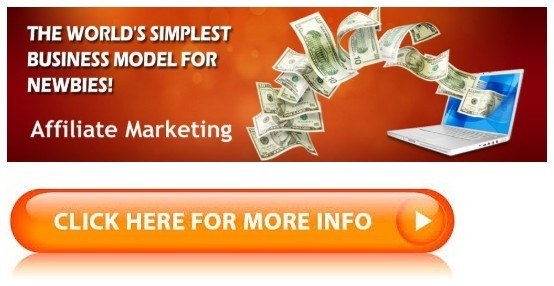 I'll meet you on the inside and be there to help you every step of the way. You'll even get to meet the owners who will stop by to welcome you.
Whatever you decide I wish you the best in your online endeavours and remember I'm here to help you anyway I can 🙂