Welcome to my Social profit App review. Today we're going to be looking at the latest release form Billy Darr. Now I know some of you are going to say "oh no, not another crappy Billy Darr product" but I'm all for giving people the chance to show they've learnt from their past failures and put together something of value.
All I ask is you reserve any preconceptions you have until after you've read this review. I'll be going over what this actually is as well as taking a look at what sort of claims the sales page is making.
I'll be showing you inside the members area so you know what to expect and I'll also go over what upsells this has with it. To finish up I'll give you my final thoughts on whether this is a product worth your time and more importantly money or if what everybody says about his products is true.
So, without further ado, let's make a start.
NAME: Social Profit App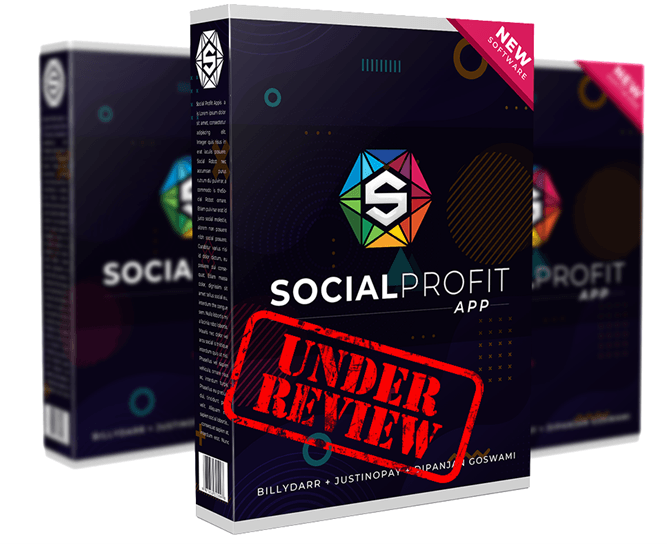 OWNERS: Billy Darr, Justin Opay
& Dipanjan Goswami
PRICE: $17.95
WEBSITE: http://socialprofitapp.co/
What Is Social Profit App About?
So, what i'm going to do is something that I haven't been able to find in the other reviews, video or written, and that is tell you what this is really all about.
I do that by actually going through the product, not just reading what the sales page is saying, after all it's the job of the sales page to make this sound as good as it can.
I'll be looking at the sales page claims in the next section just to see if they marry up with what I find out now.
Once you're inside the app they actually have a video outlining what Social profit App is, so let's have a little look.
OK, what you have here is an App that lets you gather images from Pixabay, Flickr or even upload your own and can publish them as a clickable image on Facebook.
Now it does say you can publish to Pinterest, Twitter, Tumblr and Linkedin, but I suspect that is only if you buy one of the upsells.
Now as many of you will know Facebook doesn't allow affiliate links to be posted directly so you need to direct people to either your website or a landing page either way it's an additional cost.
He makes a point of saying that they are OFFICIALLY APPROVED by Facebook with all necessary API permissions to perform every action inside the software.
So, just to recap, you have to either search or upload an image, you then have the ability to customize in the form of text or emojis.
You then add the description and redirect and start the publishing process.
Now, I don't know about you, but that doesn't sound like you have to push just one button does it. To be honest I'm not totally up to date with Facebook's TOS. But what I do know is it's getting increasingly hard to have these types of posts and a lot of posts are being denied as a result.
The Sales page
Time for a quick look at what the sales page says this is. This is a really important part for me because if you didn't have this review to read you'd have to take the word of the sales page as gospel and base your buying decision off of it.
I had one review the other day where the sales page made some unrealistic claims and no doubt swayed the mind of any potential buyer.
As I pointed out in the section above the whole process involves a lot more than pushing one button, but that's the type of hype you have to deal with and it's totally misleading.
And where does the 51 seconds come into it?
They make assumptions that make very little sense like this one:
Let's take a look at this "Viral Magnet" that is going to instantly persuade people to whip out there wallets….
Why oh why would I feel compelled to buy that? It doesn't make any sense, it's just more sales page hype to get you to buy this product.
The rest of the sales page is just bloated with "Make money 24/7" and "Travel the world, quit your job" It's almost laughable the lengths these people will go to just to make a sale.
What Did I Like?
Really struggling to find anything I liked about this if i'm totally honest.
??????
Oh, I did like the 365 day money back guarantee
What Didn't I Like?
The unrealistic sales page
Support page under construction
No real evidence of this working (bringing in money)
The cloud based software (struggled to work)
Inside The Members Area
if this is your first time buying a product like this you may not be aware that you won't get instant access to your purchase. What you will get is hit with upsell after upsell, trying to get you to spend more money.
I'm going to tell you now DON'T BUY THEM, I'll explain why in the next section where I'll also tell you where you can still get them if you want after you've tried out your main purchase.
The navigation is pretty straightforward, all your menu choices are on the left hand side. You can access any prior campaigns you've set up as well as create new ones.
The App settings option is where you connect your Facebook account and under that is the training:
What is the Social Profit App – 4.14
Facebook App Setting – 1.24
Clickable Link Post & Share – 9.21
Auto Feedback & Auto Delete – 4.00
Facebook Pixel Setup – 3.34
Case Study 6.00
As you can see the training is extremely basic. Some of it is a bit confusing, when it comes to sharing it's not clear whether you have to input pages that you own or other peoples' pages.
If it's other peoples' pages you could run into difficulties regarding posting affiliate links. If there are your pages then if you haven't got a fairly big following how are you going to get traffic to it?
I wish that had been explained a bit more.
The Oto's
Right, the upsells, first things first. Let me elaborate on what I said in the section above. When you see the upsells you're going to be shown things like this:
You don't need to take any notice of that because inside the members area you have a link in the menu where you get all these upsells so they are not only available here and now!
The other point I want to make is the fact that some of my readers have let me know that they bought upsells straight away and lost out on a lot of money when they tried to get a refund.
Take a look at Matthews comment here to get a better idea of what I mean.
It's much better to try out the main product first then if you don't like it you can try and get a refund, if you struggle you're only going to potentially lose a relatively small amount compared to if you bought all the upsells and couldn't get your money back.
Better to be safe than sorry.
Here's a list of the upsells along with any downsells they have so at least you can save yourself a bit of money 🙂
OTO #1 – Unlimited Edition – $39 with a downsell to $34
OTO #2 – Automation Edition – $39 with a downsell to $34
OTO #3 – Done For You Edition – $197 with a downsell to $97
OTO #4 – Reseller Edition – $39 with a downsell to $34
OTO #5 – Luxury Edition – $197 with a downsell to $97
In total you have $511 of upsells which when you thought you were buying a product for $18 seem a bit ridiculous.
Talking of ridiculous, how can they offer you a product at $197 and then immediately drop it by $100 to $97!!! Imagine how you'd feel if you bought it at the full price and then read that!
The other thing I didn't quite understand was the "Unlimited Edition" upsell. There was no mention on the sales page or inside the members area that you are limited to the amount of campaigns you can run. Very strange.
Complaints
I didn't think it would be right of me to wrap things up without going over some of the complaints Billy Darr and Justin Opay have received from past products.
Hopefully you can read those, basically they tell of trouble with refunds, sub-standard products and no refunds on the upsells.
Final Thoughts
I've never been a big fan of cloud based software, they never seem to work like they're supposed to. You're also at the mercy of the people hosting it. If they decide to pull the plug you're up the creek without a paddle.
I have no idea why the say all you have to do is "push one button" when you clearly have to do a lot more.
This is also meant to be beginner friendly, but they fail to give you anything you can use to get approval for your affiliate link. They could have easily given you automatic approval for one of Billy Darrs' products, but no, they've left you to deal with that on your own.
And don't think getting affiliate approval is as simple as applying to a vendor of a product you want to promote. Because you are new they ate more than likely going to refuse you, so where does that leave you?
No affiliate link, no chance of making any money.
I can tell you now also that this is never going to get you free traffic in the next 51 seconds, that's almost as bad as Traffic Robot 2.0 which claimed it could get you traffic in less than 46 seconds.
I'm not even sure how long Facebook will allow this, they are forever changing things up, after all they want you to pay for advertising.
What Other Options Have You Got?
I really don't think you need software to do what this claims it can do, but is spamming your Facebook account with affiliate links really the best use of your time?
Relying on someone else to maintain the software is another issue you really need to consider.
The better option would be to have your own website. Now before you go into meltdown thinking there's no way on Earth you could build a website, I'm going to tell you that creating one in 30 seconds is totally possible even if you've never created one before.
Having your own website is like building your house on rock solid foundations, without that your house will crumble and fall and the same goes for your online business.
The best way to build those foundations is to create a FREE Starter account at Wealthy Affiliate and when you have those foundations the sky really is the limit.
Click the banner below to get instant access and start your amazing journey
I'll be there to personally welcome you on the inside. You'll even meet the owners who will stop by to welcome you 🙂