Welcome to my Watch and Earn app review.
Earning money from apps have become very popular lately and it is always trial and error which one to pick.
The marketplace is flooded with scam apps that promise easy money, but fail to deliver the goods.
As you probably know, I'm the curious type and I'm always looking for the truth about such claims.
So, in this Watch and Earn app review I will be looking into whether or not its worth you downloading and taking up valuable space on your phone.
So, without wasting any more valuable time let's dive straight in…..

Watch and Earn App Review
I have been searching for some potential apps that will earn me some extra money only to find out there are more that do not live up to their expectations than do.
Watch and earn is basically an app where you can earn coins by watching advertisements, taking surveys, watching game previews and other ways which I will go into more detail below.
Getting Started
You can download Watch and Earn for free from the google play store it can only be accessed through Gmail or a Facebook account.
To get started you will fill out a profile which includes your birth date and gender, which will then lead you to your dashboard where you have a number of options,
Daily Bonus – This simply gives you ten coins on daily basis which is quite cool
Quick Coins – This gives you the option of installing offers from Offerwall
Try and Earn – This will award you with coins after completing offers
Watch and Earn –
Channel 1 says no video available,
channel 2 will show you a game preview which you will earn one coin and will give you the option of installing the game,
channel 3 constantly says no video available and
channel 4 does absolutely nothing
Survey Offers – This will ask for your gender and the year you were born and also go through questions about you and then when it gets to the end of the questions it says oops we couldn't find a survey
Play Jackpot – You basically gamble your coins in the hope of winning more coins. So if you want to gamble 200 coins, you have the chance to win 100,000 coins, if you want to risk just 10 coins, you stand the chance of winning 5,000 coins
Invite and Earn – The Invite and earn page will ask for your invitation code which will simply be your email address.
You share your code with your friends and once your friend has redeemed their first reward you will both receive 160 coins.
One point to note is that the referral code can only be used during sign-up.
Talking of which, take a quick look at this: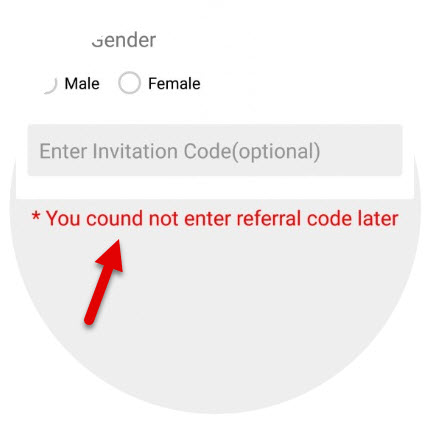 This isn't the only example of some dodgy spelling and basic grammar, now I'm not saying I'm the best at being grammatically correct, but if I were to launch an app I know I'd make sure it was right.
But that just shows the level of commitment the developers are showing to this app.
Earning Coins
The easiest way by far is the daily bonus, unfortunately it's only 10 coins and to reach the payout threshold for let's say for a $5 PayPal cash out, you're going to need just over 5 thousand coins.
That's over a year to earn $5 if you're just using the daily bonus and to be honest I was having a terrible time using any of the other options.
The only other one I could use was to watch a video, which was only channel 2 as the others weren't working.
So this gave me 1 coin for every video I watched which to be fair is really quite mind-numbing and to reach that cash out I think I would really rather poke my own eyeballs out rather than put myself through that.
Rewards
The rewards here are actually quite good if you can reach the threshold, the least amount of coins you need is around 1,000 and that will get you a $1 Amazon voucher.
The other reward options are
Mobile top up
PayPal cash
Amazon voucher
Steam voucher
Google play voucher
Complaints
It really doesn't look good for this app as it has so many complaints, the most common one is that it doesn't actually give rewards and says the server is down, not really something you want to hear.
There is a growing call that this app is a fake and as of writing this review I've just found out it has been removed from Google play store so I am starting to believe the people who have been using it are right.
My Final Thoughts
I personally do not hold out much hope for this Watch and Earn app, now not even being available on google play is a big issue, it is still available at APKPURE.
I don't know anything about that site so I would be hesitant to download it from there.
To be honest I would say save yourself the hassle of this one and to use something like a cash back app like Dosh, either way I really hope my Watch and earn app review has helped you out in some small way.
What Now
If earning small amounts of coins isn't working for you why not try what I do?
Owning your own website is a fantastic opportunity to turn a hobby or something you're passionate about into a full time income.
Don't know the first thing about building a website or how to make money from one?
Don't worry I didn't either when I first started, but if I can do it then anyone can do it, believe me.
The good thing is you don't even need to pay anything to see if it's for you.
Click here to read a bit more about it
What is your favourite app for making some extra money? Let us know in the comments below