Welcome everyone to my Stacking Merger UNO Match Review.
Have you ever wanted to play UNO but earn real money?
Apparently, this is the application for that, and in today's review I'm going to be testing it to show you guys my opinion and if it's really worth your time or not.
I love playing UNO, the card version, it's a great game to play with all the family, but I must admit I'm a bit sceptical about earning money from it.
I'll keep an open mind and hopefully I'll be proved wrong because there are so many scam applications out there at the moment it'll make a refreshing change to see one work as advertised.
With over 50,000 downloads this must have something about it.
I hope you enjoy so let's kick this off.
Name: Stacking Merger – UNO Match
Price: Free
Developer: Wuigame Betop
Stacking Merger UNO Match Review
When you first launch it up there's a quick tutorial to show you how things work.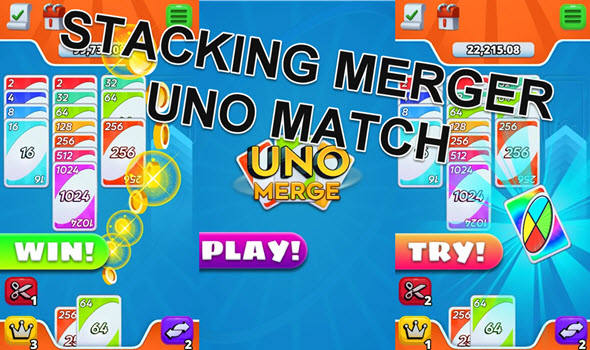 You'll notice that it states that all we need to do is merge the cards by dragging them and unlock new cards.
So pretty straightforward.
Now, you'll notice at the top of the screen, we have our PayPal currency and our Amazon currency.
Let's see what happens when we merge these two cards together.
So I've just selected one of the cards and move it over to the next one.
Ok, so now that's apparently generating me some revenue, or that could even be showing the score, I don't really know at the moment.
Interestingly, a whole bunch of other pop-ups have now appeared, but in the top left corner of the screen, the app is really trying to get us to tap on that PayPal money.
So let's go do that quickly.
Ah, this part's interesting, it says that during the event all the money I collect will be redeemed to PayPal.
It also says there's a 24hr time limit.
I need to collect $1,000 dollars to redeem immediately without waiting.
At the top of the screen, there are a number of new little pop-ups, one having the instant $1,000 cash-out.
Then we have a $1,000 paper with a tick, a calendar of sorts, and a present.
I'm assuming if I tap the present I'll get PayPal money.
Yep, So tapping on that little present brings up what we just won, $98.66.
So let's tap collect and see what happens here.
So now that money has just been applied to my balance, which you can see in the top left corner of the screen.
Daily Login
How about if we tap on the calendar?
Alright, so it seems there's a daily login system here on this Uno Match Game.
Tapping on day one brings up a reward here of $101.02, which is a really weird number to be given.
Now in order for me to receive this reward I have to watch an advertisement. Alright, so that daily login has been completed.
Now, at the top of the screen my balance is now $199.68. All this is before we even playing this game which is a big red flag for me.
Let's actually play this little merging game before we do anything else so we can see how it works.
How Does Stacking Merger UNO Match Work
So simply moving the 32 card over to the other 32 card they merge together and now I've just supposedly won $1,635, this time in Amazon currency, but I have to watch the advertisement to claim it.
The balance is now $1,635 for Amazon currency.
What happens if I tap the $1,000 paper?
So it seems there's some sort of cash Quest area where you have to perform certain tasks to get a reward of sorts, but it says that it needs to be finished within three days to win $1,000 worth of PayPal.
And it seems like it has a live feed of players that are apparently cashing out the money.
We have to merge a total to 128 and watch 8 advertisements.
What I've noticed is that there's a PayPal symbol on a certain card, and then you also have the Amazon symbol on this card as well.
It seems that depending on the cards merged, a certain reward can be obtained.
Amazon Cards
So adding an Amazon card to an Amazon card will result in Amazon credit and the same for PayPal.
Merging the PayPal card on top of another to get $80 worth of PayPal.
Tapping on the Amazon currency takes me to a redemption page where the minimum amount needed to redeem is very high, starting from $10,000 and going up to $20,000.
There's an Amazon Market where supposedly I can use my generated Amazon currency to purchase real items.
For example, a PS5, but I need to become a VIP member or purchase tickets with real money to do so.
The app also offers a subscription to remove advertisements and get free shipping for $17 per week.
This is a scam, and Google needs to ban these apps.
You can buy tickets for $11, $17, or $35 Or you can purchase the ad-free version for $7 which, in theory, means you could earn unlimited money.
A Lottery of Sorts
Now, a lottery system has appeared, so supposedly they have a lottery system that's also going to pay you up to $50,000.
Let me scratch my numbers and see what happens, so 300, 10,000, 10, 288 etc.
Every time I rub these numbers, apparently, I might win something.
If I tap purchase it's just trying to get me to purchase something, but I don't know the price.
And if you read the fine print at the bottom of the screen, prizes including the top prizes are subject to availability at the time of ticket purchase.
So, there's no guarantee either that you'd ever even see one single dollar.
This is really shocking to me.
Now remember at the top of the screen all the different little icons that appeared.
These are all ways to get you to either spend your real money or watch advertisements.
One thing I've noticed as I play this more is the fact that the amount I'm getting is less and less each time.
Diminishing Returns
Stacking merger Uno match has diminishing returns, which is another massive red flag.
Basically this means the developer is punishing you the closer you get to that minimum cash out so you watch more advertisements.
Everything I do on this app right now is playing an ad, so this is really making bulk loads of AD revenue for the developer while you get screwed over.
I'm only getting rewarded with 14 cents for watching an advertisement.
Cashing Out
This really is so bad it's difficult to even explain, it actually went down to 3 cents at one point.
Having the $1,000 PayPal currency threshold doesn't necessarily mean you're at the finishing post.
Apparently, all you need to do is fill in your PayPal account to activate the order.
If you want to take advantage of the immediate payment with no waiting the app requires you pay a wire transfer fee.
There's absolutely no mention of how much that will cost.
There are other apparent PayPal withdrawal methods as well, but they are likely to trigger a ton of other steps you need to complete.
Final Thoughts
The app I reviewed the other day done the exact same thing requiring people watch another 30 video ads in certain amount of time.
When apps start restricting the amount you earn the closer you get to the cash out suggests that they never really had any intention of paying you in the first place.
The only winners here are the developers.
This is literally nothing but a scam application that's trying to steal your money.
Hopefully I saved someone out there with this Stacking Merger UNO Match Review . If you've had any experience with this app drop a comment below.