Welcome to my Forest Slots app review.
With so many games flooding the market it can be extremely difficult to know what ones are legit and will give you some chance of earning money and which ones are a complete scam.
Unfortunately there are an abundance of scam out there that are simply there to earn the developer money and to keep it away from you.
This is one of those apps that a lot of people are getting caught up in and downloading in the hope of a big pay out.
As you will learn in this review once you've reached $1,000 they claim you can cash out. $1,000 is a big chunk of cash and many people could really do with that cash.
Developers have honed their skills and know exactly which buttons to press to get you to download this and play their game earning them money.
They use a carrot and stick approach which is a proven method and a very successful one.
So, without further ado, let's crack on…
Name: Forest Slots
Price: Free
Developer: The cash bingo games for money
Contact: abdel.boun.dev@gmail.com
Forest Slots App Review
Forest Slots is an app that simulates slot machines much like the Lotsa Slots app that I reviewed here.
It supposedly offers the opportunity to win cash rewards.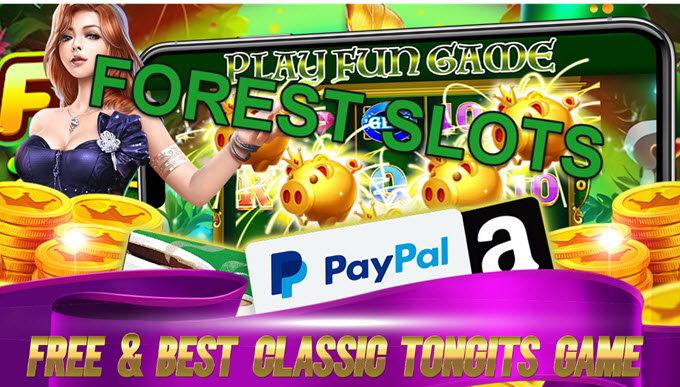 It has 5 interactive reels that enable the player to win cash rewards, but that isn't the only way to win on Forest Slots.
They also have a prize area where high value items such as a Sony TV, a MacBook Pro, Galaxy phones etc.
As soon as you turn on Forest Slots, you're greeted to a screen where you have to tap the spin button tapping spin will instantly kick off the game.
Funny enough, there are no real credits in this game, and you can essentially keep spinning the slot machine for free.
At the top of the screen, it shows that we can cash out after 24 hours.
Apparently, we've already earned $390 just by turning on the application.
It also states that if we reach a thousand dollars, we can redeem immediately.
I must say that the design of the game looks really nice, but as we all know you should never judge a book by it's cover.
Just because it looks good doesn't mean it's going to pay the $1,000s promised.
At the very top of the screen you'll see that there is real-life currency and in-game currency.
When you tap on the in-game currency you come to a screen where you have different cash out options.
There are Google Play, PlayStation, Steam and Walmart.
For example, a $500 Google Play Store card will requires that you'll need to collect 1,000,000 in-game credits.
For $1,000 we need 2,000,000 credits
For $1,500 we need 3,000,000 credits
For $2,000 we need 4,000,000 credits
And for $2,500 we need 5,000,000 credits.
You can also swap between the different cards as well. There is Diamond currency, but I haven't unlocked that yet.
The screen also has some different jackpots, mini, Major and Grand as well floating cash bubble.
There are 3 keys at the top of the screen that are associated with the giveaway portion of the game.
The Fairy Pass
Within the game itself is something called a Fairy Pass which is something like a task based system.
The more things you complete within the app the more rewards you get.
One of the tasks is as simple as logging in, other tasks are spin the lucky wheel, use 5 keys and open 3 treasure chests.
There is a giveaway section at the bottom of the screen which is a puzzle based system where all the different giveaways need the required amount of pieces to unlock them.
You also have a Lucky Spin area where can use your tickets. When you tap spin it rotates around various prizes.
If you haven't got a token you need to watch an advertisement in order to spin again.
Playing Forest Slots
Let's take a quick look at how to play this app and how the process of earning works.
As you'd expect, if you tap the spin button it spins that slot machine which results in generating some diamonds.
The more diamonds you collect the more the lucky wheel fills up until it's all filled.
This is a bit of a bonus game.
If you've ever played slot machines before you'll know that when you get a bonus feature.
The top of the screen shows how much you've won as does the bottom, bear in mind that this is in-game currency.
There is also a shop area that allows you to spend $100 of the 'real' money or 50,000 of the in-game currency.
To be fair I'm not sure what the purpose of this 'shop' is because spending the $100 didn't do anything at all apart from unlock another section that will now cost $250 to unlock.
Strange.
Diminishing Returns
Now, a lot of, if not all of these types of app have something called diminishing returns.
This basically means that while you start off earning quite a lot that soon drops as you get further into the game.
There is a perfectly good explanation for this and that's money.
But not for you. This is how the developer earns more and more money from you.
Each time you want to collect it you have to watch an advert, the more the developer can show you, the more money they make in ad revenue.
There is a piggy bank at the bottom of the screen that will grow as you keep spinning.
As you keep spinning you're presented with a 'mega win' which results in a treasure area.
This area has 4 treasure chests, each of which is supposed to hold hundreds of dollars.
In order to open them you need to watch video ad for each box which if you opened all 4 you'd have to watch 2 minutes of ads.
Once you've watched an ad the box opens and reveals what is inside, 1,000 coins, £100 and a puzzle piece.
Opening all 4 boxes apparently results in a 'big reward.
The Piggy Bank
Remember the piggy bank? Well, that's ready to open. It's not as simple as just opening it, you have to pay either 2,000 coins or watch an ad.
The little floating bubble that used to have so much money in has now just a few dollars.
And that's what the developers want, they want you to keep spinning and watching adverts.
Fake Cash Out Options
Once you've reached the $1,000 cash out threshold and tap out you get taken to an area that shows different cash out options
You have $1,000 PayPal for $1,000, $1,500 PayPal for $1,500, $2,000 PayPal for $2,000 and $2,500 PayPal for $2,500.
Now, you've got to this point and think you're only one step away from getting this transferred to your PayPal account. Nice!
Unfortunately the developer has other ideas.
Pressing cash out results in an area where you have to put in your information, but after that it takes you to timed area where there is a 24hr timer.
That's no the only thing, they want you to get Lucky Cash reward 10 times to complete the task within that time.
Final Thoughts
This is just the start of a journey that will result in constant things to do and watching ads, but will fail to actually pay you anything.
I hope this Forest Slots app review has shed some light on this application and by now you know that this is just a scam.
It's all designed to make the developers money and not to pay you.
Think about it for a sec, the amount of times this has been downloaded, every one of those users is going through the exact same thing.
All creating ad revenue for the developer.
Is it criminal? I don't know, I'm not a lawyer.
In my opinion they are scamming people because they are not delivering on what the people are expecting from completing what the app requires of them.
Stay well away from this one guys.