Welcome to my Rich Banknote Cutter review.
Today we're looking at an app that has been downloaded over 100 thousand times yet is still in development.
You might also know it as 'early access' which basically means that user cannot leave reviews to be seen on the download page.
This means that potential users won't know if this is a legit game or a totally bogus application that has no intention of paying you any money.
As there isn't any reviews for this app the chances are you've come here looking for one and that's exactly what you're going to get.
The amount of apps that are scamming people is getting totally out of hand and something really needs to be done about it.
The adverts that are advertising this app are just ridiculous with the developer trying to make you think that other people are winning huge amounts of cash.
Let's look past the adverts and see what this is really all about….
Name: Rich Banknote Cutter
Price: Free (in-app purchases) £0.79 – £5.99 per item
Developer: Onfire Soft
Contact: onfiresoft@gmail.com
Rich Banknote Cutter Review
Rich Banknote Cutter is a bit unusual and the type that I haven't come across before so I'm looking forward to doing this review.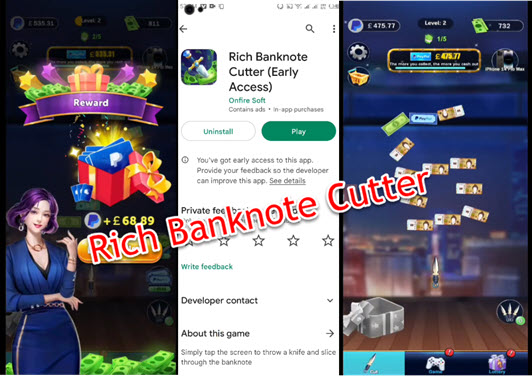 The basis of the game is very simple, you just tap the screen to throw a knife which cuts through banknotes.
Before we get into that let me just tell you about the screen that greets you when you start this up.
These are the exact words which isn't the way you'd normally speak so I assume English is a second language.
"You will receive the collected bonus, can get bonuses through video ads"
The maximum bonus we can get is a strange number, £704.10 and that has to earned within 24hrs.
On the main screen at the top there is PayPal currency and in-game currency, there's also an iPhone Pro Max 1T that we can get.
You have to collect 350 jigsaw pieces and watch 250 videos in order to redeem it, but I doubt that even if you manage to do all that they'd send you one.
Just my opinion.
Shopping Cart
There's a shopping cart icon and when you enter it you're presented with 16 different skins of your knife.
People love to change their skin when playing games, you just have to look at games like Fortnite to see that.
If you do want to change the skin it'll cost you 3,000 in-game currency or you can watch an ad which results in a random choice.
Throwing Knives
The game itself is pretty good, it is very simple, but I actually enjoyed splitting the notes.
There is an option to make the throwing knife a bigger area as in giving it 3 blades so you increase the hit rate.
It does require you watch an ad though.
When throwing knives as well as banknotes there are PayPal notes and in-game currency notes.
Hitting either of these will result in their respective icons pulsing, encouraging you to tap them.
Tapping the PayPal for example shows your reward amount and to be able to collect it you need to watch an ad.
After watching the ad the amount gets added to your PayPal total.
Watching More Ads Than Playing
Unfortunately it gets to the stage where the ads begin to play thick and fast and with no way to get around them you just have to watch them a bit like the one I reviewed here.
This gets increasingly annoying because you are now actually watching more ads than the time you are spending playing the game.
Which of course is how the developers make their money and I suppose you could live with that if you were guaranteed they would pay out in the end.
The PayPal Trap
Rich Banknote Cutter uses the reputation of PayPal to lure users into thinking this must be a trusted app seeing as they use such a trusted platform like PayPal to pay you.
But don't let your guard down!
It is a known tactic used by unscrupulous developers and it is used to good effect with many people believing they will be paid.
Unfortunately there is good reason to doubt that will ever happen as the complaints from real users will testify.
Is Everything Fake With Rich Banknote Cutter?
When it comes to Rich Banknote Cutter it would seem that everything on the app is fake. They try to entice you with promises of big prizes.
The truth is, these prizes don't exist!
You will never see them so please don't get your hopes up of winning that brand new iPhone Pro Max.
You will never see any of the 'money' you have accumulated either, it's one big scam guys.
Cashing Out
As I've already said you won't see any money but let me just explain why.
You see, if you do manage to get to the magic £704.10 you will then reached the next phase of the deception.
They will keep dangling the carrot in front of you by telling you that in order to cash out you will need to watch another 30 video just to 'activate' the order.
Of course, if you were to do that they will just move the goalposts again and give more hoops to jump through, all the while dangling that delicious looking carrot.
Final Thoughts
Well, there you have it, I hope this Rich Banknote cutter review has been of some help to you. One other thing I must mention is that I received a message from Google Play protect.
This is where the Play store scans your device for potentially harmful apps and that is exactly what they found with this one.
So, I immediately uninstalled this app as recommended by Google themselves and my advice to you is if you have this app installed anywhere is to delete it as soon as possible.
I think the lesson from this is to be cautious of any app that promises big payouts and prizes, the developers will use any tactic available to them to get you to use their app.
Keep doing what you are doing and research the apps, this way you minimise your risk of being scammed!
If you have had any experience of Rich Banknote Cutter then I'd love to hear from you, just drop a comment below, I'll answer everyone.😃