Welcome to my Wood Block Master review.
This has a 4.3* rating in Google Play but having a quick look at the reviews that isn't reflected, more like 1* (more on that later)
Wood Block Master is claiming to pay out hundreds if not thousands of dollars in PayPal cash outs, but are they being truthful, is it really that easy to earn that type of money from a free puzzle app?
It's claims like this that has over 500k people downloading this app in the hope of being paid money for doing very little, just playing a game.
In my experience claims like that never turn out to be true, the only person that makes any money is the developers.
So what I'm going to do now is download this myself to see what all the fuss is about and see how much money you can really make from Wood Block Master.
Name: Wood Block Master
Price: Free – (No in app purchases)
Owner: Insoft Inc.
Wood Block Master Review
Wood Block Master is a simple but incredibly addictive puzzle game where the aim is move preset blocks of wood into position which then results in Paypal money, Apparently.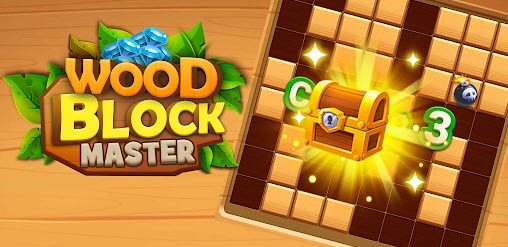 The minimum you can cash out is $200 which is a healthy amount of money but how long is it going to take you to get to that amount and are they going to pay you when you do eventually get there?
What you can do though is cash out Amazon currency and that starts at $0.01, yes they actually send you that teeny tiny amount.
Now, it has been said that they do this for a reason and that reason is to lull you into thinking that when it comes to paying out Paypal they will do that also.
Diminishing Returns
Like the last game I played this one also starts out well by you earning a reasonable amount at the beginning but as you progress the amount you receive goes down.
Playing Wood Block Master
When you first play the game before anything else happens you get a daily check in bonus of 2000 coins and that bonus goes up to day 7 when you get 20000 coins.
Like I said it's a very simple concept and it's been done time and time again just with different objects.
It's not long before they serve me the first ad and I haven't even started the game, I've gone through them showing me what to do .
I have one more turn and you've guessed it, more ads to watch!
You can't actually place the blocks in a wrong place, the game won't let you, it also shows you the position they should go in.
Watching Ads
From what I have learned you HAVE to watch ads to continue, it only gives you a choice to either watch the ad or give up!
It is VERY annoying, ads are popping up all the time and you have no way of bypassing them and trying to get out of them once you've watched them is a nightmare.
When it comes cashing out expect to have to watch a lot more ads with the amount being 40 or even 60 video ads!
How Does Wood Block Master Work
It looks like it works by showing you as many ads as possible before you get so fed up you uninstall it which is what I've just done.
I have no idea how anyone is going to get to £200 PayPal cash out threshold if they are showing this many ads.
Does Wood Block Master Pay Real Money
Wood Block Master claims to pay real money but I don't think they have it will, I may be wrong but from what I've seen it's highly unlikely.
Even when you do get to the cash out threshold you're then made to watch even more video ads, up to 20 in a day while your payment is "under review".
How Much Money Can You Make
The lure of making easy money is what keeps people playing this app and on the face of it you could earn some decent cash.
The reality seems to be a different scenario with people having to wait and watch more and more ads all the while earning the developers money only to be told that the payment has failed!
Complaints
If you take the time to take a quick look at the reviews from Google Play store you'll quickly see that people are disgusted with this app leaving 1* here, there and everywhere.
The complaints seem to be not being able to cash out with the app switching from under review to failed processing and then being told they have to watch more ads.
One person has been playing for months and not received 1 penny!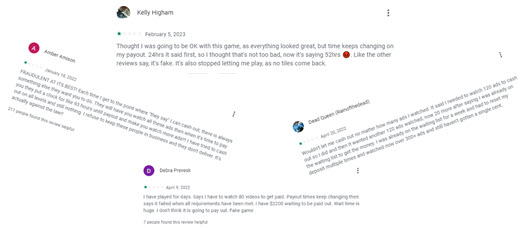 If they could leave a zero review I'm sure they would!
Privacy/Security Concerns
One thing that jumped out at me while researching Wood Block Master was the fact that they don't even encrypt your data, it's not transferred over a secure connection.
Worse still, you cannot request from the developer that your data be deleted because they don't provide a way for that to happen.
I'm pretty sure this type of procedure isn't allowed and would contravene many countries regulations.
Final Thoughts
Well, I hope my Wood Block Master review has helped you out, It's quite plain to see that this operation is just a money grabbing exercise.
The developer is just serving the player with more and more ads under the lure of a pay out while all the time getting paid themselves.
Unfortunately no pay out ever seems to come which is sad really when you think the amount of time people have invested in this only to be scammed.
I think it's crystal clear that you should stay well away from Wood Block Master.
If you have had any experience with Wood Block Master we'd love to hear your comments below 🙂