Welcome to my Make Money: Word Search App Review.
Today we're looking another popular app that makes that claim of being able to earn money while just playing games. It's been downloaded over 100k times so a lot of people are playing this but are they being paid out?
When it comes to money making apps there is a long line that are just scams, pure and simple. They just want to earn money from you and they do that by making you watch ads for which they get paid.
They claim that just by playing this app you'll be ready to start a life where you can work from home, a very bold statement indeed.
Now, there's nothing wrong with statements like that if they are true, heck I love statements like that, but you need to know if you are just wasting your time like the one I reviewed the other day
And that's what you'll find out in the review, if Make Money: Word Search is the real deal or a cheap imitation.
Name: Make Money: Word Search
Price: Free (no in-app purchases)
Owner: Marcbergnlethab
Make Money: Word Search App Review
Word puzzles are very popular, people absolutely love them, I used to do them, not for money, just to pass the time, if I had the time now I'd probably still do them.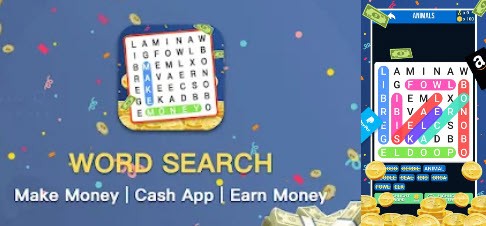 The added bonus on this is that they claim it's possible to make money which can then get deposited into your PayPal account which sounds great.
Earning money for something you like doing, what could be better.
Playing Make Money: Word Search
The best way to figure out how this really works is to download it myself and actually play it myself.
When you first open it you're met with a screen showing 38 categories with only 5 of them available, all the rest are locked.
You also have a spinning wheel and bottle with a cork in it. Inside the bottle are different things at different times like an Amazon card or Google Play stare card.
If you press the spinning wheel you'll get a wheel with segments filled with tokens and PayPal image. It's free to spin and when you do if you land on tokens you get extra tokens.
You also get the opportunity to x2 – x10 if you watch an ad, you also have a "no thanks" button which when pressed takes you to an ad anyway! And good luck getting off of it!
The exit cross won't show until you've tried to go back a fair number of times.
The bottle does exactly the same, just gives you tokens so why they have a picture of an Amazon gift card I really don't know.
So let's move on to actually playing the game.
Categories
I choose the first category, animals, and get a choice of playing casual or progress.
With casual it says that there are no rewards, with progress it says to complete levels to win coins and complete all levels to win +1 key which will open up new categories.
On the word search screen it looks like any other word search grid you can also buy clues in the form of highlighting the actual word for 50 tokens or highlighting a particular letter in the grid for 25 tokens.
After finding my 3rd word get congratulations, I have an image showing a PayPal symbol with the words "Get $16" underneath.
Under that it says "collect more $200.00 to redeem gift card. I would assume that you need to accumulate A minimum of $200 to enable you to cash out.
After another 3 words I get $13.82 but you MUST watch an ad in it's entirety in order to be able to save them to your on screen PayPal total.
For completing the level you get another $11.79, don't forget to watch the ad to save the money in your wallet!
At the moment it seems to be every third word you need to watch an ad which even at this early stage is getting pretty annoying.
To get to $200 if you get roughly $11 each time you'll need to watch 18 ads which on the face of it doesn't seem too bad.
However, the next level isn't so generous with pay out and it drop dramatically to around $2 which will obviously mean having to watch more ads to reach the $200 threshold.
Watching Ads More Than Playing
Because the ads are getting longer It's got to the stage where I'm watching ads more than I'm actually playing the game
Trying to play the game and getting inundated with ads is really doing my head in but I'm $46 away from the magic $200 so I'll have to grin and bear it.
After watching so many ads they had better pay out!!
How Does Make Money: Word Search Work
Make Money: Word Search works by showing you as many ads as humanly possible in order to get paid themselves from the advertisers.
Without the ads Make Money: Word Search wouldn't actually make any money for themselves so wouldn't be able to pay the people who are downloading and playing in the hope of a pay out.
Does Make Money: Word Search Pay Real Money
They make a big song and dance about paying real money into your PayPal account but the majority of people who have played this don't tend to agree with that statement.
I have my own thoughts on this which I'll share with you at the end.
How Much Money Can You Make
Personally, I don't think you can make money with this app. The problem is when someone tells you that you can earn money for doing very little, in this case playing a word search game, it's very enticing.
The reality however is very different.
My own experience after watching multiple ads is that I reached the $200 pay out threshold and to be fair it was relatively quickly which threw up some red flags.
Even though I'd watched what seemed like a million ads I hadn't actually watched that many, nowhere near enough for them to be paid enough to pay me $200!
Jumping Through Hoops
After reaching the $200 threshold I was eager to see what happens next, even though I sort of knew the outcome.
Anyway, I put in my email address for the deposit only to be told that I must watch 200 videos to even activate the order.
Where the hell did that come from??
Then the next screen then tells me I need to wait 71h.59m after which time the money will transferred to my PayPal account.
The screen where it says about the 200 videos now shows I've watched 34/200 which I haven't, not unless they are referring to the video ads already watched during the game?
Regardless, do I think that after 71 hours I'll actually see the money in my account? No, not a snowballs chance in that hot place!
Complaints
I have a feeling that the developers have paid for some positive 5* reviews to try and counteract the overwhelming negative ones.
I found one in particular very interesting seeing as I too am having to wait the 72 hours. It basically says that after that processing period they then had another 120 hours pending.
After that, was told in order to get the money transferred they would have to unlock all the categories, all 38 of them!
Bearing in mind each category has 20 levels the amount of ads you'll be watching is unimaginable plus some categories need 2 keys to unlock.
It's just ridiculous.
One player actually states that they unlocked all the categories but still nothing.
Privacy/Security Concerns
One concern I do have is that you cannot ask for your data to be deleted because the developer hasn't provided any way doing it.
And seeing as your data may be shared I would have thought the least they could do was provide a way to get it deleted.
I'm sure that goes against legislation in a lot of countries around the world.
Final Thoughts
Well, this Make Money: Word Search App review has been a real eye opener for me and hopefully you as well.
The title of this app is not aimed at you or me, it only makes money for the developer by you doing word search puzzles!
The whole app is just designed to earn the developer money with no thought of ever paying the player any money.
Getting to the $200 pay out threshold is relatively quick and even though they keep moving the goal posts the temptation is to keep thinking you'll get the money if you do what they say.
The positive reviews are obvious fake reviews, they are very generic, one review states they cashed out $2 and was also able to withdraw £2.25!!
A lot of reviews are for the wrong app!! Nothing to do with Make Money: Word Search whatsoever.
If it wasn't so serious it would be laughable.
Please let me know if you've had an experience with the Make Money: Word Search app, I'm dying to find someone who has actually been paid out by them, but I won't hold my breath.