Welcome to my Cashman Blast App review.
The subject of todays review is an app developed by Shape Keeper Ltd who have a number of app available in the Play store.
Their average rating isn't the best and this one has a lowly 3.6* but has been downloaded over 1 million times.
I suppose the reason behind this is the having the chance to win real money with a fairly low pay out threshold.
There is also a prize centre where players can win some outstanding prizes, including a reported MacBook Air as well as a Sony oled tv!
I have my doubts about that.
Name: Cashman Blast
Price: Free (no in app purchases)
Owners: Shape Keepers Ltd
Official Website: http://shapekeeper.net
Contact: business@wudiads.com
Cashman Blast App Review
Cashman Blast is a puzzle based app that allows you to collect US dollar coins which you can then cash out.
When the app first starts it doesn't really give you any instructions on what you have to do and when you touch the screen random explosions happen.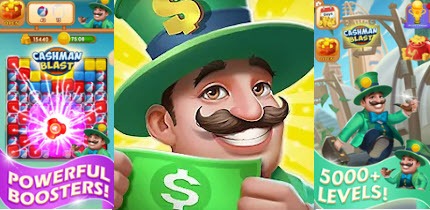 You are then taken to a lucky spin and you are encouraged to spin for more cash and more coin, the spin has the word free on it.
Once you press the spin button you're immediately shown a video ad ,we're not even 1 minute into the game and they are throwing ads at you already.
When it does eventually spin it lands on a 5.00 usd segment. After collecting that I now have 19.51 usd which goes towards the cash out threshold of $150.
You have to sign in every day but I missed the reason why so hopefully it'll become clear a bit later, I'm sure it's something to do with a bonus.
The amount of cubes you tap result in different icons like fireworks and it also depends on if the group of blocks are horizontal or vertical.
Horizontal blasts the horizontal row and vertical blasts the vertical column.
13 coloured blocks create a water pistol which then creates fireworks.
I'm currently at level 5 and $45, I've been skipping the free spins so no ads apart from that first one.
They do keep offering you the chance to either cash out or exchange. Now, at this point you haven't reached the $150 in order to cash out so I can only assume they would rather you exchange.
To get a $10 Amazon gift card you need 80000 coins at the moment I have 2930 so I've a way to go.
Playing Cashman Blast
It's all really colourful and quite fun to play. It's really easy without any complicated hoops to jump through.
There are plenty of opportunities to have to watch ads like taking advantage of the free booster, but if you don't want to then you don't watch ads.
Apart from that first ad and being served ads when you want boosters or a free spin this isn't the worst I've seen.
Some throw so many ads at you the amount of time you spend playing the game is totally outweighed by the amount of ads you have to watch.
Daily Bonus
I've found out why you have to sign in each day and it is because once you've done that for 7 consecutive days you'll receive a 3.00usd bonus.
Super prize
In the prize centre you have the chance to win some really super prizes such as an iPhone 12 pro, a Sony OLED tv, A MacBook Air by redeeming 100 puzzle pieces for a particular prize.
Some lesser prizes include a $2 Amazon gift card, a lucky spin which you get a random prize by watching a video from beginning to the end.
After watching 1 video ad I received 2/100 iPhone puzzle pieces, 1/100 Sony tv puzzle pieces and 11/100 $2 Amazon gift cards.
So based on that you're going to need to watch a considerable amount of video ads to even get close to one prize b.
I'm sure if you did somehow manage to get close to one the app would stop giving that one and start giving you pieces from another one.
Does Cashman Blast Pay Real Money
Cashman Blast claim to pay you real money via PayPal, but there doesn't seem to be much proof of that as you'll see when we get to the complaints.
It looks like once you get to the cash out threshold of $150 you're made to do extra steps then once you've done them there is something else for you to do in order to cash out, that sort of thing.
Diminishing Returns
The thing I have noticed is that the more I play the less they give you in money for example the free spin that started off at $5 went down to $1.50.
This reminds me of an app I reviewed here the other day that did the exact same thing.
The amount you get in the game also goes down so you need to play the game a lot longer than you originally thought in order to get to the pay out threshold.
How Much Money Can You Make
There doesn't seem to be much evidence that you can make any money with Cashman Blast. The only people that do make money with this app is the developers.
Complaints
The complaints about Cashman Blast are many, with the main one being the inability to cash out when players hit $150.
Rewards get reduced as they move closer to $100. People can't get to the threshold even when they are on level 500.
The briefcase that gives you dollars stops and only gives out coins.
Some people who have managed to get to the $150 pay out are saying the app tells them the payments are processing but nothing happens.
Final Thoughts
As I moved further into the game I was being shown ads on a more regular basis without choosing any free spins or boosters, now, that might be because I was skipping those, I don't know.
So, they started off well with the amount of ads shown, but reverted to type once you get a bit further into the game.
The amount of cash you get rewarded with goes down as you move further into the game so even getting to $150 is going to take a long while.
Then if they start moving the goal posts that will really upset a lot of people who are expecting to be able to cash out.
That $150 is a lot of money and I'm sure people will bank on getting it especially with the cost of living the way it is at the moment.
Hopefully my Cashman Blast App review has given you a great insight into this popular app and if you've had any experience with it please share it with everyone here.