Welcome to my Dice Kings App review.
Looking through the Google play store at all the various different apps that claim to make you money this one caught my eye.
Now while there are many dice games out there this one claims to be the most unique which piqued my interest enough to give it a go.
It has over 1m downloads and 4.5 star reviews. Are they fake reviews or is Dice Kings really worth your time?
You have to remember these apps make the developer money by showing the user ads so just be aware that the number of people actually winning any money is going to be quite low.
The important thing here is do you win any money at all? Or is it a total waste of time?
Let's find out in My Dice Kings App review!
Name: Dice Kings
Price: Free (in app purchases $1.99 – $99.99 per item)
Owner: Lucky Day Entertainment
Website: https://www.luckyday.com/
What Is Dice Kings App
Dice Kings is an app that claims to be the most unique dice game on Google Play which is quite a statement considering how many there currently are being offered.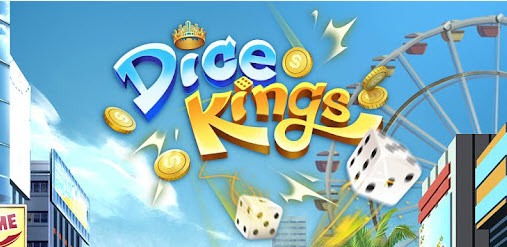 The app revolves around daily competitions and skill based tournaments all designed to get you climbing the ranks with the higher you go the more you are expected to win.
There are different features in the app which I'll go into later in the review.
Playing Dice Kings
When you first install Dice Kings you have to either sign up with your Facebook or connect with Google.
I'm enthusiastic about either option, but for the sake of this review I'll go with Google.
I have to say that was very painless and once that is done you're straight into the game which is awesome.
The screen you're met with is looks like an alley and you hold the button on screen with the dice in it and pull, once you release it the dice go tumbling down the alley.
Your roll is counted and every roll turns into tokens, what these tokens do hopefully will become clear as we progress.
Attack The Dice King!
On another throw of the dice a crate is broken and we get a message saying "attack the dice Kings ATM to steal $ATM cash.
Real cash or app cash? Who knows.
The next screen shows the Dice King, someone called "Jamie" and he has $50.
I've thrown 2 times and now I've just got to hit the $ sign to steal all the ATM cash, wish me luck!
Yay! I did it, but I only got $6.4 but the top of the screen now shows that I have $16.4 and 15 tokens. I also have an ATM energy meter that I have to fill up to win a prize.
It becomes evident that my ATM cash can be attacked by other players which is by someone called "Alex" and I in turn have to attack him.
I didn't get his cash because I triggered an alarm but I still got ATM energy which means that is now full and I can go for my jackpot.
You have to hit the ATM to win your jackpot, mine being $16.4 but after hitting the ATM I receive 5k tokens instead.
First Advertisement
It's at this point I see my first ad which to be fair isn't that bad.
After the ads I'm informed that I can use my tokens for gift cards, $5 Amazon, $5 Dunkin Donuts, $10 Target and $10 Walmart.
I try to choose Amazon but nothing happens, it just goes back to the alley this time with a lot more crates.
I won 500 crowns for rolling a double, these are so you can enter the daily cash tournament once you reach a certain amount which I do on the next roll, how fortunate.
At this point I had to leave the game hoping I'd be in the same position when I returned but on starting the app the next roll is telling me the super crown will be back in 1 roll.
Now, I have no idea what the super crown is and where is the daily cash tournament that my 500 normal crowns earned me?
It's all a bit confusing, a bit like this one I reviewed here
You also have the chance to double which is basically you watching more ads.
At this stage I'm getting pretty bored to be fair and the ads are being shown more frequently and are very hard to get rid of even after watching them.
How to Win Cash
I'd love to tell you how easy it is to win cash with Dice Kings but the truth is I still don't really know if or how you can win any money with this app, there seems to be plenty of carrots being dangled but no real evidence or cash!!
The ads are really getting annoying now, I wouldn't mind so much if you was making some money but you're not.
Paying For Rolls
What I really don't like about this is the constant badgering to buy more rolls of the dice. If you manage to resist the temptation to spend your money the app will stop working for 45 minutes!
Yes you read that right, 45 whole minutes, UNLESS you buy some more and that starts at $4.99 for 80 rolls up to $29.99 for 750 rolls.
If you choose to wait it out they will only give you 6 rolls anyway which is ridiculous. I wouldn't mind if I had actually won some money but no, zero, zilch, nada.
If you choose to ignore buying more rolls and the timer you get the chance to get 10 rolls if you watch a video ad.
Pros
Cons
No real instructions
Way too many ads
The constant badgering to buy more rolls
No money won
In app purchases of up to $99.99 per item
Complaints About Dice Kings App
Looking into what other people have to say about Dice Kings and the overwhelming complaint is how do you cash out followed closely by people having to watch more ads than they have rolled the dice!
I can totally get where they're coming from with that!
There is a lot of people claiming that the star rating this app has is totally fake and that the person in first place in the tournaments is a fake account.
Whether that's true or not you're never going to find out but there are a lot of people calling it a scam.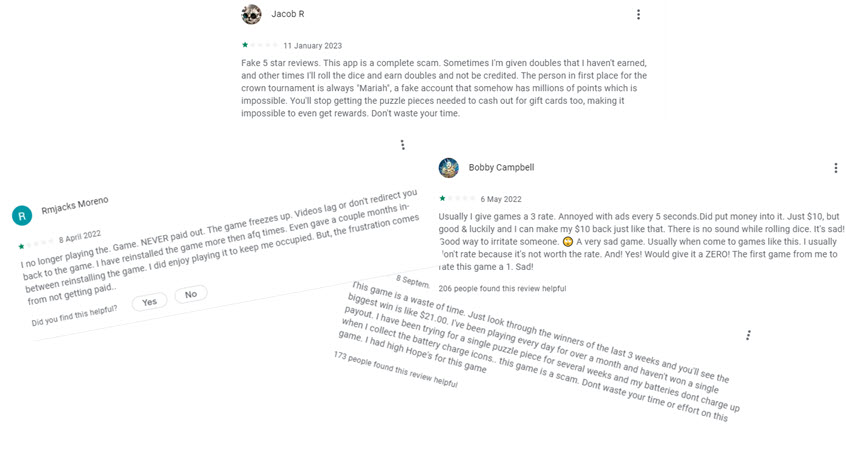 Final Thoughts
Well I hope You've enjoyed my Dice Kings App review and that is has given you some help in deciding whether to download this or not.
From my own experience with this app I wouldn't recommend it, but we're all different right. You might love it and there's nothing wrong with that.
This is just my opinion.
I don't like the amount of ads being shown, I know they have to make money, but showing the amount they do and then not even letting you win any money just doesn't sit right with me.