Welcome to my Lotsa Slots App review.
With over 10m downloads, Lotsa Slots has a big following, but it also has it's fair share of complaints. The app allows the user to play over 80 free casino slot games.
The main reason you are here is you're wondering if this popular games is worth your time downloading or if it's just one big scam.
There are an unprecedented amount of apps like this created each and every year with the sole purpose of making the developers money, but with the lure of making YOU money.
Some are legitimate apps like this one I reviewed here or some are not worth the effort like this one I reviewed here.
Regardless of how you come to hear about this app, one things for sure, by the end of this Lotsa Slots App review you'll have all the information you need to make the right choice.
Name: Lotsa Slots
Price: Free (in app purchases up to $299)
Owners: SpinX Games
Website: https://spinxgames.com/
What is Lotsa Slots App?
The Lotsa Slots app is a collection of slot machine games. When you first install it you are encouraged to connect it to your Facebook account.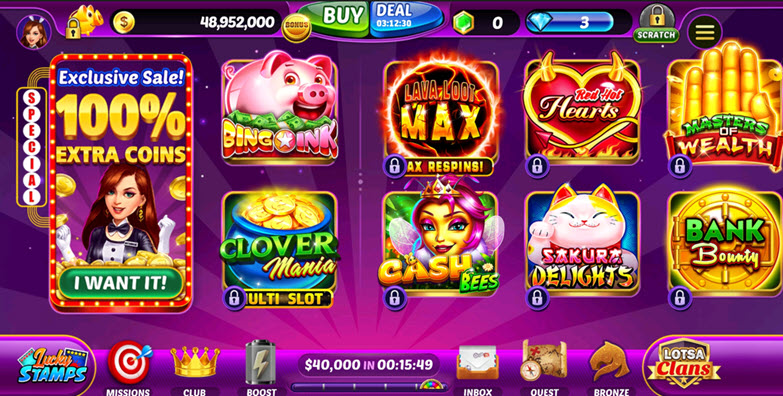 There are benefits to doing this like a connect 1,000,000 bonus which I assume is tokens, I'm not really sure because it doesn't tell you what it is.
You can also save your progress and secure your balance which I would have thought was provided without the need to do anything, but apparently not.
They do say they will never post without your permission. I would hope not!
Anyway I chose not to connect and will carry on as a guest and see what happens.
You immediately get a welcome bonus of 5,000,000 and can collect an express bonus every hour, which is 40,000 "credits", not sure what else to call them.
We can now choose one of the slots and start spinning …….. Although it says choose one, you have no choice, you can only choose Bingoink.
What Do You Have To Do?
To be fair I have absolutely no idea what I have to do, but after pressing a few buttons I've levelled up to level 2 with a 20,000 bonus, then level 3 with a 40,000 bonus.
You can buy more coins and various other goodies with 128,000,000 which will cost you $49.99 in real money and don't forget I still don't know what these coins you collect are for??
After what seems like no real substance except hitting the spin button you're presented with a pick a piggy bonus which results in a minor jackpot of 200,00 with a $ in front.
Does this mean I've won $200,00? I highly doubt it.
A few more sound effects and I've won Bingoink! with a $452,000 in Bingoink feature (whatever the hell that means)
I now have a total of $6,256,000 but what can I do with it?
After exiting Bingoink I get yet another bonus, this time for 2.06m!! and I get a silver dart????
I now have a choice of a further 3 different slots with the majority being locked.
Is Lotsa Slots App Legit?
Yes, it is a legitimate app, probably because it doesn't pretend to pay out real money so in that respect it's legit.
Do You Get Paid Real Money With Lotsa Slots App?
If you were hoping to get your hands on real money from Lotsa Slots then I'm afraid you're going to be disappointed.
This is purely for entertainment purposes.
How Much Money Can You Make? If Any!
You can't! You are just wasting your time.
What Are Your Chances Of Winning?
It seems that everything you touch wins you some amount of coins, but as you get further into the games the chances of winning coins diminish.
Pros
Something to pass the time
Free (if you want it to be)
Cons
Have no idea what the coins are for
Extortionate in app purchases (up to $299!)
No real money won
Constantly wants you to spend real money
No real endgame
Complaints
Some of the complaints I've come across is that once you get to a certain level the games turns into something that is only interested in getting you to part with real money.
Others have said the same as me with it being confusing while other have complained about the amount of ads begging to buy more coins.
The chances of winning the challenges are non existent unless you spend hundreds of pounds to do it, which in my opinion if that was what you want to do you'd be better off doing it on an app that at least paid you real money.
There are complaints after complaints about this app with a common thread being not to spend any money of this. Be warned people!
Final Thoughts
Well, there you have my Lotsa Slots App review.
I currently have 48,952,000 but have no idea what I can do with them, I suspect nothing. Would I invite friends to play this? No, I wouldn't, it would just be wasting their time.
The amount of negative reviews on this should tell you something, but if you are just looking for something to pass the time of day then this could be for you.
The only thing I would say is don't be tempted by the avalanche of ads wanting you to buy coins, it's just not worth it.