Well guys, here are again with another app claiming to let you earn real money for doing very little. This Wow Charge review will tell you exactly what to expect from this app and whether or not you can really earn money with it.
It's had over 100 thousand people download it since its release in February this year and it has a 4.6 star rating out of 5k reviews, but are they the fake reviews we've seen before, the ones that don't even relate to the actual app.
That's what we'll find out in this review so you can make an informed decision to either download this or not.
With so many apps now available it can be very difficult to know which ones are legit and which ones are a total waste of time and sometimes even compromise your personal information, but with the adverts being shown it can be easy to fall into the trap.
So, without further ado, lets kick this off…
Name: Wow Charge
Price: Free (contains ads)
Developer: Mobile Charge Club
Contact: Mobilechargeclub@gmail.com
Wow Charge Review
When you start this app you'll have to 'sign in' in a daily check-in area this triggers an advert to play, but not just one, I got three of them and another one when I closed the daily check-in screen.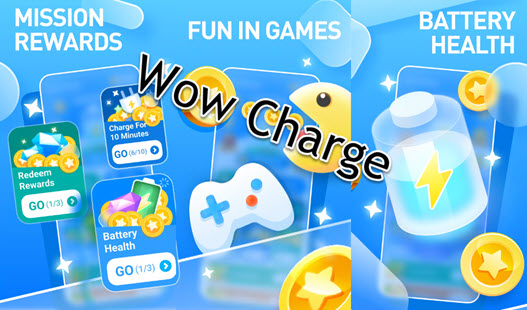 I hope that isn't a sign of things to come, but it doesn't look promising. There is some positives though I suppose.
Watching those ads has earned me some in game currency to the tune of $20, just remember this isn't real life money, it's what the game uses.
Once you exit the check in area you get presented with an offer that suggests we can win a present.
However, if you decide to collect the present you will have to watch yet another advert which considering we haven't even really started the app itself yet is just crazy.
This is beginning to remind me of Lucky Battery which I reviewed here. That one bombarded the user with ads as well.
Using Wow Charge App
After putting up with those pesky ads we finally get to the main screen where we are told that our phone has 3 problems.
I would assume that everyone would see that message as well regardless of whether or not there was a problem, I highly doubt this app could identify any real problems.
You have the option to optimize, but doing so brings up yet another advert. Strangely enough optimizing didn't absolutely zero, nada, zilch.
When it comes to using the app everything appears to be somewhat fabricated, like it's just there for looks.
It's like the when you tap on the charge acceleration feature there is a bin icon with a horizontal bar going up and down.
After a while it lets you know that your phone is now faster at charging, but is it actually? I just don't know, I suppose it could be, but I don't hold out much hope.
The next option is the phone cooling that shows a snowflake to let you know that your phone is getting colder.
My scepticism seems to be spot on because just after it's finished 'cooling' my phone there is a warning pop up that my CPU temperature is too high!!
And don't forget all the while there are ads being shown, not just one or two, but handfuls, it's quite ridiculous when you think about it.
Too Many Ads
I think it was obvious from the start, but it has become increasingly clear that this app is a front for ad revenue.
It's just there to collect as much money from the user watching as many ads as possible before they get so fed up they uninstall it.
The trouble is with the lure of $500 people will understandably continue to watch the ads and that is what the developers are banking on.
In-App Games
Hold on people, there's more to this app. Not content with the amount of ads they throw at you in the main app, they also present some mini games.
These imaginatively called games will further test your resolve with each one carrying with it a barrage of ads.
Games like Lucky Wheel, where you can spin the wheel 100 times in order to land on different icons, but guess what?
Each spin ends up showing you an ad, so if you were to spin 100 times the resulting 100 ads would result in some nice revenue for the developer.
Then of course you have Lucky Draw where you have 9 cards that have to be turned over in order to show varying amounts of cash that get added to your overall amount.
And, yes, you do have to sit through more ads.
Next up is Lucky Shake where all you need to do is shake your phone and the app credits you with $10 plus more ads for you to watch.
I'm not sure why these games are called 'Lucky' because they certainly aren't for you!!
Pros
Cons
Constantly bombards you with ads
No evidence it actually helps your phone
Totally bogus claims of how much you can earn
Unrealistic cash out threshold
Cashing Out With Wow Charge
This is where it gets even more strange, the cash out amounts are split into 3 levels, the first one is $500 which when you realise that's the lowest you need is just plain crazy.
The amounts increase on both the other levels: $800 and $1000.
But that's not all, once you do manage to get to the magic $500 you're then put on a waiting list, they didn't tell you that did they.
You are put on the waiting list along with every other person that wants to cash out and seeing as this has been downloaded so many times I suspect you'll be waiting a very long time.
Complaints About Wow Charge
A lot of the time apps like this are put into 'early access' which means that users cannot leave reviews for others to see.
Thankfully this isn't one of them and the reviews being left are horrendous to say the least.
But wait, doesn't this have a 4.5 star rating? Yes it does but unfortunately there are places that these developers can buy positive reviews to artificially boost their app.
Totally wrong and against Googles TOS, but they seem very slow in doing anything about it.
I'll give you a snapshot of some the reviews I've found and they are all 1 star reviews.
One user states that "with every task there is something else to do after, it said I'm 3750 in line just watch videos……. I was number 200 and no video would load now I'm back to number 3750 in line after days of playing this game"
Another one said "Rated it a 1 cause I couldn't go any lower. Trying to cash out and it says there ALOT of transactions taking place but to get it quicker watch videos. You watch and it gets down to 200 and all of a sudden can't pull anymore ads. Then next time you log in your back up to 3700 again. But does the same thing. Such a scam. I hate apps like this"
And another: "SCAM! Money flows until ya are close to their REQUIRED AMOUNT, then instead of dollars, ya get pennies. THEN, after ya withdraw, have to watch 50 ads, followed by so many spins, draws, and/or shakes. Then another huge amount of cash ya have to get. In the queue – or are you? Suddenly there's almost 3000 players waiting, watch more ads to reduce your status, except the ads stop when ya are 200 The next day your status is back to almost 3000!"
These were all in the last few days and I think it's clear to see what's happening with this app.
Final Thoughts
Well, I hope my Wow Charge Review has helped you in some small way and I beg you if you haven't already please stay away from this app.
Apps like these are just scams and as such really shouldn't be allowed on the Play Store, why isn't there more scrutiny on these developers?
They are literally scamming people with the promise of getting paid to get them to watch ads and it may not seem like a big deal to some people.
But when you are counting on that money it becomes a very big deal.
The only people making ANY money with this app is Mobile Charge Club and that's the truth!
I hope you haven't got up in this scam but if you have any experience of it, perhaps you have got paid from them which I highly doubt please drop a comment below.
I'll respond to every one.
Have a great day guys and keep safe!