Is cash in on that passion a scam? well that's what we're going to be finding out in today's' post. The whole idea of being able to use your passion to create an income is something that is a very doable concept.
Does this show you how to do that? At the moment i don't know, but what i do know is that the front man, Richard Paul is not a very nice man, some label him a scam artist, so we're not off to the best of starts are we, But let's give the benefit of doubt and give him a shot.
NAME: Cash in on that passion
WEBSITE: ctptoday.com
COST: $397 – $97
what is cash in on that passion about
That's a really interesting question. Now you might be thinking what sort of statement is that to make and you'd be right. The reason i say that is because from the opening lines of the sales video " I have literally no idea how you found this page" I literally have no idea what the hell is going on. Until i start digging that is.
I've managed to find a Youtube video of the sales video so you can fast forward through the whole thing if you need to.
Let's go through that video a bit. To start with for every second we watch the video we are led to believe we're going to earn $1, not bad just for watching a video on how this program is going to make me rich, but you have to watch the entire video or you forfeit your bounty.
He goes on to say if you pay attention he's going to explain how to claim your $500.
Now the first time you hear anything about what this is is at 3.10 into the video. It's a piece of software that 'dumps' massive commissions into your bank account. If only.
Oh No…..at 4.06 he mentions what it is…..PROFIT STACKERS…..That's an old program of his. Now I've not come across that program so i can't give you an opinion on it, what i can do is tell you that from the quick research I've done on it it's not to be trusted and the video is the same so I'm still at a loss to know what Cash In On That Passion is about.
Ok i think I'm beginning to understand this $500 thing, at 8.41 he declares that if you don't make a 'big commission' in your first 30 days he's going to pay you $500 cash with no questions asked.
So at the beginning of the video he tells you you're earning $1 for every second you watch the video now he tells you he'll pay you that if you don't make a big commission……Is that on top of the $500 for watching the video?…I'm getting confused.
It becomes clear you're not getting $500 for watching the video, the only time that is available is if you don't make a massive commission in the first 30 days. I'm pretty sure you're not going to see it then either as i will explain a bit later.
So what is Cash In On That Passion About? I still couldn't tell you because he hasn't said anything about it, what he has said is to do with an old program that isn't even accessible anymore.
after the video
Hold on a minute it looks like the $500 video watching bonus thingy is something after all. 
what i don't get is that after sitting there for 11.25 watching that stupid video you're presented with a buy button that clearly has underneath it $397 crossed out and $97 in its place, so if we are getting a $500 video credit surely we should be getting $103 back.
But as you can see from the screenshot they have bumped up the price to $597.
I mean strictly speaking if it's $97 as the previous page said when you hit the buy button and only now see the $500 discount you should be getting $403 back not paying the $97.
Things are just not adding up for me and when things don't quite add up and you're not even in the program yet then my gut tells me there's something wrong.
This man Richard Paul has been linked with various other programs and one i found is called Countdown to Profits
and I'll think you'll agree it's almost identical to what we're reviewing today, in fact the only differenece is the name.
I sat through this video as well and can tell you now that it's the same video, and here's something else that's the same, the testimonials.
The one on the left is from Cash In On That Passion and the one on the right is from Countdown To Profits
They're exactly the same. Two totally different programs yet the same testimonials……strange.
so what is it
Ok so is there anything else to try and find out what this is apart from shelling out $97. If you take a look at the bottom of the sign up page you'll notice some links
I'm going to click on the purchase agreement to see if that sheds any light.
21 steps….I've seen that before. I did a review of a program some time ago called Cash In With Matt. I didn't click on till i saw this. That was fronted by someone called Jordan Daniels, but thinking about it now the similarities are there for all to see all the way down to the $500 for watching a video.
It turns out that one was a front for MOBE/MMTB by Matt Lloyd, so it's a good bet that this is where Richard Paul is going to lead you.
Take a moment to have a look at that screenshot above, you have to jump through a lot of hoops just to qualify for $500. You have to complete the 21 day training that includes extra purchases as well first, so not 30 days as Mr Paul would have you believe in the video, but 51 days!!!
I'm going to quickly move on to the terms of service…take a look at this one!
* THIS SITE IS NOT OFFERING A BUSINESS OPPORTUNITY* Then what the hell are you offering?
That says it all really.
And basically you're going to get spammed to death.
Ok I've got my spider sense tingling and it's telling me that this is MMTB or an incarnation of it, but i can't be sure so i know what I'll do, I'll ask them.
On the sign up page just to the left there is a small 'live help' tab, let's see what this really is.
So we now know there is a monthly membership fee, first I've heard of it. I go on to ask if it's anything to do with MOBE here's their reply
So it is MOBE, but what is this MIE. I find out this is something called Myinterneteducation.com and having looked at their products i can tell you now that they're not cheap either. 
final thoughts
So what can we take from all that. Well to begin with it's given me a massive headache trying to unravel what seemed like a murder mystery, having to dig into what the truth was and what was made up.
Remember we are talking about Cash In on That Passion here and i have found absolutely zero evidence that this is going to do anything for you except drain your pockets of cash, it a totally false sales pitch that says a lot, but tells you very little.
I've got to say there is no Cash In On That Passion, it's simply a landing page to funnel you off to MTTB which by the way if you went direct could get for a lot less $49 actually. Unfortunately MTTB isn't going to make you rich either, but if you think it's worth your $97/$49 then go ahead and purchase it, in my opinion you'd be wasting your time and money and you know that the time you waste you never get back.
My final words are going to be……..Stay away from Cash In On That Passion!
what next
So what are you going to do now?
Well I've been with a training program for over 3 years now and they have taught me everything i know, i started out as a complete newbie and went through the training step by step. You can do it to you know. Simply click the banner to find out a bit more.
No long videos where you're left wondering what you've just seen, or offering you $500 to watch it, promise. Actually there isn't a video just an honest account of what you can expect if you decide to join…..oh and it's free to start.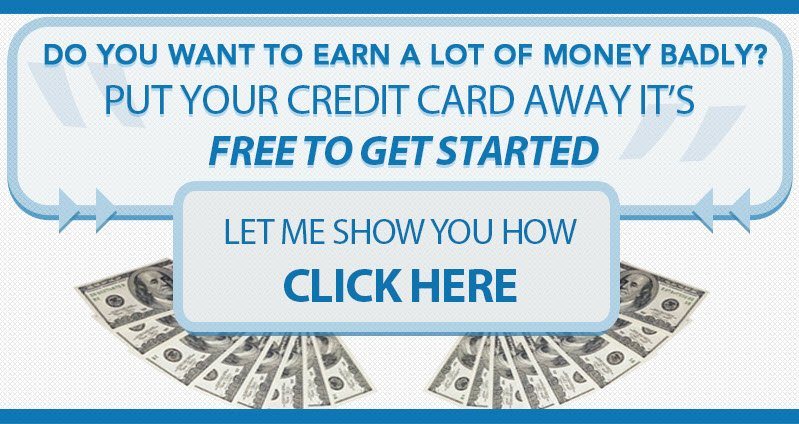 So have you had any run ins with Richard Paul? What do you think of what he's selling? I'd love to hear your thoughts below.