Welcome to my Classic Dozer 2020 App review.
The focus of todays review is one that I found when looking around the Google Play Store, it has over 100 thousand downloads and has been around for a few years now.
Now, just because something has been around for a while doesn't mean it's any good and judging by the fact it only has 3.5* review this could be one of them.
Having reviewed many of these apps I have come to realise that the actual chances of winning are low but they are there.
The problems arise when it comes to cashing out, be it technical difficulties or just having more hurdles placed in front of you.
Will cashing out be the stumbling block on this app?
Or is Classic Dozer 2020 a legitimate app?
Let's find out!
Name: Classic Dozer 2020
Owners: Lucky Games Dev
Price: Free ( in-app purchases)
Email: xuminghao1128@gmail.com
Classic Dozer 2020 App Review
Classic Dozer 2020 is a take on the classic seaside arcade machines where you deposit coins that either drop down a board with pegs or roll on to a bed of coins.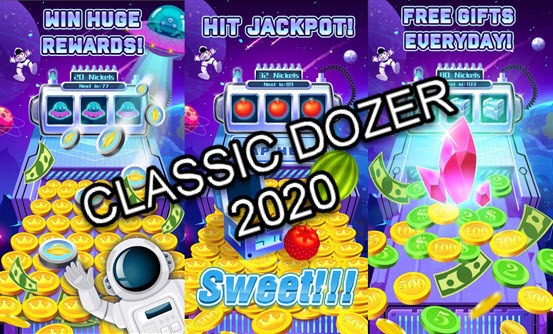 With this app all you need to do is tap the screen to release coins onto the play area.
If this is anything like the one reviewed a while ago then the game is really just a diversion from all the ads you're going to get bombarded with.
I do like the concept of this app though, perhaps it's because I enjoy playing the real thing.
Playing Classic Dozer 2020
The best way I know to see how something works is to try it yourself so that's what I'm going to do.
Once you open it you've got this machine with a sliding try that pushes coins over the edge into what looks like a small catch tray.
This then slides from side to side catching what comes over, but it is very, very small.
Depending on where you tap on the screen, left side or right, will determine where you coin/nickel lands.
At the top of the machine is readout telling you how many nickels you have, if you run out and want more you have to watch a video ad to get 40 nickels.
If you're out of nickels you can't play. You have to wait 30 seconds and they give 1 free nickel or watch the ad.
The other features include a wall, this adds sides to the playing area so your coins don't slip down the sides.
You also have shake, this drops a big nickel which shakes the machine.
Again with both of these you have to watch a video ad which are more like badly dubbed soap operas and very annoying.
How Does Classic Dozer 2020 Work
When you play Classic Dozer 2020 all of a sudden without any warning you'll get shown ads, these can in the main game or in side games.
The side game is a puzzle game the likes of which we've seen before in games like Cashman Blast.
When you try and exit the ad you're then shown another ad and then you can find yourself playing another game altogether until you eventually return to Classic Dozer 2020
Does Classic Dozer 2020 Pay Real Money
The pay out options on Classic Dozer 20202 are a bit weird to say the least.
It starts off at a respectable cash out threshold of $2 which is really great compared to a lot of these apps.
The problem is to get $2 you're going to need 9 million tokens, let me say that again 9 million!!
That's for your tokens, then you have $100.
To get that you need to accumulate 100 $ tokens which believe me is going to be a humungous task.
How Much Money Can You Make
Now, let's be honest, this is why the majority of people play these games, it's not for the how the game looks or sounds.
It's for the cold hard cash.
Well, if that's you then I'd look elsewhere because the only people earning money form this is going to be the developers.
They get paid each time you watch a video and there are plenty of those to watch!
Pros
Cons
Green money tokens stop after a while
Randoms ads popping up everywhere
Zero chance of earning any money
Very annoying
Is Classic Dozer 2020 legit
I guess this is really why you're reading this review, you want to know if this is a legitimate app that is going to pay you money for your time spent playing.
Ok, we know they have to earn money in order to pay money so we accept that we have a certain amount of ads to watch.
How else would they pay us, right?
Well, it looks like they have decided to keep the money for themselves and not pass it on to the people who are playing the game, the ones who are earning THEM money.
Complaints
Let's take a quick look at some of the reviews left by people who have been calling Classic Dozer 2020 a scam.
Way too many ads is a common complaint and one that I have to agree with, the amount is ridiculous, you spend more time watching ads than you do playing the game.
Another complaint is that when you are near the pay out threshold the game resets and you lose everything.
Others have said that when they try to cash out the amount required for cash out increases meaning they don't get paid.
As far as the puzzle prizes go, one player collected all the pieces for Airpods then the app would say they need more pieces.
They go as far to call this a fake app.
There are many reviews like this on Google Play Store for this app.
Final Thoughts
Well, I hope my Classic Dozer 2020 app review has helped you out in some small way.
It does make you wonder why Goggle allows apps like this to even be on their platform in the first place, do they not care that people are being scammed?
I think it's very clear that this isn't an app that should be downloaded. and should be avoided at all costs.
I know this app is free to download, but it presents itself as a way to earn extra money, well, it states "huge rewards" actually.
Nothing could be further from the truth.
I should have known it was a scam when in the description it says "join the millions of people" it's only been downloaded 100k, nowhere near millions!
Have you had any experience with Classic Dozer 2020? If you have leave a comment below.