Welcome to my Cash App: Make Money App review.
Today we're looking at an app that has been downloaded over 100 thousand times but doesn't have the best star rating.
With a 2.3* rating people are definitely having a problem with this app.
The app itself claims to let you earn money quickly and easily and even earn a second paycheck by using this as your part time job.
Apps like this are in plentiful supply in the Google Play Store but which ones are legit and which ones are a total waste of time.
In this Cash App: Make Money App review you'll find out exactly how this app works and if you can actually earn any money from it.
Name: Cash App: Make Money
Price: Free ( no in app purchases)
Developer: marquittaloper
Contact Email: marquittaloper5476@gmail.com
Cash App: Make Money App Review
Cash App: Make Money isn't you're normal make money app, this doesn't really have an actual game which isn't a bad thing.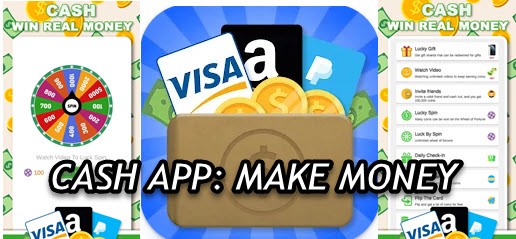 I reviewed one yesterday and the game on that one was just mindlessly tapping a tree.
It was just there for the sake of it, it would have been better if there was no "game".
That's what this app is, no game as such, just a list of ways to earn coins that you can then cash out once you reach the cash out threshold.
Playing Cash App: Make Money
Once you've downloaded Cash App: Make Money the opening screen has a list of hot offers with each one offering a different way to collect coins.
One thing that stands out for me is the typos, now, I make mistakes myself when typing but I would have thought that an app would be error free.
They call gift cards gift SHARDS and daily bonus daily BOUNS.
Lucky Gift
The list consists of 8 ways to win starting with lucky gift which is a choice of 5 high end products.
They include an iPhone 13 Pro Max, an iPad Pro and a MacBook Pro 13. Prizes I've seen before on other apps all of which have been fake.
To "win" one of these great prizes you need to collect 100 puzzle pieces of each prize.
You get assigned a random puzzle piece by spinning and of course when you collect you have to watch an ad.
Watch Video
Next is one called "Watch Video" which is what you're doing anyway but this takes away any unnecessary steps.
You watch a video and get a random amount of coins, strangely enough all the ads seem to be about money making apps.
Invite Friends
This does what it says on the tin, invite a friend and you get 100,000 coins.
Now, it does say a valid friend, I have no idea what constitutes a valid friend?
Lucky Spin
Lucky Spin is a spinning wheel with different amounts on and you have to watch a video ad in order to be able to spin the wheel and whatever amount it lands on is the amount of coins you receive.
Luck By Spin
Luck by Spin is essentially the same but this can land split between to amount and then you get nothing. You have to watch a video each time you want to spin.
What I don't understand is I've landed on a 300 segment and still not won, very confusing.
Daily Check in
The Daily check in is exactly that, a daily check in that results in you getting awarded a bonus of coins.
You do have a static ad, but you simply click away from that.
It does have the option to 2x by watching a 30 second video and once you've watched that you get double coins.
Scratch Card
I like this one the best, and again it is what it says, a scratch card. You scratch off the screen and reveal what you've won.
You then have to wait 10 seconds to be able to do it again up to a daily limit of 10 scratches.
Flip The Card
You have 12 cards that you can flip over one at a time with a 15 second wait time in between flips.
There is a limit of 8 times for you to add each card to your wallet, but if you just wait for the 15 seconds for each card you can turn them all over then add to wallet.
How Does Cash App: Make Money Work
This works simply by you watching ads and collecting coins. The developer gets paid by the advertisers and passes a portion of that on to you once you reach the requirements.
Well, that's what they are supposed to do.
In reality they tend to keep the money all to themselves and just string you along.
Does Cash App: Make Money Pay Real Money
The pay out threshold for Cash App: Make Money has quite a low qualifying bar, but to hit that bar you need an incredible one hundred thousand coins.
If you did manage to reach those dizzy heights then that would earn you $100 through PayPal.
There are other ways like Visa, Google Play, Amazon etc.
They all require 100,000 for $100.
Of course the payments go all the way up to $1200 which will cost you 650,000 coins
How Much Money Can You Make
This is where a lot of people are falling foul of this app. Whether it be the prizes or the cash out, people are just not receiving anything.
We'll go over exactly what the are complaints in a little while, but for now I would suggest that the amount of money you can earn from this app is a big fat 0.
Pros
No in-app purchases
Variety of ways to get coins
Cons
Unrealistic amount of coins needed to cash out
Too many people not receiving pay outs
Too many ads
Waste of time
Is Cash App: Make Money Legit
Cash App: Make Money does not make you money. There are too many red flags for this to be legit. Like all these types of games there is no intention of ever paying anyone.
It is purely there to make money for the developer, not you.
Complaints
One recurring complaint I've seen is that the app gives an error message when trying to enter details for PayPal.
It says to enter correct details. I'm sure people know their own details.
People are reaching the threshold and being told it will be paid in 7 days, but after that period still not receiving anything.
Developers are not responding to any emails asking what the delay is, people are just being conned and then left to wonder.
There are some 5* reviews, but they are referring to liking the app not 5* for being paid any money because at the time they wrote the review they were still waiting.
Final Thoughts
I hope my Cash App: Make Money App review has helped you out in some small way. I would advise anyone who hasn't yet downloaded this app, not to.
Stay well clear of it.
I think it's pretty sad really. These app developers purposely set these apps up to rob you of your time.
They know full well they're not going to pay you, yet continually advertise them as a way to earn easy money.
I think places like Google Play should be doing more to police these app, why do they allow them?
Have you had any experience with Cash App: Make Money App? Let us know in the comments.