Welcome to my Money Tree: Cash Rewards app review.
I've been asked by one of my readers to take a look at this app so I'll happily oblige.
When it comes to apps like these there are a few things you need to look out for to determine if they are worth your time even downloading.
With so many app being made every year all claiming to reward you and me with cash just for playing their app.
Unfortunately, very few ever live up to the hype created by the developer. Some are downright scams and if you want to see an example of what a scam app looks like take a look at the one I reviewed here.
This app has over 100k downloads but only has a 2.7* average.
The last few reviews are 5* and I have my own take on those but you'll have to stick around till the end to find that out.
So, Is Money Tree: Cash Rewards legit? Will it pay out?
Let's find out shall we.
Name: Money Tree: Cash Rewards
Price: Free ( No in app purchases)
Owner: marquittaloper
Email: marquittaloper5476@gmail.com
Money Tree: Cash Rewards App Review
Money Tree: Cash Reward centres around growing a tree and getting cash rewards. To grow the money tree you simply need to tap it.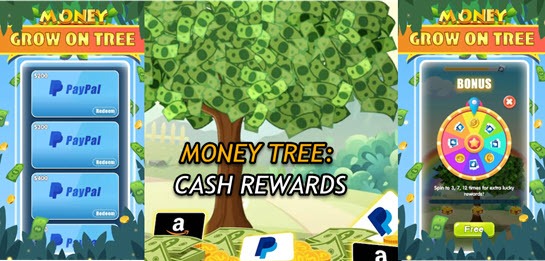 This results in your tree going from a tiny sapling to a giant redwood with dollar bills for leaves.
The app is available from the Play Store and is free to download without any in app purchases to make.
The developer, marquittaloper, has 5 other games available for download, all claiming to enable you to earn cash for playing them.
Playing Money Tree: Cash Rewards
The best way I know to see if something is a scam app or not is to download it myself and go through it so that's exactly what I've done.
Once you've downloaded and opened this app the first thing you see is the main screen, there are no instructions.
All there is on there is a top bar showing what level you are on, how much money you have won and how many coins you have.
Below that are 4 symbols, a lucky spin, a chest, a bottle with what looks like a visa card in it and a pulsating PayPal symbol with a countdown timer.
Under that is a small little tree which you have to tap.
Going back to the pulsating PayPal symbol once you press it you're able to get a bonus, in this case a $52.29 bonus which I suspect that if you accept it you will have to watch an ad.
Yep, you have to watch 2×30 sec ads.
The funny thing is that underneath the accept button there is a button that says "No Thanks" and you would naturally think that by pressing that you wouldn't have to watch an ad.
No Thanks
Wrong! Even if you press "No Thanks" you'll still have to sit through the ads just not with the bonus.
I thought that $52 was quite a lot to give away and I was right because once I sat through the ads it got went back to the accept screen and froze.
The only button that worked was "No Thanks" and that threw up another ad, but no money.
The lucky spin symbol takes you to a wheel that has PayPal icons and Coin icons on it. It has a big button that reads FREE on it.
I spun and landed on a PayPal icon resulting in a $14.11 bonus if I watch an ad, will they pay it this time?
Yaay, they paid it into the account.
Tapping on the bottle takes you to a screen with 319 coins which you have the opportunity to double by watching an ad.
I watched the ad and yes they got added to the account.
The chest has given me 2196 coins again with the opportunity to double if I watch another ad.
Again I choose to watch the ad and again I got paid.
Tapping the tree results in it growing and +exp10 which doesn't seem to actually have any effect on anything.
Each tap increases the level bar at the top of the screen.
So, I'm up to level 6 and the tree is growing well, but what else is there?
What does growing the tree do?
How Does Money Tree: Cash Rewards Work
It would seem that Money Tree: Cash Rewards works by getting you to grow your tree, but in reality it simply works by you watching ads.
You could almost take away the tree entirely and get you to watch ads because it really doesn't seem to do anything.
As you progress through the levels you you actually tap the tree less and less to trigger another ad.
Does Money Tree: Cash Rewards Pay Real Money
This is where it gets interesting because Money Tree: Cash Rewards has 6 different pay out levels starting at $200 all the way to $1,000.
The coins you collect can be used for $100 gift cards, but you have to collect 295500 coins.
I'm at level 6 and I have $83.02, I would have had $52 more had they paid it.
Having played these types of game before I'm pretty sure that the game will start to reduce the amount given you and increase the amount of ads you need to watch.
Meaning, to even get to the lowest pay out will take a considerable amount of time and a fair few ads to watch.
How Much Money Can You Make
This is the million dollar question and if you dig a bit deeper into the reviews you'll find plenty that will testify that you won't make any money with this app.
As you get near the cash out amount you'll be informed that you have a bad connection or connection lost.
Pros
Cons
Fake 5* reviews
No cash out
Too many videos to watch
No response from developer
Waste of your time
Is Money Tree: Cash Rewards Legit
I believe that from my own use of this app and that of many other users that Money Tree: Cash Rewards is not a legitimate app.
It is designed to make the player watch as many ads as possible so the developer gets paid without ever paying out.
They don't pay out when you reach the pay out threshold and there is no game, not really, just an ad machine.
Complaints
As I've touched on already, there are some 5* reviews, but I would say they are totally fake and the reason I say that is because some of the positive reviews are actually for different games.
They talk about withdrawing $160 when this game requires $200 as well as talking about having optimal skill to play
What!!
You're just tapping the tree, there is no skill.
Also they talk about this being one of the best casino style apps they've recently tested.
Obviously the 5* reviews are not for this app so don't believe them.
One review in particular made me laugh when they said about being close to the threshold trying to click the get bonus button to receive rewards it says connection is lost.
However, when they click "No Thanks" they still see an ad!!Another user got to the $200 pay out threshold and then had to watch an astonishing 200 videos only to still not get paid.
Privacy Concerns
Something I've seen on a few of these app is the inability to request that your data be deleted. Now, I'm pretty sure that under GDPR regulations it is a legal requirement to provide that.
Final Thoughts
Well, I hope that this Money Tree: Cash Rewards App review has helped you out in some and my advice for what it's worth would be to stay well away from the rubbish.
It's just a fake app that makes you think that you have a chance to win some money.
The only people earning money from this app is the developers who are getting paid from the advertisers.
I really don't know why Google Play allows these apps to continue to con people, they should really be doing more to filter these apps.
Have you had any experience with Money Tree: Cash Rewards? Let us know in the comments below, I respond to every one, unlike these developers, lol.