Hello and welcome to my Color Block App review.
Today we're looking at an app that caught my attention while I was just taking a look through what Google Play Store had to offer.
With over 100 thousand downloads and the lure of getting paid $150 for playing a game this has become a very popular puzzle game.
However, the rating of 3.6* would suggest that not everything is as it seems.
As with all games of this type you can expect there to be ads because that is how the developer funds the pay outs.
The trouble starts with the amount of ads that are shown and the lack of pay outs to players.
So, let's dive straight into this review and find out if Color Block faces the same issues.
Name: Color Block
Cost: Free (no in-app purchases)
Developers: V Long Technology, Inc
Website: http://www.vlonggame.com/
Color Block App Review
Color Block is a puzzle based game that requires the user to drag and drop blocks into a grid on screen and each time you fill up a column or row those blocks will disappear.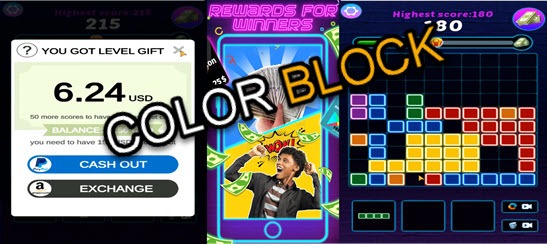 One immediate downside is the fact that the blocks cannot be rotated which is a shame.
As is the case with many of these types of games they are promoted with the claim that players can win a lot of money.
These types of claims rarely, if ever, come true and the player is left feeling as though they have been scammed even though the game is free to play.
Your aim in Color Block is to reach the highest score and when you do you have the chance to win a real money reward.
I think it's time I downloaded this app to see for myself what all the fuss is about, that way I can let you guys know whether this is going to be a waste of your time or not.
Playing Color Block
When it comes to playing Color Blocks you get given 3 blocks that you position anywhere on the grid.
These can be a collection of 1, 2, 3, 4 or 5 in each of the 3 blocks, and they can be horizontal or vertical, but remember you cannot rotate these to fit.
You then basically drag these blocks onto the main grid in order to fill up a line, once that happens that line will clear and you'll earn points.
At some point you will come to a point where you have no more blocks and you've effectively lost.
But fear not my app playing friends, Color Block will allow you to block shuffle but only if you watch an ad, this will revive you and allow you to continue.
You can also bin blocks if they aren't what you are looking for, again, you need to watch an ad.
Does Color Block Pay Real Money
When you play Color Block you are informed that you need $150 to cash out which is plain and simple unlike some games that have different levels of cash out.
Alternatively you can exchange for Amazon vouchers.
Now all that sounds good in theory but in practice things are a little different.
As soon as you start to build up any sort of money things start to go wrong, the amount of money you win goes down drastically meaning you'll need to play much longer to achieve the pay out threshold.
But that on it's own wouldn't be the end of the world, but coupled with the amount of ad you're forced to watch and the resetting of the game.
How Much Money Can You Make
All that makes the chances of this app paying you real cold hard cash near impossible.
I will go out on a limb here people and say you will not earn any money from this app, there, I've said it.
So, I think that answers that question of how much money can you make playing Color Block.
Pros
Free to download
Easy to play
Nothing complicated
Cons
Never going to reach $150 pay out threshold
The amount of cash rewards continues to get smaller as the game continues
Way too many ads
Is Color Block Legit
As far as being legit goes, this app really couldn't be more un-legit if it tried. It advertises that it pays out $150 yet there is overwhelming evidence to the contrary.
I understand that developers need to cover costs and being a free download they need to look elsewhere for funding.
Which is why they have ads in their games, but and it's a big but, you expect them to pay out what they advertise.
Not to throttle the amount you're collecting so you never reach the threshold.
Is Color Block legit? No way Jose.
Complaints
There are 4.58k reviews on Google Play Store about this app and the majority are negative and the ones that are positive are talking about a totally different game.
Some are leaving early good reviews about the game itself but they haven't even got anywhere near the pay out threshold yet.
So they don't really know if it's worth the good review.
One guy left a 5* review but was actually telling people to stay clear of it because as he calls it 'the dreaded trickle down effect' where you get pennies for months.
Most of the negative reviews are about the horrendous amount of ads and the game giving out such little amounts when they've got so close to the cash out.
A lot of people are reaching $148, $2 away from cash out and the game starts giving you $0.01
Final Thoughts
Well, there you have it, my Color Block App review. I really hope it's helped you in some way, mainly to stay away from it and don't waste your time with it.
It's not going to pay you $150, I know it's tempting, but that's what the developers depend on.
They draw you in with the hope of cashing out easy money and then bombard you with ads because that's how they make their money and then pull the rug out from under you with absolutely no payments.
The developers are the only people earning any money from this app.
Have you had any experience with Color Block app? Let me know in the comments.