Welcome to my Block Shooter App Review.
With so many games on the Play Store offering to pay you money just for playing them it's hard to know what is legit and what is a scam.
That is why you are here, looking for answers before you potentially waste your time.
It has over 100 thousand downloads so it can't be all that bad, can it?
One thing you should remember is that the developers have to make money in order to pay money out.
When it's a free app like this one then the only way they have of doing that is by adverts.
But, is this one of those apps that strings you along and just keeps all the money to themselves.
Or do they really pay you just for playing and watching a few ads?
Well, let's find out…
Name: Block Shooter
Price: Free
Developer: ZenPuz
Email: 2048boomcubic@gmail.com
Block Shooter App Review
Like most of these apps this is very simple to play, all you need to do is shoot one block into another one that has the same number.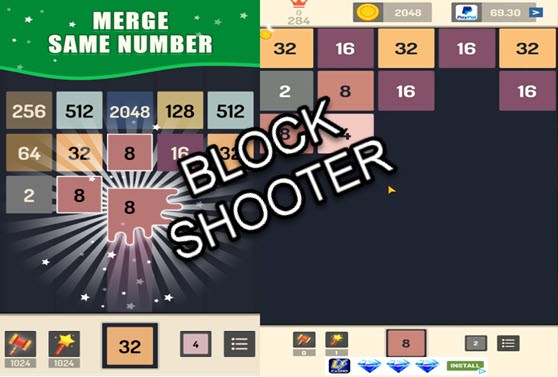 These two numbers will then merge and result in a larger number.
If you put a block in the wrong place you do have the option of removing it.
Blocks can also merge if they are side by side as long as they are the same value.
Playing Block Shooter
So, that's the outline of the game, but let's get into the workings of it to find out if you can make any money.
When you start this game you basically have a blank screen, you have a block at the bottom of the screen which you 'shoot' up to the top.
If the block up next is of the same value of the one you just shot then you can either place it underneath or by it's side.
This will then merge into a higher number and you will receive that amount in coins.
The coins enable you to either upgrade a pre-selected block which doubles its value or you can remove a block.
You get a free one of each and once you've used them if you want to use them again you'll need to buy more with the coins you've accumulated.
The blocks will keep coming until they are 3 deep then if you haven't reached the pay out threshold by then you'll need to restart all over again.
I've purposely left out any reference to watching ads at the moment, I'll go over that in a while.
Does Block Shooter Pay You Real Money
The Block Shooter app claims to pay $100 into your PayPal account once you've accumulated said amount.
The trouble is that even though the game starts off well, paying you a decent amount, it quickly descends into a trickle.
How Much Money Can You Make
A lot of apps will have various levels at which you can cash out, this one has just one and it's set at $100.
There are no prizes for collecting puzzle pieces like so many others and I like the simplicity of this.
But as you'll find out having it set at a $100 cash out doesn't mean you'll actually get it.
Watching Ads More Than Playing
As the amount of money you get awarded drops, the amount of ads you see greatly increases.
So much so that you're going to be spending more time watching ads than you are playing the actual game.
I know game developers have to make money in the first place so they can offer the cash rewards, but when it gets to the point where the ads are the main focus then something is very wrong.
Greed has a lot to do with it. The developers want the money all to themselves.
Moving The Goalposts
If reaching the $100 cash out wasn't hard enough they then make it even harder by moving the goalposts.
Those who have hit the magic number have reported that to cash out they need to be active on the app for 30 days consecutively.
The person will also need to collect 30 red envelopes.
Unfortunately, these requirements have just been made up, they are not real. They will not allow you to cash out.
Pros
One cash out level
Nice and simple
Cons
Diminishing returns
Way too many ads
No chance of getting the $100
Absolute waste of time
Complaints
The complaints about this app from real users is pretty much the same. They all raise the issue of when they get near to $100 the app starts giving out $0.01 rewards.
And as you get those rewards for watching ads they are watching a horrendous amount of ads just to get to the $100.
Even people who have passed the $100 never receive any money.
Final Thoughts
This makes me so angry that people can seemingly get away with creating these apps under the pretence of paying out money.
When in reality they have no intention of ever paying out any money.
Is it criminal? I'm not sure, but you'd think an organisation as big as Google would have something to say about letting apps like this on their platform.
The only winners here is the app developer.
I hope this Block Shooter app review has made you think twice before wasting your time and downloading this piece of…….
Have you had any experience with Block Shooter? We'd love to hear your thoughts, just leave a comment below.