Welcome to my Money Bricks Ball App review.
Apps like this normally attract thousands of people mainly due to the lure of being able to win big money.
When the average user sees things like the PayPal logo they naturally assume that a genuine opportunity awaits them.
As I've come to learn most of these apps, like Block Shooter, are totally fake and cannot be trusted and when they are labelled as early access it means that no-one can leave a review for others to read.
As luck would have it, Money Bricks Ball has been completely released meaning we can see if the app pays out like it should from people who have already had experience with it.
So, is Money Bricks Ball legit? or a total scam? Let's find out.
NAME: Money Bricks Ball
PRICE: Free
DEVELOPER: Double_ZPlayGame
EMAIL: 1029024925@qq.com
Money Bricks Ball App Review
Money Bricks Ball is classed as a casual app in which the players aim to destroy numbered bricks by shooting balls at them.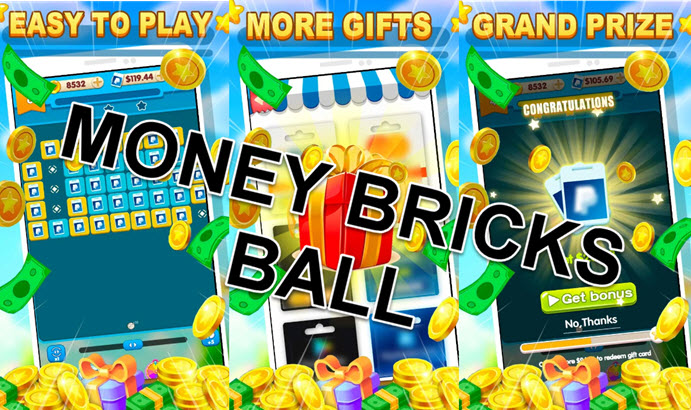 Every brick has a specific number on them indicating the number of times it needs to be hit before it can be destroyed.
Once you clear the stage, getting rid of all the bricks with a PayPal logo, you can collect coupons.
These coupons can be redeemed for real cash as soon as the player reaches the pay out threshold of $200.
The important part here is, do they honour it?
Playing Money Bricks Ball
Before you even think about putting this on your phone you should take into account the fact that you'll be granting access to all your important items, like photos and files.
More importantly because you've granted access this means that they can in theory delete your data or modify it for nefarious means.
To play Money Bricks Ball, all you need to do is simply direct the balls and let go of your finger to shoot the numbered bricks.
The balls will continue to rebound when they hit a brick or nearby wall and will only stop if they reach the bottom of the screen.
When a ball collides with an obstacle, the number showing on the brick will decrease by one.
To completely destroy the brick the number will need to reach zero with the object being to remove all the bricks from the stage and earn different bonuses based on your performance.
Pay special attention to the bricks that have a PayPal Logo in the place of numbers because destroying them will result in credit being added to your cash balance.
This will only happen if you tap the button and watch a video in it's entirety, but what's on offer is unlikely to materialise because paying out between $5 and $20 just for watching a video is just not realistic.
There is also the chance to earn bonuses once you've cleared the stage.
How Much Money Can You Make
The payout threshold for Money Bricks Ball is $200, but there is a payout option of $500.
Whether any money can actually be made remains to be seen.
Working on the assumption you can and you've reached the $200 payout threshold, if you want to withdraw funds you'll need to click your cash balance at the top of the screen.
In order to request a payment you're going to need to enter your email address 2 times and select the "redeem" button.
However, the things aren't as straightforward as they may seem.
Once you've requested a payment the status will be shown as "processing" which seems to be standard for these types of app.
Even though your request is processing you will need to jump through some more hoops.
In order to activate your order you will need to watch a staggering 200 videos!
So, in reality the developer has, in a way, got you to boost their income by making you watch more videos which he gets paid for.
What you get in return is a loss of time and a loss of your mobile data.
Does Money Bricks Ball Pay You Real Money
Playing Money Bricks Ball will not earn you any money regardless of how many time wasting, data sucking videos you watch.
Fulfilling all the ad requirements doesn't guarantee the developer is going to pay you anything.
It is something that is becoming increasingly popular amongst developers of these apps.
This enables developers to make as much money as possible by extending the amount of time the users are on the app and not sharing the advertising revenue.
Is Money Bricks Ball Legit
As I said at the beginning of the review this app is not in the early access stage which means we can see exactly for ourselves what people think about this app.
Unfortunately the consensus isn't good, even though this has 4.3 stars the overwhelming majority are not satisfied.
There are 5 star reviews which when you read them are about some other app altogether.
I suspect that other 5 star reviews have been bought.
Trying to find anyone who has been paid is an impossible mission and it's for that reason that I've come to the conclusion that this is not a legit app.
Pros
Free to download
Nice to play
Cons
Zero chance of getting $200
Wasting your time and data
Too many ads to watch
Complaints
Before we wrap this review up let's take a quick look at some of the reviews left by users.
Some complain about whatever email address you put in you get the message that it is invalid.
Many users have said that even though the app says that $200 payment successful it never reaches their PayPal account.
People are not really believing the positive reviews because they are totally unrelated to this app.
Final Thoughts
I hope you've found my Money Bricks Ball app review helpful in some way.
My thoughts on this app are that they will do anything to stop you from being able to cash out the $200, in fact I would as far to say they have no intention of ever paying you anything regardless of how many videos you watch.
The only winner here is the developer.
The advertising on this app is misleading at best, criminal at worst.
I think it's safe to say that you shouldn't download this app, stay well away from it!
If you have been unfortunate enough to already have this feel free to share any thoughts you may have in the comments below.