Welcome to my CashCamel App review.
It's been a while since I reviewed a survey app, I think the last one I done was a best of post which you can find here: 10 best survey apps.
I saw this one being advertised as one that pays 30% more than any other survey app so of course that caught my attention.
The other thing that was interesting was the fact that they use AI to pre-qualify you for surveys so that you can complete more and get paid more.
The trouble is that almost everything I've reviewed since I started this site back in 2016 has failed to live up to the claims of the owners.
So, in this review I'll be looking at how realistic these claims are and let you know if this is a legit app and how much money, if any, you can make.
Name: CashCamel
Price: Free
Developer: CrowdNautics Inc
Email: hello@crowdnautics.com
CashCamel App Review
You won't be surprised to learn that like most survey apps CashCamel pays you varying amounts of money to take part in surveys.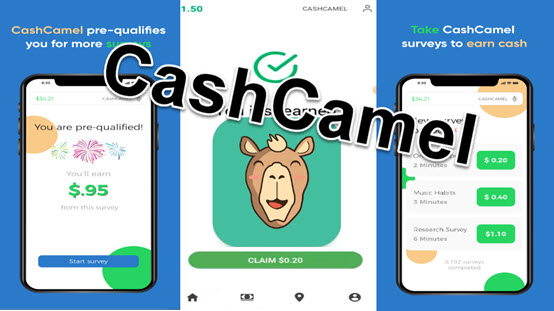 These are from research companies and some big brands that are looking to understand customer preferences.
Also to identify different trends that are current in the marketplace as well as products.
Doing this enables the companies to gather large amounts of data that is used in making future decisions.
These companies pay for your opinion and CashCamel will share a percentage of that money with you.
This app been downloaded over 100,000 times and has a 4.3 star rating which if the reviews are legit is a very good sign.
Using CashCamel
After you've registered with an email and password you'll be asked a handful of questions so they can get to know you a bit better.
They'll give you a big ol' pat on the back for completing their welcome survey.
It'll be like a virtual hug, but with fewer calories!
The questions themselves are easy and are there so you'll be a pro at using the platform in no time.
It'll only take 4 minutes and it's worth a cool 20 cents!
Plus, as a bonus, you'll get to take 3 more surveys so they can get to know you better with each one being worth 20 cents.
Let's get started and earn some pocket money!
Taking Surveys
To earn some extra cash all you need to do is simply fill out some surveys, providing clear, thoughtful and honest responses.
Now, sometimes the researchers are looking for very specific people, so you might not always qualify for every survey.
I thought the whole idea of this using artificial intelligence was so you don't waste your time filling out questions only to find you don't actually qualify!
If you do qualify the surveys are generally between 5 and 20 minutes and the amount you get paid will depend on how long the survey is.
So, a 5 minute survey won't pay as much as a 20 minute survey.
What Can You Expect to Earn
This is the part, probably the most important part, where you get to find out how much money you can earn with the CashCamel app.
As a rule of thumb you can expect to earn around 30 cents per survey, some are slightly less, some are slightly more.
Where you are located also has a bearing on how many surveys you receive, so it may be the case you won't get the chance to complete very many surveys at all.
And that brings me on to the next part, the payout threshold.
Currently it's set at $10 which on the face of it doesn't seem too bad, but then you start to realise that getting 30 cents for 1 survey is going to take a long time to reach $10.
Especially when, as some people have reported, CashCamel start to restrict the amount of surveys they give you.
Now, that might just be because of location or it might be an intentional move so you don't reach the threshold.
Getting Your Money
If you are lucky enough to reach the cash out threshold you're going to need a PayPal account because this is the only option available.
To do so you'll need to tap the cash icon at the bottom of the screen and you'll be taken to the cash out area.
You'll see here how much you've earned and also have the ability to enter your PayPal email in order to make the withdrawal.
Is CashCamel Legit
From what I've seen of CashCamel I can honestly say that this is a legitimate app, but there are some issues with it.
Pros
Free to use
legitimate application
Accurate times for survey taking
Cons
Low paying surveys
High cash out threshold
Lack of surveys for some
Not really worth the amount of time spent
Complaints
Some complaints I've seen are about the lack of support and one reviewer even said that their balance doesn't change despite completing the surveys and being told they've finished and earned the money.
They should have passed the $10 payout threshold, but instead were stuck on $6.99!
Customer support would be the least to expect if there is such a big problem.
One person stated that last year they got their money in 1 day, but currently been waiting 8 days and not received anything.
Again, they have contacted customer support and has received no reply!
There are complaints about disqualified or broken surveys as well as money not be added to their wallet.
Final Thoughts
My take from my research is that there doesn't seem to be much evidence that this app actually pays out which is a massive failure.
The low paying surveys means that you must complete around 33 surveys to reach the chance to cash out.
Reaching that number depends on whether the app keeps serving you surveys in the first place.
It would seem that the inclusion of artificial intelligence hasn't done much to stop the amount of people not qualifying for surveys.
This means that you still have to go through surveys a certain way before you find out you are not eligible.
I also tend to think that because of the low payments for each survey, coupled together with lack of surveys, any money earned that hasn't reached the cash out threshold will more than likely be abandoned.
This, of course, only benefits the developer once enough time has passed because that money will be swallowed up by them.
I really hope you've found my CashCamel app review helpful in some way.
If you have had any experience with CashCamel I'd love to hear from you in the comments below