Welcome to my Lucky Battery app review.
Today we're going to be looking at something I haven't come across before, an app that supposedly pays you for simply charging your phone!
What could be easier, right.
Well, it seems that the developers are taking it to the next level with this one.
The claims being made are that the simple task of plugging in your phone to the charger for a 10 minute period will earn you $10!
This is only available once a day as one of the daily tasks, but earning $10 for 10 minutes is going to be the equivalent of earning $60 an hour!
Those numbers are simply ridiculous and I suspect as the review moves forward we will find out it's just that, ridiculous.
So, this Lucky Battery app review will let you know whether or not this is legit or just another scam app.
Name: Lucky Battery
Price: Free
Developer: Snows Studio
Email: SnowStudio520@gmail.com
Lucky Battery App Review
As soon as you open the app you get a flash bonus which results in $122 in coin based currency if you watch an advertisement.
Unfortunately I have a feeling that advertisement is going to be the first of many!
After that you then have a daily check in and once you tap the check in button you get another video ad 🤦‍♂️
The daily check in gives you an increasing amount of coins for each consecutive day you log in.
Once you do eventually make it to the main screen the first thing you notice is just how busy it is.
It can be a bit overwhelming trying to work out what it is you've got to do.
Anything you do tap on will result in a video advert.
There are 7 main sections with around 3 sub sections:
Optimise
Time Limited Tasks
Charge Accelerate
Phone Cooling
Charge for 10 minutes
Redeem Charging Rewards
Daily Battery Optimization
Lucky Wheel
Lucky Draw
Lucky Draw
Using Lucky Battery App
When it comes to using this app things just seem a bit made up.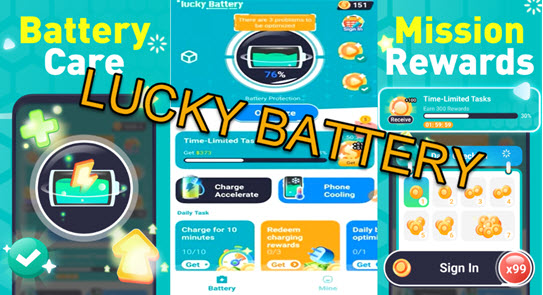 For example, when I tap the charge accelerate there is a bin icon with a horizontal line moving form top to bottom.
After a short while it informs you that your phone now has a certain percentage faster charging.
Does it really? I don't know.
It's a bit like the phone cooling option, this one has a snowflake icon and says your phone is cooling down.
Once finished there is a 2 degree drop, but very soon after doing this the app tells me that my CPU temperature is too high??
I forgot to mention that in between everything I've been doing are numerous ads being shown at every opportunity.
Money for Charging or Not
While this is advertised as an app that pays you for charging your phone that's not strictly true.
What will happen is any rewards you get are doubled if you are charging your phone.
To get rewards in the first place requires you to "optimise" your phone by tapping that optimise button.
This results in the button changing to a 'get rewards' button, but only if you are charging your phone.
Lucky Wheel
The Lucky Wheel section has one of those wheels that you spin and it lands on a certain segment.
You can spin this wheel 100 times.
These segments are made of a sad face, $coins, a stack of dollars and another icon that I really don't know what it is 🤷‍♀️
Each spin results in, you've guessed it, an ad! Which seeing as you can spin 100 times is a lot of ad watching.
And a lot of revenue for the developer.
Lucky Draw
This area has 9 cards that can be flipped over to reveal different amounts of money that get added to your balance.
What I will say is that the amount of ads shown here are mainly banner types ads sprinkled with some video ones.
Nothing like the what we've seen so far.
Lucky Shake
The final mini game is Lucky Shake. This is where you simply shake your phone and for some reason the app then gives you $10.
Why?
Charge Accelerate
Next up is Charge Accelerate, this is where that bin icon that we talked about earlier comes in.
It apparently makes charging faster by cleaning up redundant background apps.
Does it? I don't know. What I do know is you're going to be shown video ads throughout the process.
Pros
Cons
No proof it actually does anything
Way too many ads
Unrealistic earning claims
Cash out threshold too high
Cashing Out
When it comes to cashing out there are 3 levels starting off at $500 which is just a crazy amount to have as the minimum.
And it just gets worse, the next level is $800 followed closely by $1000.
If you get to the $500 threshold you'd hope that it would be as simple as putting in your PayPal email to receive payment.
Well, you'd be wrong.
Getting to the threshold is just the beginning. Next comes the waiting list.
Wait….. what waiting list?
It turns out that once you tap the cash out button you are put on a waiting list with everyone else who wants to cash out.
You'll be waiting with potentially thousands of users seeing as this has been downloaded over 100k times
Complaints About Lucky Battery App
During the course of this review I've taken a look at the reviews left by users on the Play Store.
Even though this has a 4.5 star rating I really struggled to find any positive reviews.
The one 5 star one I did find really didn't have any reference to this particular app.
It's pretty ironic really because the amount of negative reviews I found complaining about how this app actually drains their battery!
Another complaint that is popular is that this app shuts down your phone and reboots it too many times.
I've also seen many reviews talk about that waiting list.
They are at a certain position then it randomly resets you to a higher position so your money doesn't pay out, super annoying!
And of course people rightly complain that you can't do anything without being bombarded with ads.
Final Thoughts
Stay away from Lucky Battery! It won't even help your battery, it'll drain it faster than normal and has the potential to severely limit it's lifespan.
The whole thing about being able to optimise your phone battery is really just a front for the developers main aim, ad revenue.
I cannot for the life of me understand why apps like this are even allowed on the Play Store.
It seems like there is no regulation and developers can basically just scam people.
I couldn't find a single person that was actually able to cash out using this app much like the one I reviewed here.
I hope you've found this Lucky Battery app review helpful in some way and if you have had any experience with it please do leave a comment below.