Welcome to my Scratch4Cash app review.
Being someone who's constantly on the lookout for for fun and easy ways to earn some extra cash I thought this would make a great addition.
Scratch4Cash promises you can win cash just by playing their game – can you believe it?
There are plenty of fake games out there that try and take advantage of people who are looking to make some easy money.
Of course, being the curious cat that I am, I just had to try it out for myself to see if it's the real deal or just another bunch of hooey.
Get ready to learn all you need to know about this app and decide for yourself if it's worth you while!
So, let's not waste any more time and dive right in, shall we.
Name: Scratch4Cash
Price: Free
Developer: Mega World Wide
Contact: info.megawwide@gmail.com
Scratch4Cash App Review
When it comes to releasing apps on the Play Store the developer has the option of classifying it as 'early access'.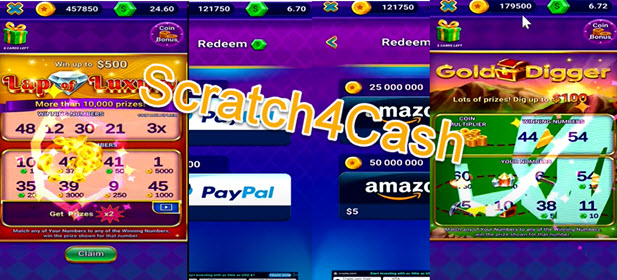 This means that no-one can leave a review, good or bad meaning anybody thinking of downloading this won't be able to benefit from real reviews.
I find it a bit strange that an app that has been downloaded over 500,000 times is still in early access.
Is it really as good as they claim? or are they trying to hide something?
In order to understand if it's even worth your time you need to know how this app works.
How Scratch4Cash App Works
It's basically the digital version of the cards you get from your local store, the ones you scratch off with a coin.
The game, as you'd expect, is really easy, you start off with 10 scratch cards, each with 2 different sections.
You have to reveal the top section first in order to see what your winning numbers are.
Then you scratch the bigger box that contains all the potential winning numbers, those numbers each relate to a prize.
Don't worry about running out of scratch cards because you will get more cards just by watching some more videos.
And once the daily limit resets you'll get the next set of 10 cards.
That's basically it, you keep on scratching and, of course, keep watching ads until you've reached the payout threshold.
Odds of Winning
This is where things started to throw up some red flags. It seems as if every card is a winning card.
So, the odds of winning are 100% which as we all know won't happen unless it benefits the people running it.
The Real Purpose of Scratch4Cash
I've seen so many app that are just a front for ad revenue, the actual game is secondary at best.
They obviously can't just make an app where you just watch ads and nothing else.
So they make up some 'game' to disguise the fact that it is watching the ads that is the most important part for the developer, not the game.
How Much Do You Need To Cash out
As with most of these types of app they make use of PayPal, this acts as increased security making you think it's more legit.
Of course you need to input your PayPal email which brings with it it's own potential problems such as having your PayPal account hacked.
The threshold that is set is $100 as well as a $500 option.
Even though the $100 threshold is high it could be obtainable.
The problem is the app starts giving you smaller and smaller prizes until you eventually stop winning anything.
Pros
Cons
Watching ads every 30 seconds
High cash out threshold
Constant ads
Unrealistic earning claims
How Much Money Can You Make
I don't believe that you can earn any money with this app and one of the reasons I say that is because if they did they'd want people to shout it from the rooftops.
But no, they have made it so people cannot leave reviews.
There are Amazon gift cards in the form of $2 and $5 with each requiring 25,000,000 and 50,000,000 token coins respectively.
Complaints
Unfortunately as I've already said no reviews are able to be left for this app so we have no idea how many people are complaining.
It also means we don't know what the main problems people are facing with this app.
After doing some digging though I have managed to find a couple of review relating to this app.
They complain about the earnings stopping once they reached $97 even though the app shows they have earned more unfortunately their balance doesn't change.
Final Thoughts
Don't expect to make any money with Scratch4Cash. The only people earning money with this app is the developers.
When apps start to restrict your earnings when you get close to cashing out you can be sure they have little to no intention of paying you.
I can wholeheartedly say that this app is one you should stay well away from.
With the amount of videos you have to watch the least you'd expect is to be able to receive the money you spent so much time on earning.
I really hope that this Scratch4Cash app review has helped in some way, no matter how small.