Can you make money with this company? Is it legit or is it just a waste of your time and energy? It's time to find out what is survey say about.
Let's sign up and see what we get shall we.
NAME: Survey Say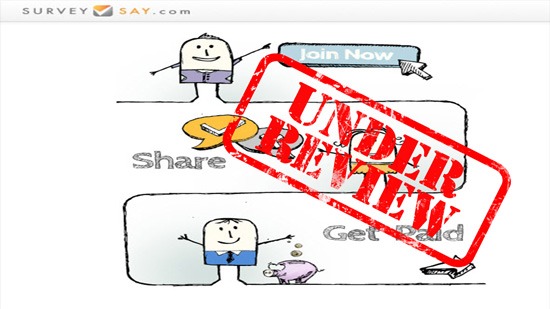 OWNER: Varsityplaza, LLC
WEBSITE: www.surveysay.com
COST: Free To Join
OVERALL RANKING: 1/5 stars
[yasr_overall_rating size="medium"]
what is it?
Well it's not a survey site that's for sure. They are in fact a middleman,  an intermediate, they don't actually give you any surveys or pay you any money, it's the sites they introduce you to that give you the surveys and pay you when you complete any ones you're eligible for and then they get a commission from the said companies for that introduction. That's why it's free for you to join. Now free doesn't always mean good.
The Site itself
At first glance the sales page is very simple, not overstated by any means. They don't make outrageous claims about the amount of money you can earn doing paid surveys. But at the same time there is very little information about what it is you will be doing or how you're going to be doing it. Also there is no F.A.Q page which can be helpful in situations like these.
the sign up
The only info you have to fill in is your email address, date of birth your gender and your country of residence.
One thing i would say is don't use your best email address, use one that isn't that important you because in my experience you will be getting a lot of emails and all may not be ones you necessarily want.
So after giving my details i'm taken to 'My Panel' which in my case only has 1 option.

I went ahead and jumped through all the hoops and signed up.
Now i should point out that Global Test Market is one of the better survey sites out there at the moment, unfortunately for me i wasn't eligible for any of their opportunities and seeing as they were my only option, i'd struck out. I couldn't go any further.
Talk about waste my time or what.
possible consequences
Now consider this….you were presented with a lot more survey companies than i was, you went through each and every one filling out all you details only to be told, sorry you're not eligible at this time. The thing is they now have all your details and what do you think they are going to do with them……they're going to sell them!!
So you're going to get inundated with unsolicited emails and your inbox is going to fill up very very quickly.
Now that's annoying which is why i said at the start to use an email address that you don't really use that much.
how much money will you earn?
If you are 'lucky' enough to qualify for some of the surveys you can expect to earn very little for your time, sorry if that's not what you wanted to hear, but that's the reality of taking surveys.
Normally the amount you have to earn is around $25 before you can cash out, but be aware not all pay cash, a lot of these companies will pay you with gift cards instead.
On average it can take around 6-8 weeks to reach that amount and there has been reports of being declined payment because violation of terms.
complaints
There are many many complaints about this company far too many to put here, but here is a screenshot of a few to give you some idea of what you'd be dealing with: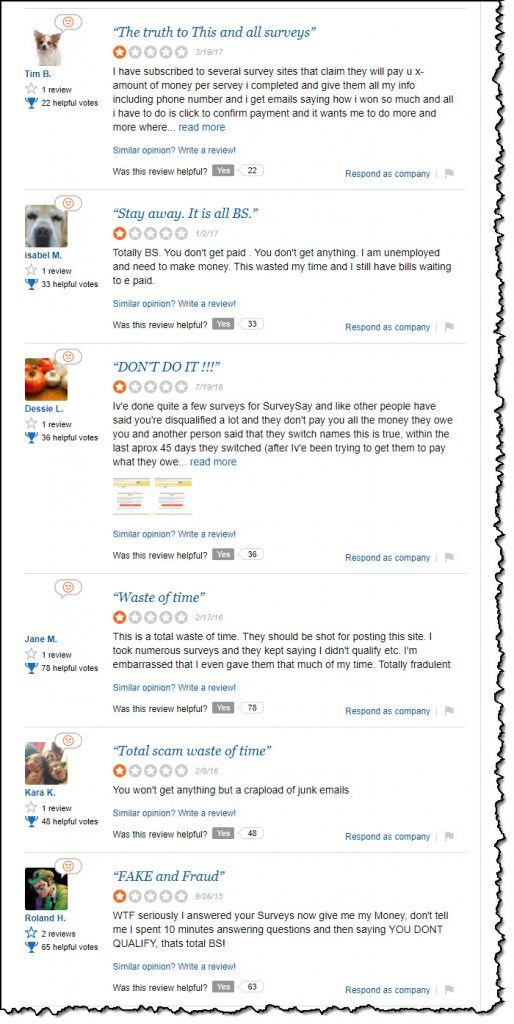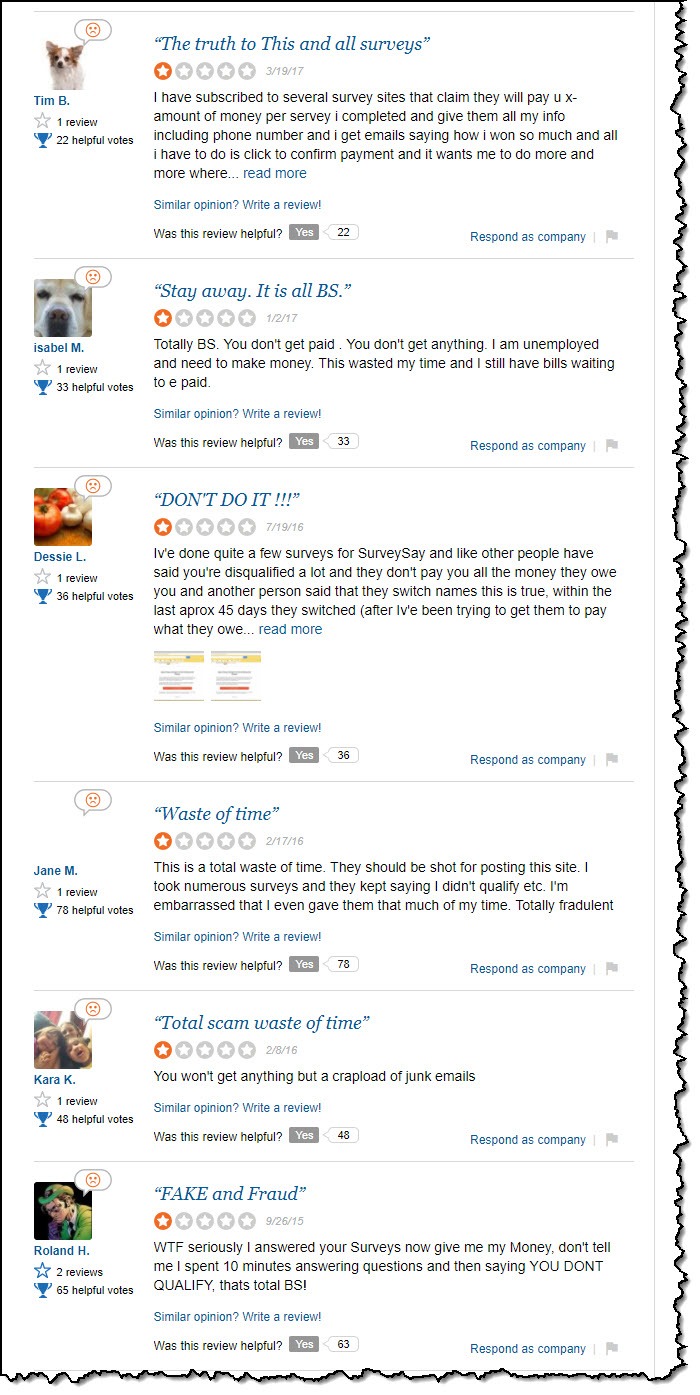 These sorts of money making opportunities are only really good for one thing and that is if you have enough money that you don't really need it and have an abundance of free time that you need to waste.
something fishy going on?
Just came across another site that looks identical to this one…i'll let you make up your own mind as to why there are two identical sites owned by the same company, but with different names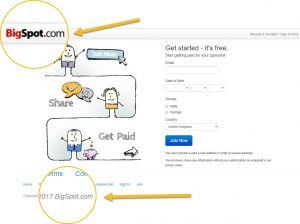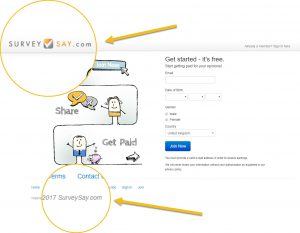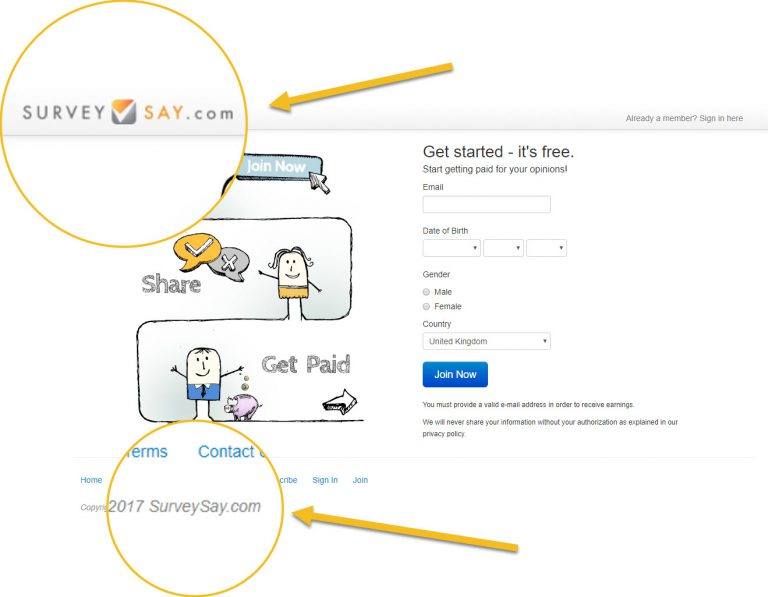 lets wrap things up
Okay so my experience with this company hasn't been great has it, but judging by all the other reports i'm not the only one. But at the end of the day it's your choice, the underlying theme i get while researching this is that your time really is worth more than this and i would totally agree. It's for these reasons that i can't in good conscience approve this company.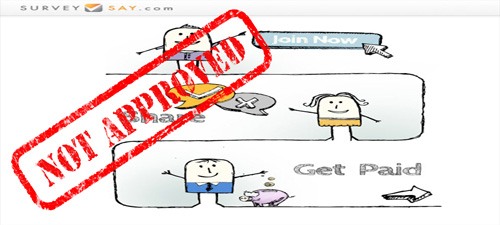 So what should you do…well you could give what i do a try.
If i can do then anyone can do it. click the banner below to find out how, it's that easy.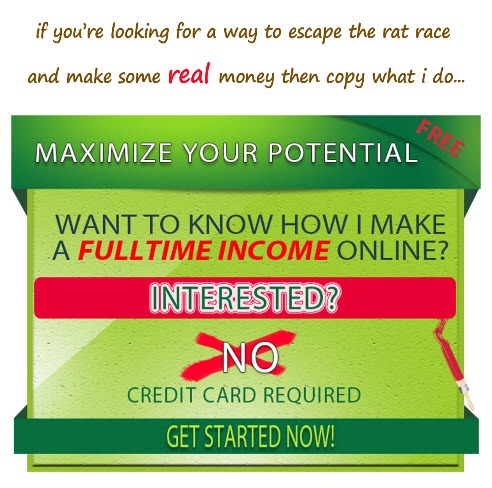 Did you sign up with Surveysay? what was your experience? Any better suggestions? Feel free to share your thoughts below.