I've been hearing a lot of people calling this program an outright scam lately, but have they got it right? It's time to find out for myself what is My Mobile Money Pages about.
NAME: My Mobile Money Pages​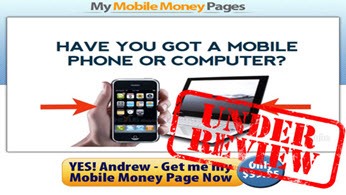 OWNERS: Andrew Davidson​
PRICE: $39.95
WEBSITE: www.mymobilemoneypages.com​​
OVERALL RANKING: 1 / 5 stars[yasr_overall_rating size="medium"]
The first thing i notice about this product is the fact that it's from 2011 and it's one of those push button type programs that i absolutely hate, mainly because there're a massive waste of time and money.
So we're not off to the greatest of starts are we!
overview
​MMMP is a piece of software that in 3 steps will make a website based around a either a product or a keyword which will then find related keywords or LSI keywords​ and then send out links for the newly built website to relevant places such as comments on posts which are to do with the keyword/s of your website you just built and will then link back to your website.
the problem
Basically what they're doing is backlinking which once upon a time was virtually all you would have to do to get a site ranked, but in this day and age it does not hold any serious weight with the search engines in terms of ranking position.
​
You also run the risk, if you are spamming other websites with this many links, of getting your new website de-listed because search engines aren't stupid, they know if your website has a load of links of very low quality being directed to your site and that's not the kind of site they want in their serps.
The Keywords that this automated software produces are never going to be as good as the ones that you yourself can come up with.
Another problem is content, if this is all automated like they claim then how are you going to get content on your website? I'll tell you…by scraping content from other peoples websites!
​
Now this has a number of flaws:
Your basically stealing other peoples hard work!​
​The resulting content isn't always readable after it's been spun!
Google hates this so ranking isn't going to be easy if at all possible!
the hype
​The thing i absolutely hate about this is the way it tries to convince people that all you have to do is point and click and you're going to make a lot of money….i've been in this business for a while now and interested in it for a few years before that and i can tell you now i've never ever come across something that can do the hard work for you, and yes it is hard work and that is what programs like this prey on, selling you the dream that you can have it all for little, or in some cases, no work whatsoever!
I'm here to tell you it ain't never going to happen.
​so what do you do?
​There's one piece i actually do like and that's the part that they talk about the likes of Amazon paying out commissions to regular people
​…heck it's exactly what i do, it's called affiliate marketing, the only difference being is that i've been lucky enough to have been taught properly how to build a website myself and get it ranked more often than not on the first page of Google, now i'm not saying i hit a home run on everything i publish, but i can rest easy and feel proud knowing it's all my own work that's got me to the position i'm in now.
who's actually going to use this?
​I can tell you straight away the type of person who is going to be drawn to this and that is someone who has no or very little experience online, i say that because anybody with any experience of building websites with the intention of making money would not touch this sort of product with a ten foot barge pole attached to another ten foot pole!
The person who this would appeal to would also be the sort of person who believes in the get rich quick schemes, as i've said before and i'll say it again….ain't no such thing!
The mmo (make money online) niche is full of push button programs that offer so much, but deliver so little it's easy to see why so many people get suckered in to their over inflated claims of wealth and independence. I was one of those people!
​
final thoughts
​As i said at the beginning i hate these types of push button programs and MMMP is sadly no different. In the sales video he makes a big thing about the amount of mobile phone users there are and that you should be cashing in on them and i have to agree, more and more people are using there phones to access the internet and buy stuff, but you don't need a special program to do that, Most WordPress themes are optimised for mobile use as is what you are reading now.
If it's not become clear to you by now what i think of this then let me spell it out for you…. i hate this!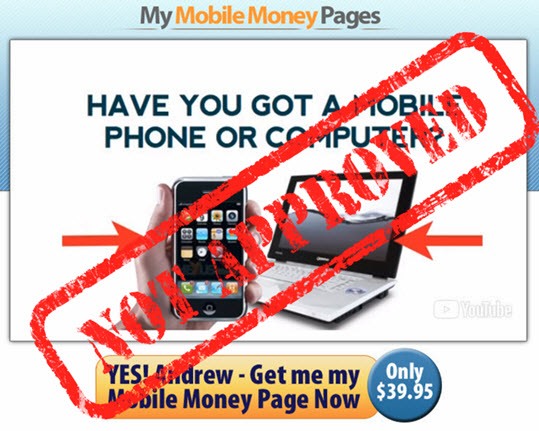 ​what now?
​As i previously mentioned i've been taught the correct way to make money online. Do you want to? You can you know. And it won't cost you to get started.
Just click the banner to find out more 🙂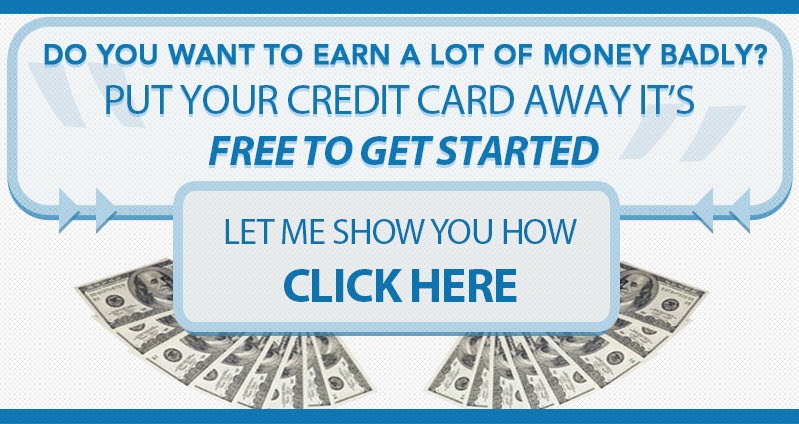 I hope you haven't tried MMMP, but if you have then please let us know how you got on.