Today we're asking what is Cash In With Bing about? Lets find out shall we.
NAME: Cash In With Bing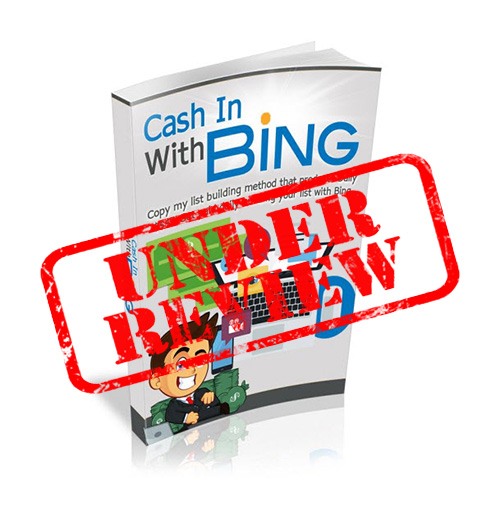 OWNERS: Mark Wightley, David Klein
and Mialei Iske
PRICE: $6.95 (+ Upsells)
WEBSITE: cashinwithbing.com
OVERALL RANKING : 3 / 5 stars
[yasr_overall_rating size="medium"]
So just what is Cash In With Bing about?
Cash in with bing is a program that teaches you to utilize Bing ads to send traffic to either a landing page or a website. Now these ads target people who have specific problems and are looking for solutions to those problems. You provide these solutions.
The way you earn money is two fold, you earn commissions on them buying the product that solves their problem which you have introduced them to, and by being able to build a list with the purpose of selling to them in the future.
pros and cons
PROS:
30 day guarantee
Low entry level price
Step by Step instructions with checklist
CONS:
Upsells
The need to make additional purchases
Money to pay for ads
relies solely on paid ads to begin with
who's it for
It's been created for the newbie in mind, but a complete newcomer to this industry is going to struggle a bit simply due to the steep learning curve. Too often products claim to be newbie friendly but completely forget what it's like to be new and totally underestimate the culture shock to someone coming into this area of online business.
So someone with a basic understanding of internet marketing would be better suited to this.
training
The training is in the form of an ebook containing 9 chapters.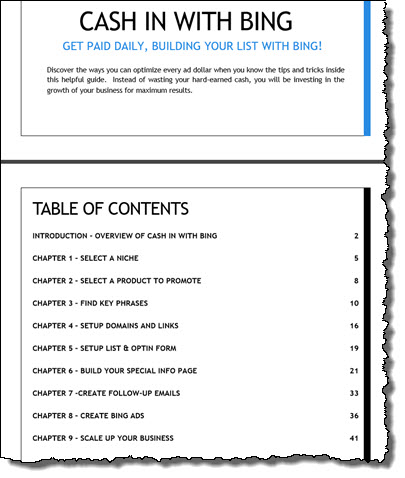 The content is nicely laid out and very easy to read and understand in plain english, no hard to comprehend 'guru speak'. They give you some nice examples of how you should plan your research and campaigns and how to do the simple stuff like installing a plugin, i say simple, but if you're new and not used to this then it probably won't seem simple, but they do a good job of explaining and showing with pictures so you won't have a problem.
If your more the kind of person who likes video training then they do have these as well, but they are part of an upsell and will cost you $17, these are a mixture of power point slides intros and actual over the shoulder walkthroughs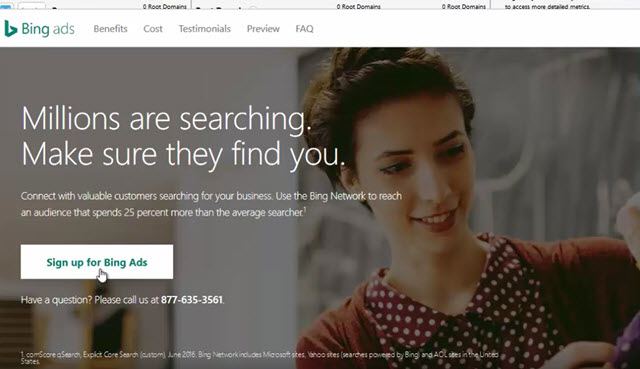 #1 select a niche (6.38)
#2 select a product to promote (6.23)
 #3 keyphrase research (12.26)
 #4 link setup (3.56)
 #5 create list & web form (6.42)
 #6 special info page (15.39)
 #7 write follow ups (2.54)
 #8 creating your bing ad campaign (13.48)
 #9 scaling your business (2.01)
price
The price for the front end ebook $6.95 which for me is a great price, with checklist + Visual Road map included plus 2 bounuses.
The first upsell is $17 which is for the video training, but you also get the advanced traffic training video's which is a series of 4 additional video's outlining facebook advertising as well as mobile advertising.
The second upsell is $97 which is for an entire campaign done for you  so all you have to do is copy and paste.
final thoughts
what is Cash In With Bing about
I've never done bing ads, but after going through this course i'm probably gonna give it a shot and see what happens. The course is what it is, a step by step procedure for bing ads and building a list as a result of the traffic you get, simple and straightforward.
What i don't like are the claims of guaranteed income on the sales page

Now i'm not saying you can't earn that per day, i just don't like this kind of advertising.
One program that doesn't make any BOLD income statements is my #1 RECOMMENDATION HERE