I don't usually do reviews of video based products, but video Profit Machines is something I've been asked to take a look at by one of our readers so I thought I'd do an in depth review so anybody that is thinking of buying it can get an unbiased opinion on whether it's worth their time and money.
I have come across a couple of the vendors before and haven't been too impressed with what they put out, perhaps this will be different.
NAME: Video Profit Machines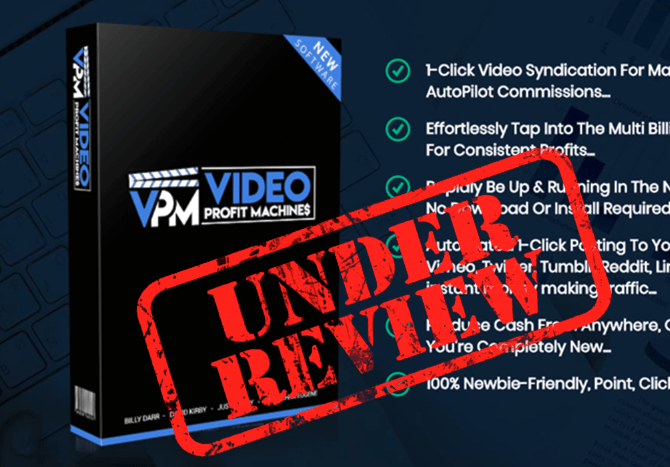 OWNERS: Billy Darr, David Kirby,
Justin Opay, and Ginouchka Eugene
PRICE: $17 – $12
WEBSITE: http://videoprofitmachines.com/brand-new#


so what is video profit machines about
Well if you look at their sales page you'd be forgiven for thinking you've just stumbled across something that's going to make you a ton of money just by pushing a button. I'll go into that a little bit later, but for now let's stick to what it is.
It's a cloud based software which means that there is no having to download and install any software, it's all hosted in the cloud. This software takes a video and uploads it to several video platforms like YouTube, vimeo, etc and then takes your links from that video and posts your links on social networking sites.
What this does is simply increase your chances of your video getting seen, the more your video gets seen, the more chances of an affiliate sale, that's the theory anyway.
the sales page
Now this is where it gets interesting, you see a lot of the time vendors will dress their product up to make it sound like you are going to make money very easily, but i haven't come across one yet that lives up to that claim for the simple reason being you can't make money very easily, if you could don't you think every single person who slaves away in a dead end 9-5 job would be doing it?
The fact is you have to work to make money online, just like any other job.
And it's certainly not going to happen at the push of a button. Sorry if that comes as a surprise to you, but it's the truth.
I always like to take a look at the sales page to see what kind of claims are being made in order to make a sale and the first thing that hits me on this one is this headline
So are they really expecting you to believe that in the next 39 seconds you're going to have free traffic, leads and profit…. come on, do they think people are stupid? who in there right mind would believe such ridiculous claims?
Well I'm going to tell you something now that I'm not very proud of, but it's true. I have fallen for these types of headlines in the past. That was before i started doing what i do now, it was while i was still looking for a way to make money online without the work.
Now i know better that this kind of thing just doesn't work, but i wasted a fair bit of money on these types of product before i learnt.
lets test it
*LITTLE TIP* If you go to click away from the sales page you'll get offered a $5 discount so instead of $17 you'll pay $12.
So this software is meant to be a 3 step process to making money…..let's see.
Once you've activated your copy of the software you need to connect the video sharing sites
Now you'll notice i haven't connected with Vimeo as that will cost an extra $5/m.
The next step is to connect your social media accounts, i created totally new ones for this little experiment and in total took me around 15 minutes so there goes the 39 seconds or less claim that we saw on the sales page.
So there was a couple of extra steps i had to do which has taken another 15 minutes.

The next step is create a campaign, so after giving it a title and putting my affiliate link in the description box, according to the training I'm good to go, so I start uploading.
For a one minute video i was quite surprised to see how long it actually took to upload, considering my internet speed is pretty good. Once it has uploaded you can start posting
As you can see it will post to 5 social accounts, unfortunately it wouldn't post to Blogger, it told me to refresh the connection to Blogger then just froze, couldn't do a thing with it.
So after a quick reboot the total time for this little experiment has been 55 minutes give or take a couple.
Now I'm meant to be making profit and getting free traffic and leads in 39 seconds!!
The result
The video failed to upload to YouTube completely even after trying again. Dailymotion was taking an absolute age to encode
Two hours later and it's still being encoded so i think from that we can take away that this experiment has been a total failure. It hasn't posted to any of the social sites so it's pretty much useless.
what i liked about it
what i didn't like about it
sales page hype
malfunctioning software
wasting my time
need i say more….
what do you get
OK so for those of you who still want to know more about this let's just run through what you get for you $17 $12 shall we.
As well as the cloud based software you get two training modules to go with it:
Module #1
Video 1 – Overview 5.08
Video 2 – Setting Up Your Video Accounts 2.13
Video 3 – Setting Up Your Social Sites 3.22
Video 4 – Building A New Campaign 1.58
Module #2
Video 1 – Overview 1.35
Video 2 – Finding Offers 4.12
Video 3 – Creating Your Affiliate Review Video 8.49
Video 4 – Outsourcing The Affiliate Review Video 1.59
Video 5 – Tying It All Together 3.18
So there you have it, just over half an hour of 'training' on something that doesn't even work like it's supposed to.
oto's
Like all of these types of products they always try to upsell you stuff that they claim will make it EVEN easier to make money.
I actually didn't even bother getting these, but if you are interested they are:
OTO 1 – Elite Edition $27
OTO 2 – Monthly Templates $37
OTO 3 – $500 Daily Edition $27
OTO 4 – Reseller Edition $37
final thoughts
It would have been faster for me to upload and post individually myself than to use this, it's actually just wasted my time. I was really hoping for better things from this, unfortunately i should have known better from the sales page alone, it was just totally unrealistic.
People would be climbing over each other to get their hands on something like this if it did actually do what they claimed, but it doesn't and hopefully you will read this review before you find out the hard way and waste your time and money.
I mean let's just take a quick look at one last thing i want to show you which says it all i think
So the what they are saying is that people like you and me aren't going to get the results advertised because they're exceptional and don't apply to the average user.
Then why put together a sales page that makes you think 'hey that sounds really easy i can do that' My personal view is that is totally wrong and very misleading.
What do you think?
If video marketing is your thing then I've just reviewed a product that is going to be right up your street, you can read all about it here.
what now
OK so you've been let down by the lure of easy money, as i said at the beginning, it took me a while to realize the truth, it's hard when all these people are trying to convince you otherwise and that their product is going to make you rich overnight.
It's not going to happen, BUT if you are willing to put in the work then i might have just the thing for you. It's exactly what i do, it's not easy, but it is realistic and can supply you with a full time income.
Want to know more? click the banner and see for yourself.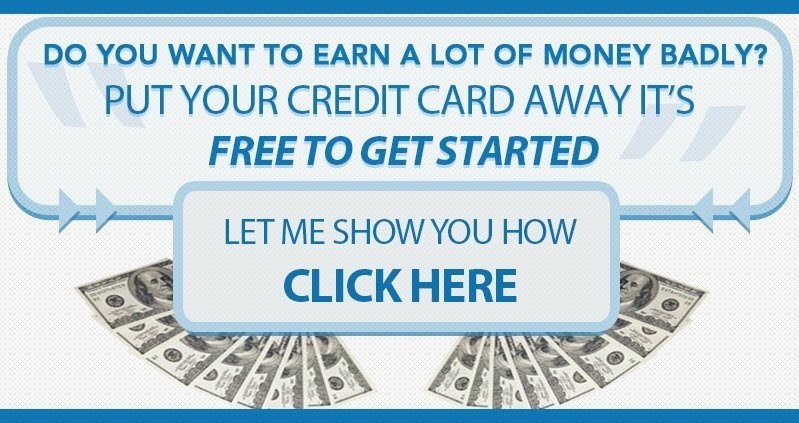 I'd love to hear your thoughts on this so just leave a comment below