Welcome to my Profiteer review, this is a product by Jason Fulton and Mosh Bari who I've reviewed on a number of occasions with mixed results.
It was only recently that a couple of readers of this site contacted me to let me know of something that i found quite disturbing and I'll be letting you in on that a little later, but for now let's see what we have here.
NAME: Profiteer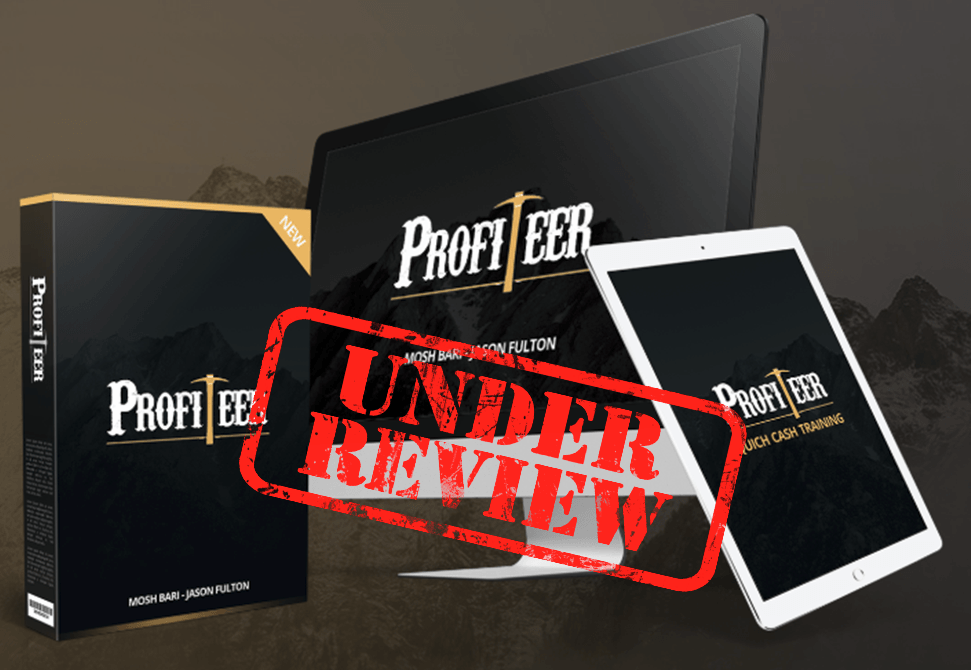 OWNERS: Jason Fulton, Mosh Bari
PRICE: $12.94 + 4 upsells
WEBSITE: https://www.profiteertoday.com/online
what is profiteer about
Profiteer is a two part system that consists of a WP plugin and training how to use that plugin. This plugin is developed by someone called Mosh Beri, now i'm not sure if that's a typo and it's meant to say Mosh Bari or it could just be a coincidence and it's someone totally unrelated, who knows.
What it does is search for RSS feeds from the relevant keyword you input and basically puts other peoples content on your site, it's something called content syndication.
Now this content isn't going to rank in the search engines because it's not original, unique content, it's someone elses.
So if you're going to be promoting affiliate links on it you're going to need to be getting your traffic from else where, like social media and this also comes with another plugin that lets you automate the posting of content to your social media accounts, there are some restrictions on the free version, but you can post to Facebook, Twitter, linkedin and some blogger platforms.
Now if you want to rank in the search engines they tell you to spin the syndicated content, thus making it unique in the eyes of Google.
Now I'm not the biggest fan of spinners, i would always just write my own content because i feel it benefits the reader a lot more than spun content does, but that's just my opinion.
They do have a text spinner built in, however that is going to cost you $47 a month or $197 a year or if you feel really adventurous you can go the whole hog and cough up $497 for lifetime access. The program in question is Spin Rewriter.
But the main purpose of this product is to enable you to build quick websites that you can list on Flippa and hopefully sell, i say hopefully because it's very easy to say just list it and watch the money come in from the sale, but the reality is it's most likely going to sit there for a decent amount of time before you get any serious interest in it, if at all.
FYI: The site he uses in the training is STILL for sale on Flippa
So please don't believe the hype on the sales page when they try to tell you how easy all this is going to be because even he can't flip his own sites as quickly as he suggests he can.
And don't forget it costs you money to list on flippa and in the training Flippa actually recommend the auction method and that is going to cost you $29 in listing fees with a 12% – 15% success fee.
sales page
I always take a look to see what sort of claims are being made on the sales page to get a feel for what I'd potentially be buying.
I've got to say this is one over hyped sales page that I've come across in a while.
Let's start with the headlines
That simply can't be done, sorry. Don't believe it.
These statements confuse the hell out of me. Now if i hadn't seen and tested this product i would see this and think "WOW, I've got to have this" but having had the 'pleasure' of going through the training and using the software i can categorically say that these statements bear absolutely no resemblance to what it is you're going to be getting.
Step 1: It's taken me over 4 hours to go through the training so far
Step 2: As of this point in time i cannot get the software to work, I've tried pulling in feeds from massive niches like weight loss and all i get is this
step 3: I just don't understand that one at all. Their preferred platform is Flippa and it DOES cost to list, so i really don't know what it is they're going on about.
The rest of the sales page gives you a load of hot air and goes on to tell you how great it is to live the internet lifestyle and how liken what they do to the people selling the shovels in the gold rush and how they make 6 figures each year selling these "shovels"
Well the way i see it is they sell people shiny objects that will let the public think they can make money with when in fact it's the selling of these products over and over again, putting a slightly different twist on something they've released before or even just calling it a different name that is making them the money.
And i sincerely hope that people begin to realise that the majority of these types of product never ever live up to the sales page.
what i liked
??????
30 day money back guarantee Remember at the beginning i said some people have contacted me about these a previous product by these two, well it concerns the money back guarantee on that product and if you want to know more you can check out the comments in this post here
what i didn't like
software i couldn't get to work
too complicated for the target audience, I've been in this business for a while now and even i struggled to understand some of the things in the dashboard that weren't even mentioned in the training.
seriously over hyped sales page
concerns over if the plugin is going to be updated for security reasons
so what do you get
If you do decide you want to go ahead and buy this product then this is what you'll be getting
Welcome To Profiteer 5.10
Introduction 3.28
Show Me The Money 10.53
Case Study 1.47
Domain 3.04
Go Small and Easy 7.46
Common Elements 2.43
Step By Step Listing Your Site on Flippa 11.48
WOW… I Made A Sale…Now What? 7.33
This Plugin Builds Professional Money Making Sites 2.51
Access The Software 5.27
Software – Premium Features 3.04
Software(Plugin) – Settings 8.58
Google Search API 4.13
Fetching Content 6.14
Using Spinner 7.50
Professional Theme 21.11
How to Make $3,000 Profit Without Site Creation and Traffic Generation 9.41
19M Monthly Visitors Here For Everyone 19.34
Make Easy $2K With This Hot Trending Niche 10.56
So there you have a couple of hours of the main training which isn't bad compared to some, but it still isn't enough. And remember step #1 when they said less than 30 minutes set up? Yeah right.
the oto's
Not having the upsells i can't really comment on them, but i can let you know what they are and how much they cost.
If you buy Profiteer you're going to be hit with 4 upsells:
OTO #1 $37 DFY campaigns
This is a Done for You package, but i just want to point something out, the sales page for the main product tells how easy all this is, right.
Well the upsell tells you a totally different story, look at this little gem
I'm sorry, but that's terrible, how can they seriously tell you that on the sales page only to come out with this rubbish ONCE you've bought it???
OTO #2 $47 Advanced tactics
This one is 'Advanced tactics' where they'll supposedly show how to get 5 times the results.
OTO #3 $67 Autopilot
This simply show ou how to outsource everything.
OTO #4 $97 Resell license
If you want to resell Profiteer and keep 100% of the entire funnel revenue then this is the license that will let you do that.
final thoughts
I really don't like software based products simply because you never know when they're going to stop updating them and if they stop updating them they become a security risk.
I really don't like the use of text spinning, just create your own unique content and stop riding on coat tails of other peoples hard work.
I was really disappointed to read about the trouble some of my readers have had getting their money back on a previous product of Mosh Bari and Jason Fulton.
I think his own website not selling is testament to the reality of trying to put together a website full of other peoples content and thinking you're going to flip it easily, he can't even do it!
My final thought on this one is don't waste your time getting sucked in by a sales page that really makes this sound like something it's really not.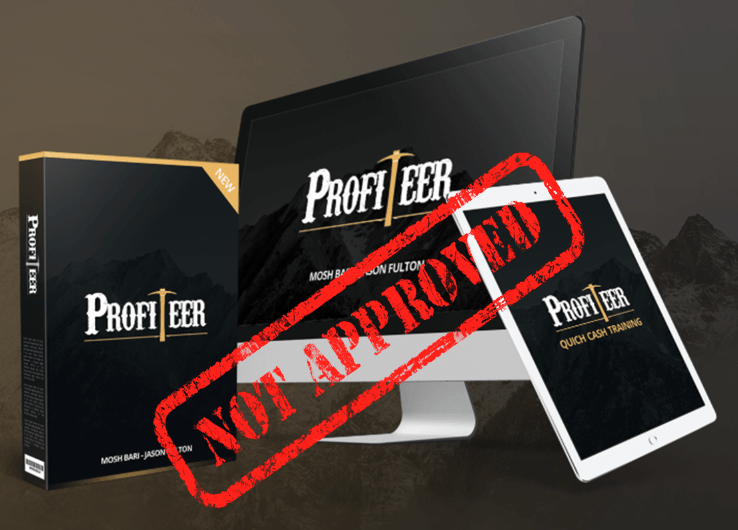 what now
I would say concentrate on building your website with your own content and personality because people will connect with you as a person, not a piece of software.
I have been taught to always write for people, not for money. I always try to help people and by doing that money is a by product, but helping is my main focus.
Make it yours and you won't go far wrong.
If you want me to help you realise your dreams then i will, you just have to be willing to work because it does take work, regardless of what all these 'gurus' tell you.
you can get in contact with me either via this website or by my profile at Wealthy Affiliate where you'll find me most days.
Have you had any experience of Jason and Mosh's money back guarantee? what are your thoughts on site flipping with automated software? Let us know in the comments below.