In this Re-Kaching review we are going to be looking at a new product from 2 people who in the past have really left me disappointed with the quality of stuff they have released.
Having gone over the training i can see that this is going to be somewhere in the middle and as yet I'm not sure which way this review is going to go.
NAME: Re-Kaching
OWNERS: Jason Fulton, Mosh Bari
PRICE: $12.94 + 4 upsells
WEBSITE: https://www.re-kaching.com/earlybird
what is re-kaching about
Well if you look at the sales page you really wouldn't know, i didn't have a clue what they were going on about, just some cloud based software that's going to automate everything for you and make you $292-$2,373 in just minutes of simple work.
Yeah right, like i believe that one.
Luckily enough you've found this review and I'm going to tell you what Re-kaching is all about. The concept is basically finding Instagram users to make a monthly income off by managing their account, growing their followers and the like.
Now all this is done by way of a cloud based software which is where the problem is. Instagram HATES any kind of automated software being used on their platform and WILL ban your account if they find out, but it's not just your account, it's going to be your CUSTOMERS accounts that are going to be banned.
How do you think they will feel about that!
Now this could be done on a manual basis thus getting rid of the potential for losing accounts, but you are never going to hit the kind of numbers that these 2 are claiming is possible with the software.
I think the concept is sound, but the execution is flawed.
the sales page
I always like to take a look at what kind of claims are being made on the sales page to see if any of them make it into the product you purchase.
You see so many times i have seen fantastic claims being made only for them never to be heard of again.
The income "proof" on their sales page doesn't tell you where it's actually come from, don't forget the owners of this are very experienced and have been in the industry a long time and have fingers in many different pies.
It takes CONSIDERABLY longer, you'd be lucky if you could set this up in a day!
How do i know that? He tells you the software isn't even his in the training video of how to use the software, perhaps he forgot he told you that on the sales page 🙂
Oh and the software is exactly the same as this one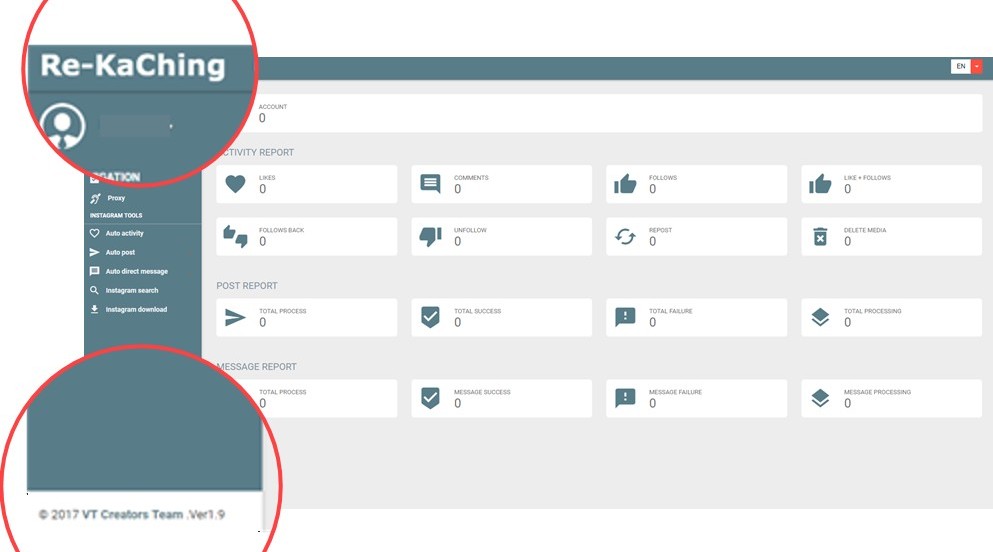 The thing is he tells you not to over do it with the software and never use the IP host address or "Instagram will ban their account in no time" He tells you that basically access to this software is a favor from someone and you will be using their account for this software. WHHAATTTTT!!!!!
That all sounds really sketchy to me.
so who's going to use this
Well if we take a quick look at the image above it states that this is 100% newbie friendly, you don't need any special skills or experience, so I'm going to go with someone who is new to this type of product and the reason i say that is because anyone with any experience is going to see straight through this one.
Those eye catching headlines, all the hype making it all sound super easy to make loads of money, make this very appealing to someone who doesn't know any better. Oh and remember you're being given the chance to make all this money and they're only going to charge you $13. Yeah right!
the good bits
the concept is good
the videos are clear to see
30 day money back guarantee   I've received some disturbing comments from readers who have asked for a refund and are not having much luck. (see comments for more details)
the not so good bits
having to pay for the use of proxies
newbies are really going to struggle to get to grips with what is being done in the videos
the instructions are very jumbled and hard to understand
watching the videos will put you to sleep.
so what do you get
If you decide to purchase Re-kaching after reading this review then for your $13 you will be getting the following:
5 different modules each containing videos ranging from 1 to 6, you will also get a fast implementation checklist.
1. CHECK THIS FIRST
Welcome To Re-KaChing 4.58
Course Introduction 1.49
What's Unique About Re-KaChing 1.24
2. Re-KaChing Case Study
3. How Re-KaChing Works
How Re-KaChing Works 1 10.45
How Re-KaChing Works 2 2.19
How Re-KaChing Works 3 2.03
Different types of user 8.51
4. Re-KaChing Step By Step
Take Action 11.45
Take Action Example 4.30
Take Action Example Insta 1 4.46
Take Action Example Insta 2 7.25
Re-KaChing Daily Tasks 1.53
Daily Tasks Example 5.56
5. Re-KaChing Software
Access The Software 1.54
How to use the software 17.07
Case Study 13.57
Proxy Servers- Why, How and Where From 4.24
Proxy Format 2.57
Trouble Shooting – Software Stops Working 5.22
Trouble Shooting – Avoid Adding Fresh New IG Accounts to The Re-KaChing App 12.39
Trouble Shooting Video 4.10
the oto's
After you have purchased the front end product you are given the sales pitch for the upsells, now this particular one has 4 of them to go through.
OTO #1 Done For You Re-KaChing Campaigns ($37) with a downsell to $17
OTO 2 – Advanced Re-KaChing Tactics ($47) with a downsell to $27
OTO 3 – Set This Up On Autopilot ($47) with a downsell to $27
OTO 4 – License rights ($97) with a downsell to $47
final thoughts
I said at the beginning that i really didn't know which way this re-kaching review was going to go, well i certainly do now.
First off forget all the rubbish on the sales page, it's meaningless. Second steer clear of anything that says "push button", they never work.
In this case there's a really good chance you will get yours and any people who you have managed to convince to let you manage their accounts actually banned form Instagram which is going to make you look a fool and i wouldn't even like to think about the possibility of legal action against you.
The concept of what he's doing here has some merit, it's never going to earn you the sort of money you'd like, but it is doable, just not with the software, it's not worth the risk.
what now
Managing peoples accounts has never really been something I'd want to do, and I'm pretty sure that if you had been told that on the sales page you probably wouldn't have bought it, if indeed you did.
Me, I'm into affiliate marketing, it's the best business model i know of that allows you to promote and earn commissions off of other peoples products.
Trouble is you need to know how to do it. and that's where i can help you.
I learnt affiliate marketing the right way here and it's enabled me to live a very good lifestyle and you can too.
Your turn to have your say 🙂