When it comes to the internet there are opportunities around every corner, but not all are as they seem. Some are legit and some are scams, but is Qmee a scam?
This platform promises users an opportunity to earn rewards for their online activities.
While that sounds extremely appealing the question still remains, is Qmee legitimate or does fall into the dreaded scam category.
In this comprehensive Qmee review we'll dive deep into the world of Qmee, examining all its features, the pros and cons and the experience of other Qmee users.
We will use all of that information to workout whether this is a legit platform or one that you should stay away from.
Name: Qmee
Website: www.qmee.com
Price: free
Understanding Qmee: What is It?
Before we get to deep into the legitimacy of Qmee let's first understand what this platform is all about.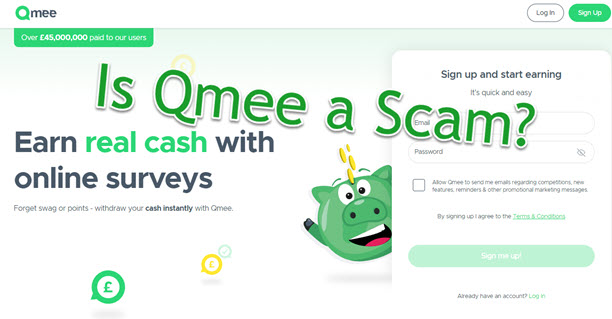 Qmee is works by letting users earn rewards by taking part in various activities. These can range from taking simple surveys and completing tasks to conducting online searches.
There are 2 ways in which you can use Qmee, either through its browser extension or the app.
Qmee App: Features and Functionality
As we just said Qmee has its own app and seeing as the majority of people are never more than a few feet away from their phone it makes perfect sense to have one.
This way you can earn rewards on the go without being tethered to the computer.
User-Friendly Interface
The app is very user friendly with an interface that means you don't have to be a tech wizard in order to use it properly.
The intuitive design makes navigating around the platform simple, meaning that users can quickly access all the available surveys.
Earning Opportunities
The Qmee app features the same array of earning opportunities as its computer counterpart.
Users can take surveys, complete tasks and complete online searches just like you can on your browser, all of which all adds to your earnings.
The good thing about having it as an app is that it is readily available to you and you can seize the opportunities for rewards wherever you are, whenever you have a spare moment.
Instant Payouts

Like the web version, the app allows users to cash out their earnings instantly, unlike Cash Camel where you have to reach $10.
This means that users can access their rewards without having to meet minimum withdrawal requirements.
The other thing about this is there is no long processing times, instant payouts are exactly that, instant.
Location-Based Opportunities

The Qmee app uses the capabilities of the mobile phone or whatever mobile device you're using, to offer you location based opportunities.
So that means that depending on your location you may receive surveys or particular tasks that are specific to that area.
Qmee Web Browser Extension
One of the features the web version of Qmee has that the app doesn't is that it integrates itself with your preferred search engine.
When you go about your daily activities performing searches the Qmee extension can display sponsored listings alongside the regular search results.
These listings offer another way for users to earn rewards.
Qmee's Legitimacy: The Pros and Cons
As with any platform Qmee has its strengths, but it also has its weaknesses. Let's take a look at the pros and cons so you can understand what it offers:
Pros
Ease of Use: One of the standout features of Qmee is its user friendly interface. Both the browser extension and the app are designed to enable people of all levels of technical ability to make use of the opportunities
Multiple Earning Opportunities: Qmee offer a diverse range of activities through which users can earn rewards, from surveys to online shopping.
Instant Payouts: Being able to access your earnings without having to meet unrealistic thresholds means you can cash out instantly.
No Membership Fee: Some platforms make users pay a membership fee in order to access their services.
Cons
Low Earning Potential: Even though there are multiple ways to earn rewards the amount from the various tasks is a bit on the low side. You need to realise that it would take consistent effort and time in order to accumulate anything substantial.
Limited Availability: Because Qmee is based on a users location the availability will vary and this could really limit earning opportunities.
Disqualification From Surveys: A common occurrence on survey based platforms is that people report that they are disqualified from surveys even after filling out a lot of information. This is very frustrating and a waste of time without getting any rewards.
Privacy Concerns: Platforms like this collect data from the user and there has been concerns raised about the info gathered by Qmee during searches and surveys.
Is Qmee a Scam? Decoding the Verdict
Looking at the pros and cons of Qmee it's time to look at the big question: is Qmee a scam?
Based on our extensive research and real life user experience I can categorically say that Qmee is not a scam.
It is a legitimate platform where users can earn real rewards in return for taking part in various activities.
But, you need to manage your expectations when using any platform like this, not just Qmee. Even though it's legitimate you're never going to make a substantial income.
Qmee should only ever be seen as a way to get some extra pocket money and is not a substitute for a full time job.
So, if you thought you'd be handing in your notice to the boss, you need to think again, I'd hold on to it for now.
Some Tips for Using Qmee Safely and Effectively
If you are interested in using Qmee I've put together some tips for you to use which will hopefully make for a better, safer experience:
Read Reviews and Feedback: Well, you're doing this one already so well done you. But on a serious note it is important to take the time to read reviews, I know sometimes it can be a pain, but it could save you a lot of heartache down the line.
Protect Your Personal Info: Make sure you only share what you need to share, nothing more, nothing less in order to set up your account and if a platform is asking for too much then perhaps you should give it a miss.
Use Strong Passwords: Using 12345 or PASSWORD as your password just isn't going to cut it. You need to a strong and unique password, one that you haven't used across multiple platforms.
Be Wary of Suspicious Activities: If you receive offers that seem too good to be true on Qmee, report it to Qmee's support team so they can investigate.
Final Thoughts
I hope my review has helped you out in some way, no matter how small. You came here wanting to know the answer to your question: is Qmee a scam?
Well, I think I've done enough to convince you that it isn't. You can join the platform knowing that you won't be scammed.
There are so many 'opportunities' out there that are scams and it can be very deflating having to go through each one and find out the hard way.
You just need to remember this won't make you rich, it's purely pocket change, if you treat it as such you'll be fine.