Hey guys, how's it going today? Well I hope. I know a lot of you out there are passionate about writing and have come to realise that you can actually make that passion pay.
There are many platforms out there that will help you do just that and one such platform that makes that claim is PaidOnlineWritingJobs.com.
But is PaidOnlineWritingJobs.com legit or is it a scam company purely there to make money from YOU!.
We're going to take a detailed look into how this works as well as give you the pros and cons of working for this company.
Before we get into all the details I have something very special for you – my No1 recommendation for making REAL money online!
I know you probably want to forget all about this review and jump straight to finding out how to make some serious money without the risk of being scammed.
Don't worry, I've got your back, just click this link to discover this game changing opportunity for yourself.
Trust me; you won't regret it, just promise to read this review first!
Name: Paid Online Writing Jobs
Founders: who knows? 🤷‍♀️
Price: $27
Website: https://paidonlinewritingjobs.com/
Is PaidOnlineWritingJobs.com Legit
The burning question on everyone's mind is this: IsPaidOnlineWritingJobs.com a legitimate opportunity worthy of investing our time and money in.
Or is it just another fly-by-night scam?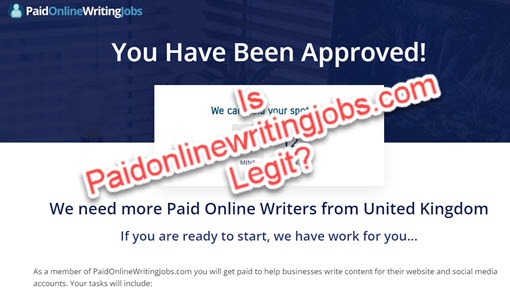 In this comprehensive review, we'll take a really good look into the what this is all about and equip you with all the information you need to make an informed decision for yourself.
Let's be real, Paid Online Writing Jobs has gained a reputation online but unfortunately not a good one, mainly due to its questionable tactics and misleading practices.
On first glance it would seem that this is a premium membership site, enticing eager freelancers with the promise of lucrative writing gigs along with some real top notch training.
However, once you begin to look a little closer, that façade quickly fades away, revealing a lack of any genuine value or support.
The main issue lies in the content they provide. Instead of the high quality, step by step training they boast about, users often find run of the mill ebooks and job listings that are readily available on the internet for free!
Why Do They Make You Pay For These Jobs?
Making you pay for these jobs is a way for Paid Online Writing Jobs to appear as a legitimate and valuable service.
They do this by offering what they call the 'Fast Track Job Training Program' to help you become a successful freelance writer.
Unfortunately there is nothing here that isn't readily available for free through platforms like YouTube or Google.
Yep, you read that right, they are charging you for information that can be easily found without spending a single dime.
Even worse, they flaunt their database of jobs, giving you the impression that it's an exclusive goldmine of information.
In reality all this database does is redirect you to other well known websites like Upwork which doesn't charge you anything to join.
This means that Paid Online Writing Jobs is charging you for access to places that are free, that's just not fair.
Inside Paid Online Writing Jobs.
After you sign up for this platform you'll be given access to a bunch of very generic blog posts that explain why companies would hire a freelance writer in the first place and the whole freelance industry in general.
Going through it I had the feeling that the material is PLR and it's just been put together to pad things out and make it look like you're more for your money than you really are.
Training Modules
Module 1
This module introduces you to writing online and explains what freelance writing entails as well as some info on how to land a client.
The problem is the information is so generic that it's hard to believe that it was specifically written for this industry.
Being written this way it fails to give you any real value, perhaps they should have a hired a freelance writer!!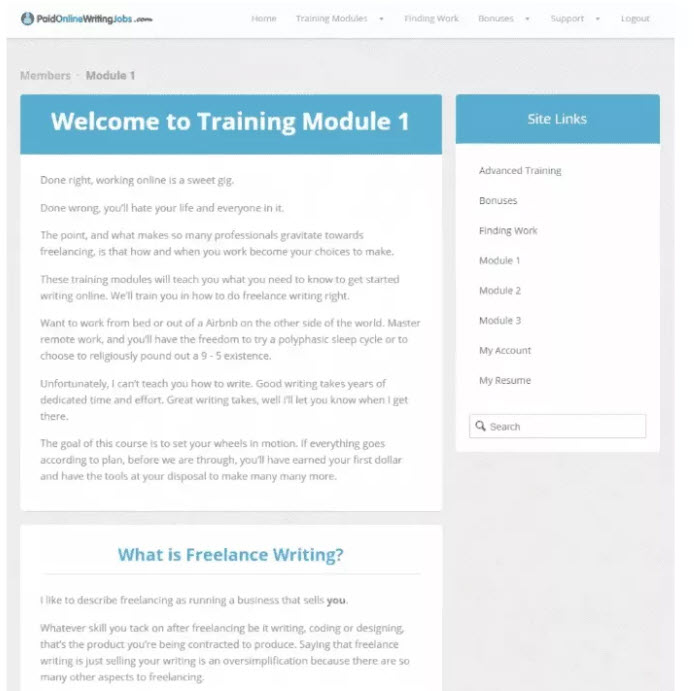 Module 2
This module centres around making you a better writer with some common sense tips and homework for you to complete.
The homework, as you can see in the image below, requires you to go to copyblogger.com and read how they structure their blog posts.
The tips are useful, but nothing new or things that can't be found for free, like on copyblogger.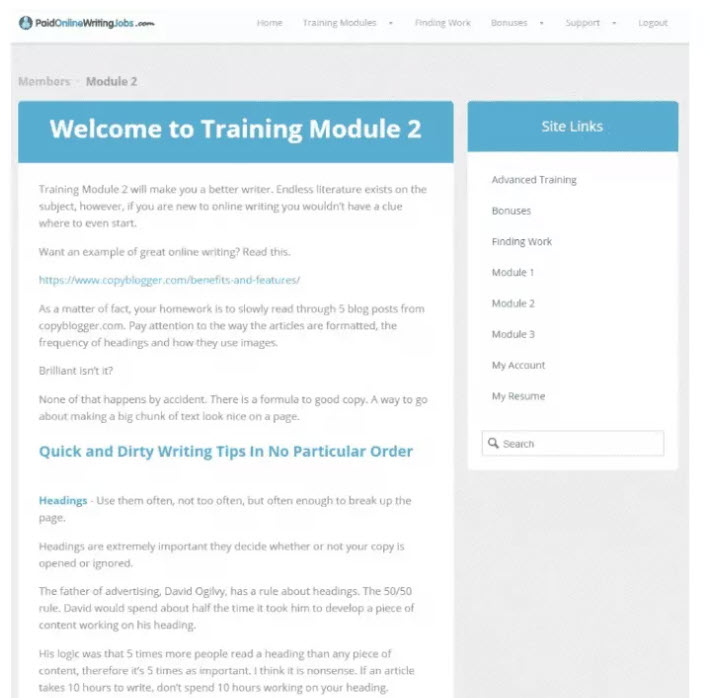 Module 3
This final module centres around SEO and actually creating content that will appear on google and other search engines.
Again, the content is very thin and very generic, it tells absolutely nothing of value.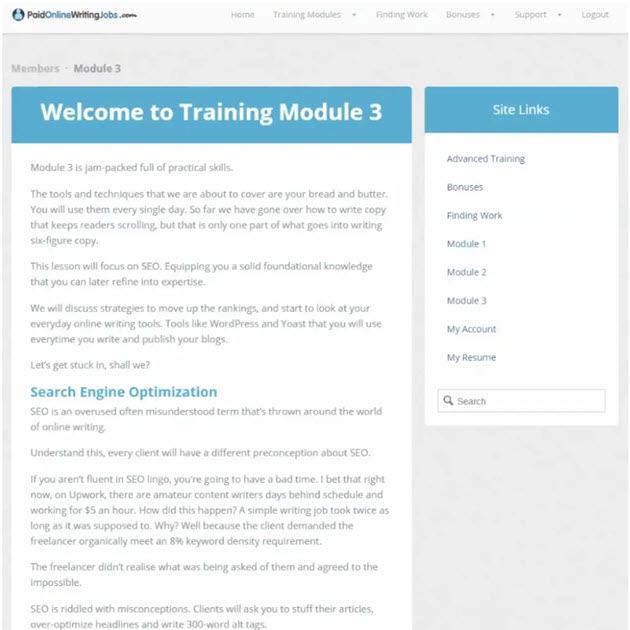 There is some more training that they call "Advanced Training", but to be honest there is nothing 'advanced' about it.
It is basically a collection of posts that explain why producing high quality copywriting matters and to someone totally new they could offer something new.
Again, all that info can be found online for free.
They also throw in some bonuses for good measure, unfortunately they'd have been better off not doing that.
I'm convinced I've seen them before as PLR products.
VIP Database
That sounds very important doesn't it and as if it contains material that no-one else is going to see. Again you're going to be dissapointed.
The database claims that it is updated every day with the best social media jobs when all it does is link you to places like Freelancer, indeed, SimplyHired, glassdoor, Upwork and Guru.
You may well find freelance jobs here but you'll be competing with a lot of other people some who have been in the business for a long time with a proven track record.
The True Cost Of Joining Paidonlinewritingjobs.com
As with so many of these types of programs the real price is only revealed once you go to buy it.
The price to join this is $27 but this comes with something called upsells which could take the final cost to an astonishing $218!
And that is exactly what the owners, whoever they are, want.
Pros
There is a money back guarantee because it's a Clickbank product
Cons
You're not going to get a 'job' here just links to other sites
Unnecessary upsells
The identity of the owners is kept secret
Be prepared to be spammed with emails
The Bottom line
Can you make money from writing? Absolutely, that's what I do in essence, but it's not as simple as Paidonlinewritingjobs.com would have you believe.
Will you get offered writing jobs from this company when you pay to join them? No! They simply have links to other businesses that can offer you writing jobs.
So basically all you are paying for is to be directed somewhere else, is that a scam? Technically I suppose not because they do give you something in return for your money albeit very minimal, but it's not very ethical.
You really don't need to pay for any of the information that's inside Paidonlinewritingjobs.com because it's all free stuff that's readily available.
Final Thoughts
Is PaidOnlineWritingJobs.com Legit? I think the answer to that question can be summed up in one word, no. Any legitimate business would not offer what they offer and expect you to pay for it.
The owners are actually misleading people into thinking that by joining them they will be able to land those writing projects they crave.
That won't happen. you'll pay your money, and potentially buy the upsells resulting in a big outlay only to learn that all there is inside are links to other companies that offer writing jobs.
These jobs will attract a large number of candidates that you will have to compete with. A long way from the promise of work with immediate start.
Let me know what you think in the comments below, perhaps you've used these people and were blown away with how good it all was.