Hey guys, welcome to another review, today were going to be diving into the somewhat murky world of Six Figure Sunday and its creator, none other than Adrian Gee.
If you are here then you've probably seen the flashy ads which promise the opportunity to earn six figures while kicking back on a Sunday.
Sounds dreamy, doesn't it?
But is it all sunshine and rainbows or is there more to the story that needs to uncovered?
If you've read any of my previous blogs, which I hope you have, you'll know that I'm a sucker for a good opportunity, but you'll also know that I have to keep it real.
So, I'm going to pull back the curtain of this program and see just what is hiding behind it.
I'll start with going through the training content, after all, knowledge is power and you need the right tools to succeed in this online game.
I'll dig into the modules to see if they are living up to the expectations or if they are full of empty promises.
But I won't stop there! I'll go over who much this is going to cost you, how effective it is and I'll be addressing some concerns that have been going around about this program.
By the end of this comprehensive Six Figure Sunday review you'll have a clear picture if this is your ticket to financial freedom of just another online mirage.
Before we get into the nitty gritty I've got something a bit special for you – a way to make REAL money online!
I know you probably want to forget all about this review and jump straight to finding out how to make some serious money without the risk of being scammed.
Don't worry, I've got your back, just click this link to discover this game changing opportunity for yourself, just promise to read this review first 🤣
So, fasten your seatbelts people, it's likely to be a bumpy ride!
Name: Six Figure Sunday
Creator: Adrian Gruszka aka Adrian Gee
Price: $497 – $997
Website: https://www.sixfiguresunday.com/
What Is Six Figure Sunday About
Six Figure Sunday is not your typical online money-making program.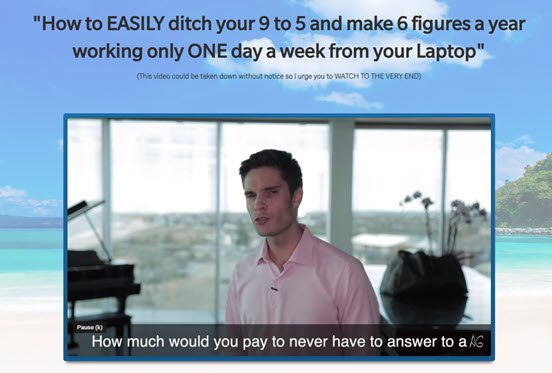 Instead, it's a versatile collection of diverse money-making ideas designed to empower individuals looking for financial freedom.
It's not a one-size-fits-all approach but a collection of diverse strategies that can be adapted to your skills and interests.
And that is one of it's strengths, the amount of choice you have. They realize that people are all different and what one person finds easy another will find hard.
It's a goldmine of strategies. We're talking product creation, coaching programs, e-commerce. Each section has its own training which I'll cover more in a later section.
It encourages users to tailor their approach based on their own skills, interests, and goals.
Who Would Use Six Figure Sunday
Six Figure Sunday is designed for a specific demographic of individuals who are seeking opportunities to make money online and escape the traditional 9 to 5 workplace.
While it may appeal to a broad audience, it is particularly well-suited for the following groups:
Aspiring Entrepreneurs: Those who have a strong desire to start their own online businesses but are unsure where to begin can benefit from Six Figure Sunday. It provides a roadmap and diverse money-making ideas to kickstart their entrepreneurial journey.
Stay-at-Home Parents: Stay-at-home parents, especially mothers, who are looking for flexible ways to earn income while balancing family responsibilities may find Six Figure Sunday appealing. It allows them to explore online income opportunities on their terms.
Mid-Career Professionals: Individuals in their 30s, 40s, and 50s who are considering a career change or seeking additional income streams may turn to Six Figure Sunday. It offers an alternative to traditional employment and the opportunity to build an online business.
Retirees: Retired individuals who want to supplement their retirement income or remain active in the workforce can benefit from the program. It provides options for generating income without the constraints of a regular job.
Individuals Seeking Financial Freedom: Anyone who dreams of achieving financial independence and escaping the limitations of a 9 to 5 job may be drawn to Six Figure Sunday. It offers a path to greater financial autonomy through online entrepreneurship.
Online Enthusiasts: Individuals who are already familiar with the online world, such as bloggers, content creators, or affiliate marketers, may find Six Figure Sunday a valuable resource for expanding their income opportunities and diversifying their online ventures.
People Interested in Multiple Income Streams: Those looking to diversify their income sources and explore various online income avenues can use Six Figure Sunday as a comprehensive guide to discovering new opportunities.
It's important to note that while Six Figure Sunday may have a broad appeal, it is not a guaranteed path to instant wealth.
What Is The Price
The starting price for Six Figure Sunday is $497 and that is for the core package, for an extra $200 you can upgrade to the essentials package.
For an extra $300 you'll get the elite package.
The core package is as it says, a core package, you get just the basic program which apparently has a normal retail value of $2,197.
The Essentials pack has a number of additional items which are described on the sales page as 'bonuses' which you'd expect to be free.
You do have access to a private discussion group and also something called Sales King program which in my opinion is just a PLR product.
The Elite package, which costs $997, has a personalized 60 day success plan and some PLR products along with a limited edition hoodie.
The normal price for the Elite package is a whooping $16,776! and he's giving it all to you for $997!
Not sure I'd believe that. PLR products are very cheap and certainly not worth the value Adrian Gee is putting on them.
A Look Inside Six Figure Sunday
When you get into the training area you're presented with a very familiar layout if you are used to any program that uses Clickfunnels.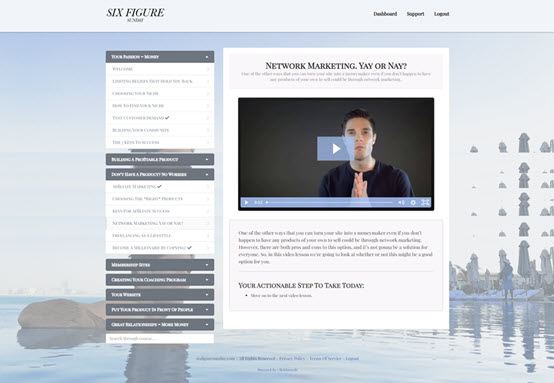 As you can see the layout is very simple and easy to navigate. You have your menu on the left and the corresponding video plays on the right.
There are 8 sections with the first one being about having the right mindset and finding a niche.
The second is about building a profitable product, from generating ideas to launching it.
Third in the list is about if you don't have a product and focuses on affiliate marketing (my favourite, btw).
Forth concentrates on building a membership site, this goes from explaining what a membership site is to pricing and creating one.
Fifth on the list is all about creating your very own coaching program and how you can stand out from the crowd.
Number six tells you how to set up a website to utilize it for ecommerce.
Seven explains how to get your product in front of people and how to turn them into buyers.
And last of all there is a section on building relationships with your customers through email marketing.
How Much Money Can You Make With This
That is the million dollar question isn't it, how much can you make? I'm sure you know that there is no easy way to answer that.
Every person is different, in fact the majority of people who buy this course will probably do nothing with it.
For those that do do something the odds of earning six figures are very small especially as most people give up when they don't see any tangible results aka money.
I suppose what I am trying to say is to answer that question will depend on the individual, their work ethic and determination, some may earn a decent amount.
Is Six Figure Sunday Beginner Friendly
If you are a total beginner then I'm afraid you're going to find that Six Figure Sunday is going to be a bit of a struggle for you.
The training that's inside doesn't go into the level of detail needed to help a newbie.
The training is short and at times very vague and unless you know how to fill in the blanks you're going to be stuck, so, no, Six Figure Sunday isn't beginner friendly.
Are There Any Ongoing Costs Associated With The Program
Once you've paid for whatever level you choose then you don't need to pay for anything else from Six Figure Sunday, but there will be various costs that need to be taken in to consideration.
Say for arguments sake you were going to build a membership site you'd need several key components and considerations.
First, you'll need to select a suitable website platform or content management system (CMS) that supports membership site functionality.
Popular options include WordPress with membership plugins (like MemberPress or Restrict Content Pro), dedicated membership site platforms (like Kajabi or Teachable), or custom-built solutions.
Additionally, securing an appropriate domain name that reflects your membership site's branding and purpose is essential.
Don't forget you'll need to sign up for web hosting that can handle your site's traffic and provides security features to protect your members' data.
All that will cost money.
What Is The Refund Policy For Six Figure Sunday
It appears that to be eligible for a refund, participants are required to complete several specific actions and steps within the program. These conditions include:
Complete Specific Video Lessons: You must complete 100% of the video lessons in the sections titled "Building A Profitable Product," "Your Website," and "Put Your Product In Front Of People." This requirement ensures that you have engaged with the core content of the program.
Select Niche(s) and Name Your Business: You need to choose 3-5 niches for your business and name your business. This suggests that the program expects you to take concrete steps towards defining your online business.
Develop a Strategy and One-Year Plan: You are required to pick a strategy for your online business and map out a one-year plan for your passive income strategy. This indicates that you should actively plan and strategize for your online venture.
Submit an Offer and Drive Traffic: You must submit your offer to your chosen marketplace and generate at least 1,000 total visits to your landing page. This demonstrates an effort to implement the strategies and attract traffic to your online business.
That sounds an awful lot for a program that makes claims of how easy it is to make six figures. Why would he need you to jump through so many hoops if he had total confidence in his program.
The good news is you don't need to take any notice of all that!
As you can see form the image below this product is sold through the Clickbank platform and they offer a full day money back guarantee with no hoops to jump through!
Does Six Figure Sunday Provide Support or Community For its Members
Whenever deciding to venture into something like this you need to know there is support there for you, even better a community of like-minded people who have been through what you are going through.
Even though the sales page states that the Essentials and Elite package have a private discussion group there is no evidence of that.
Equally there is little evidence of any support being given once you have paid your money.
Are There Any Success Stories
You will not find any success stories of people using Six Figure Sunday anywhere on the internet which is a massive red flag on its own.
If a program was as easy to implement as this claims then people would shout from the rooftops about how successful they've been.
Is There Any Evidence of Adrian Gee's Success in the Online Business World
Success is measured in many ways and I'm not sure if Adrian has been successful. Do you think if it was so easy to earn six figures working 1 day a week Adrian would be doing it himself wouldn't you.
His YouTube channel has 1.8m subscribers which is a really good amount in anyone's book.
But the content on there isn't about making money, it's about making awkward and funny content by approaching predominately women asking inappropriate questions.
They are getting millions of views though. There isn't must evidence of Adrian making money by implementing his Six Figure Sunday program.
Are There Any Income Disclaimers or Legal Disclosures
At the bottom of the sales page, in the small print, you'll find these;
Income Disclaimer: The income disclaimer clarifies that the strategies and advice provided by Six Figure Sunday may not necessarily produce the same results for everyone.
It emphasizes that results depend on various factors, including the product or business model, market conditions, individual experience, and external variables beyond the user's control.
The disclaimer makes it explicit that there are no guarantees of making money or increasing profits by following the advice.
It further underscores that users assume all risks associated with their investment decisions and financial outcomes based on their discretion.
Users are encouraged to exercise caution and make informed choices when implementing the program's guidance.
Liability Disclaimer: The liability disclaimer places the responsibility squarely on the user for any actions taken based on the advice provided by Six Figure Sunday.
It emphasizes that users are solely responsible for the consequences of implementing the information and that the company cannot be held accountable for the success or failure of users' businesses.
The disclaimer highlights the importance of conducting due diligence to ensure the safe and successful operation of one's business when applying the program's information.
It also underscores that no guarantees are made regarding income as a result of using the information.
Furthermore, the disclaimer mentions that the program's content should be considered "for entertainment purposes only," emphasizing the need for users to seek professional advice for financial, tax, or business decisions.
What Is The Time Commitment for Six Figure Sunday
Apparently 1 day a week lol. If you are serious you will need at least 3-4 hours a day when you are first learning what to do.
After you have some degree of understanding and are starting to implement some of the strategies then you will still need to invest as much time as you can spare.
Obviously the more time you can invest the quicker you will reach your goals. Can you do this with just 1 day a week?
In my opinion, no. It will take more time than you think to actually make a go of any of the methods.
Are There Any Red Flags To Look Out For
The main red flags that I see are the lack of any success stories. There used to be video testimonials on the sales page but these have been taken down.
Perhaps because they wasn't real, who knows.
The amount of hoops he wanted you to jump through in order to get a refund.
The high cost of the program which has no track record and very little value.]
The fact he doesn't practice what he preaches
Does Six Figure Sunday Rely On Any Specific Tools or Software
All you need to go through the program itself is a computer but once you've completed the training you will need certain pieces of software.
For example you will need an autoresponder for setting up email campaigns, hosting for your website, etc.
Pros
Having been through this program and for the price I find it difficult to call anything a pro
Cons
Lack of in depth training
Too high price
Trying to con you into thinking to get a refund you need to fulfil certain actions
No evidence of any students
The use of PLR products to fill out the Elite package
Can You Trust Adrian Gee
While in the process of this review I've done some digging into the enigma that is Adrian Gee and I come across this video:
What do you think? Would you really trust him?
Final Thoughts
Adrian Gee comes across as a very strange person, it would seem he needs validation from his peers and he'd go to any lengths to get it.
As far as Six Figure Sunday is concerned I don't think it's worth the money being charged, it falls well short of a comprehensive training program that you'd expect.
I think this has been thrown together in hope that people will buy it and he has no real interest in helping people earn six figures.
I hope this Six Figure Sunday review has helped in some way and potentially saved you hundreds of dollars. If you have any experience of this or indeed Adrian Gee then please leave a comment below.