Welcome to todays review of an MLM company called My Daily Choice. In it, we're going to be asking the question: Is My Daily Choice a scam?
The reason I say that is because I've heard people call it just that, but is it true?
Not having done too many reviews on MLM I have had to really dig deep and research this because in the world we live in today, it's over flowing with opportunities to earn money.
There are some opportunities that claim just that and do it very well and there are others that don't and are just downright deceptive, looking to scam you out of your money any way they can.
Peoples opinion on MLMs vary greatly, with some swearing by the potential to create financial independence, while there are others that don't agree with the way recruitment works, relying on a downline to earn anything like a worthwhile amount.
I would assume you are reading this because you are being tempted to join My Daily Choice, I'm glad you've decided to read this review first and join me on a journey that will undoubtedly uncover the truth.
My goal here is to give you a balanced look and let you make an informed decision yourself.
With that out of the way let's crack on……
Name: My Daily Choice
Founders: Josh & Jenna Zwagil
Category: Health and Wellness MLM
Website: https://mydailychoice.com/
Price to Join: Free
What Is My Daily Choice About
My Daily Choice is a fairly well known MLM company that has the health and wellbeing industry as its main focus.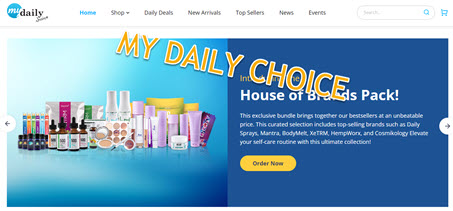 They offer a whole load of products that include things like supplements, essential oils, beauty and cosmetics and CBD and hemp based products.
They also centre around personal development and that is where the network marketing business model comes into play.
Their whole idea is to allow people the opportunity to take control of their own physical and financial well being.
They try to achieve this by building an inclusive community that offers support to its members who have access to training, mentorship and on going support which enables them to connect with others and learn from each other.
Another core aspect of My Daily Choice is to foster financial independence for all it's members by creating a sustainable income promoting their products and opportunities with other people.
When it was founded in 2014 by Josh and Jenna Zwagil it quickly gained a reputation for for providing high quality products and support for its members.
How Does My Daily Choice Work
To take advantage of what My Daily Choice has to offer you'll need to sign up as an affiliate, a wellness advocate if you will.
You will begin by sharing all the incredible products that My Daily Choice stocks and by doing that you'll be building a customer base.
But, that's not where the real magic happens, it's when you start to build your own team that things really start to pick up.
But how do you build your own team? Well, that's the million dollar question and one we will try and answer a bit later in this review.
Not only will you be mentoring and supporting your own dream team, you'll be earning commissions from their sales as well your own.
And that's what MLM is all about, we'll go into a better explanation in the next section.
What Is MLM
MLM stands for Multi Level Marketing. This is basically a strategy that some marketing companies use in order to sell their products or services.
They do this by using a network of independent distributors, these independent distributors can and are encouraged to sign up other people to join the network as well.
These new recruits then become part of your team which we spoke about earlier.
Don't forget these new recruits get their own new recruits which means that not only are you earning commission from your original recruits, but also from those further down the line.
This is where the Multi Level comes in. If you can imagine a pyramid this is what the structure would look like.
You sit at the top of the pyramid as the original distributor and a percentage of commissions from the lower levels all flow towards the top.
There is no limit to how big the pyramid can grow so the earning potential can be huge, unfortunately it is the ones nearer the top who tend to benefit the most.
MLMs have got a pretty poor reputation, however, there are companies that operate MLMs completely legitimately.
But there are also those that focus on recruiting without offering anything of value in return in terms of products or services.
Is My Daily Choice a Pyramid Scheme
Working out if a company is operating a pyramid scheme is a difficult task. The first thing to note is pyramid schemes are illegal.
They are an unsustainable model and focus mainly on the recruitment of people rather than the selling of products and services.
There are certain things you can look out for to try and determine if you are joining a legitimate MLM or a pyramid scheme in disguise.
Does it place more emphasis on recruitment
Are there high entry costs
Do you need to buy large quantities of the products
Do the products have a market outside the MLM network
Are the compensation plans so complex you need a degree to decipher it
Is there proof of retail sales outside of the network
This list is by no means exhaustive but it does give something to work on and by my research I have come to the conclusion that My Daily Choice is not a pyramid scheme.
What Does It Cost To Join MDC
The good news is that it is free to join My Daily Choice. There are 2 options, either you join as an Affiliate or a Preferred Customer.
As an Affiliate earn commissions for referring others as well as earning commissions form sales to preferred customers where if you are a Preferred Customer you can earn free products for referring others.
What Products Does MDC Offer
If I were to list every item that My Daily Choice offers I'd be here for a month of Sundays and it wouldn't make for very good reading.
They offer 12 different categories with some offering 13 products, some offering 20 and some having 39 products.
CBD & Hemp
Wellness
Weight Management
Energy
Gut Health
Personal Care
Beauty and Cosmetics
Essential oils
Travel
Automotive
Samples
Merchandise
Feminine Hygiene
Forex & Crypto
One of the most popular is Hempworxs and you can buy starter packs that contain different products such as CBD infused Gummies.
How Much Money Can You Earn
This is a bit of an open ended question and is really going to depend, like most things, on how much effort the individual puts into it.
To give you some idea the figures from 2021 revealed that approximately 63% of affiliates earned LESS that $100, that's over half of everyone who joined earned less than $8 per month!
The average income for the top 10% which is 2,233 people was $9,502.34 which converts to $791.861 per month.
If you were lucky enough to be in the top 2% which was 446 people, you'd be looking at an average $35,654.62 which is $2,971.21 per month.
And if you are interested the average time to get to the top 2% was around 13 months.
Pros
Diverse product line
Flexible business model
Potential for passive income
Supportive community
Good compensation plan
Low overhead costs
Cons
Highly competitive industry
Recruiting people can be very challenging
Product market saturation
MLM stigma
No guaranteed income
Consistent effort and dedication
Selling To Family Members
When most people join a MLM company the first thing they do is try and sell to family and friends, they see them as dead cert.
And while that may be true for some, how many long do you think your friends are going to put up with you constantly trying to sell to them?
And how many friends have you got anyway, not Facebook 'friends', but real friends? To make this a sustainable business, making sales and getting paid each month you're going to need more than just friends.
Friends and family will soon get fed up with you and you'll soon find yourself not getting the invites to parties like you used to do.
Selling is an art and not something everyone can do which is why they target friends and family in the first place.
The top earners don't do that, realising that they need to build a customer base outside of friends and family.
Are The Products Any Good
This is a difficult one to answer seeing as there isn't really any reviews about the products themselves apart form people who are actually promoting them.
That being said if the products weren't any good I'm sure people would be letting everyone know about it on their socials.
One thing to bear in mind is that the products are expensive but expensive doesn't necessarily relate to being good.
How Do You Get Paid
My Daily Choice pays out in 8 different ways,
As an affiliate or preferred customer you can buy their products at wholesale member prices and then mark up the products.
For example if you managed to get 10 customers each buying a 3 pack which retails at $89.95 you'd earn $200 in commission.
Weekly jump start bonuses
As an affiliate of MDC you have the opportunity to refer other affiliates earning up to 10 levels of Jump Start bonuses which are paid out weekly.
You can qualify for Binary commissions by being at Active Affiliate rank or above. These are paid out on a monthly basis.
Leadership check matching
You can earn up to 10 levels of matching bonuses on your organization. As your affiliate commissions grow, your leadership check matching grows as well.
As you increase your rank within MDC and hold them for at least 3 months you'll get reward points that can be redeemed in there online catalogue of rewards.
Every single month, a dazzling 2% of the entire company's BV (Business Volume) is set aside exclusively for this remarkable bonus pool. And guess what? You're in for a slice of the pie – a slice called 'shares'
The amount of your share depends on the company's overall revenue, the number of shares given to affiliates worldwide, and, most importantly, the number of shares YOU own in any given month.
With every rank advancement you conquer, some great bonuses await, ready to fuel your journey to greatness!
Upon earning any of the first four rank advancement bonuses, you're immediately eligible to revel in the grandeur of the following bonuses:
5K Affiliates: Zoom in style with a generous $150 per month car allowance!
10K Affiliates: Level up your drive with an impressive $250 per month car allowance!
25K Affiliates: Step into a league of excellence with an awe-inspiring $500 per month car allowance!
50K Affiliates: Propel into a realm of opulence with an unparalleled $1,000 per month car allowance!
Affiliates scaling the heights of the four prestigious ranks are destined to revel in the glory of Elite Expense Accounts, an exquisite offering to seize and savour.
Bonuses range from $2,000 to a jaw-dropping $20,000 each month, befitting the rank you've conquered.
100K Affiliates: Unlock the door to greatness with a bonus of $2,000 per month!
250K Affiliates: Elevate your journey with a generous $5,000 per month bonus!
500K Affiliates: Embrace opulence with an astounding $10,000 per month bonus!
Super Affiliates: Step into a realm of unparalleled grandeur with a mind-blowing $20,000 per month bonus!
Who Is This For
On first glance and if you were to listen to the sales pitch you'd be forgiven for thinking that anyone could do this and make a ton of money.
That couldn't be further from the truth. As we've already touched on selling is a major component of this business.
If you can't sell you don't make any money. Most people would like to think they could pull it off but the reality is sometimes a rude awakening.
As the stats showed, 63% earned less than $100 in a year.
If you are good at selling then this could be right up your street, you'll have the backing of an established business.
Is There Any Training
In a word, no. My Daily Choice doesn't have provide any training which I find a bit of a let down, I mean if there isn't any training on the products how are you meant to sell them?
Now, although they don't include any training per se, but they do offer 'events' that will cost you around $149 for a 3 day seminar that will help you learn selling and building techniques.
The Best Way To Earn Money With MDC
The best way to money with any product is to know it inside out, so becoming well versed in their product line will pay dividends in the long run.
Who wants to buy a product off of someone who doesn't know what they are talking about. Know your product!
You need to combine an effective sales strategy along with building a strong and motivated team in order to maximise your earning potential.
Building a loyal customer base is essential, getting repeat business is the holy grail, repeat buyers are also more likely to refer you to other people.
Making use of all the ways to advertise that we have at our disposal these days is a must, using social media, blogs to create engaging content that really hits home with your target audience.
Network with like minded individuals, attend all the relevant events you can, and make sure you are active in community activities.
Building a motivated team is essential for your success, just having people in your team is of no use whatsoever if their goals aren't in line with yours.
Earning money with My Daily Choice requires consistency and persistence to overcome setbacks that will inevitably occur from time to time.
If you focus on increasing your knowledge of the product you are selling, create a marketing strategy that is effective along with building a strong team you'll stand a much better chance of earning money with My Daily Choice.
Is There a Minimum Amount You Need To Sell
To keep your My Daily Choice journey alive you will need to remain an active affiliate.
Every month you will need to either buy or sell a minimum of 40bv worth of products.
This means that you need to invest in something like a HempWorx Builder pack and that will get you the 40bv you need to remain active.
Does My Daily Choice Have a Money Back Guarantee
In a world where 30-day money-back guarantees have become the norm, My Daily Choice goes the extra mile, giving you a staggering 60-day assurance!
Talk about standing firmly behind their products with unwavering confidence. That's a big leap they're taking.
But, let's be real, saying it is one thing, delivering is another. While I genuinely appreciate their intention to minimize risk for customers, some have faced issues with its implementation.
Nevertheless, you can leverage this guarantee to your advantage and explore My Daily Choice's products with the reassurance of an extended period.
Take your time, assess the products, and experience the benefits they have to offer.
Are There Any Complaints
Although My Daily Choice is not BBB accredited it does have an A- rating. The average review rating on the Better Business Bureau is 2.26 out of 5 stars.
Some people calling the products overpriced horse manure with high pressure to sign up. Another calls them a cult.
Others complain about dreadful customer service: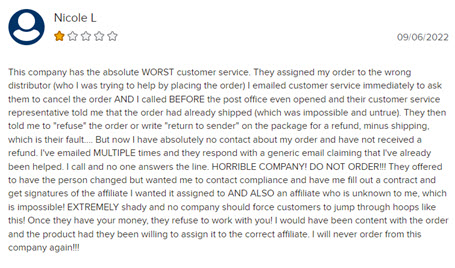 Is My Daily Choice a Scam?
I do not consider My Daily Choice to be a scam. It would seem to be a legitimate network marketing company.
They compensate their affiliates for selling their products.
However, it is important to note that MLM companies can be polarizing and the experience with them can vary greatly from person to person.
Some have had a positive experience and found some level of success while others have faced disappointment and not earned anything.
Final Thoughts
Wow, that was a long one! Well done if you've made it to this point. Hopefully now when someone asks you is My Daily Choice a scam you can tell them, no it isn't, it's legit.
When considering joining a MLM it can be very difficult to know if what you are getting into will help you or hurt you.
I hope I've helped you to understand a bit more about this company and if you decide to join them I wish you every success in the world.
I admire people who take upon themselves to make their life better rather than expecting everything to be given to them.
If you have had any experience with My Daily Choice I really would love to hear from you, just drop a comment below and I'll respond to everyone 🙂