In this S'more App review i will be showing you if you can really make money from it and how or if it is a complete waste of your time.
I will go through the S'more lock screen App and see if its any good for you.
NAME: S'more
PRICE: Free
WEBSITE: https://smoreapp.co/
what is the s'more app about
The S'more App is totally free so it won't cost you a penny, but just be aware that the S'more App is for Android phone users only and that means this app can't be used on a tablet and isn't available on iOS at the moment.
The S'more App uses a points' system that allows you to redeem your accumulated points' for gift cards, you will acquire points' every day that you have the app installed, sounds good, as long as s'more is used on a daily basis then you will receive points'.
Just make sure that you're active on your account because if your account show no sign of being used for 30 days in a row then all your points' that you have earned will disappear from your account.
how to earn and receive points'
When you unlock your phone you will be presented with an ad which you can simply ignore or click on, either way you would have earned points', at this stage i should point out that regardless of how many times you unlock your phone you will only get paid a set amount.
For example someone who unlocks there phone 100 times a day will earn the same amount as someone who unlocks there phone 10 times a day so don't make the mistake of thinking the more you unlock the more you earn because it doesn't work that way.
One of the plus points' for this app is the fact that you only need 100 points' to enable you to cash out, this amounts to $1 which i think is great as a lot of others need a much bigger threshold.
Once you have earned your points' these are many retailers you can claim your gift cards from they include Amazon, starbucks,cvs, Dominoes pizza, Gamestop, etc so install the app and earn them gift cards.
paid surveys and bonus offers
There are several other ways of earning with this app which includes taking paid surveys and completing bonus offers and as of just recently watching short videos.
You will receive points' on every survey you start even if you are not eligible for them. As some of you may know i am not the biggest fan of surveys, but hey if you like taking surveys then this is a good option.
You don't even have to complete all of them, the total amount is your decision.
earning extra points
You can earn extra points for referring your friends, family and work colleagues, each new person who joins must use a referral code, you may ask what is a referral code?
A referral code is a unique number assigned to your account, they simply use this number when they sign up, it will also give you more points' as a gift for signing them up.
They can also get their own code to do the same thing by just downloading the app and joining like you did.
As long as they have kept their account for 10 days then you will earn 25 points' for each referral that uses your code.
More friends, more points.
complaints
There have been complaints that the app drains your battery, from my research the majority of people have agreed that this happens, but this is the case with a lot of apps.
There's also complaint's about it stopping your music while in the middle of listening to a song, which we all know can be annoying.
There have been reports of lock screen ads playing music even when your phone is on silent so be careful if you're in an important meeting!
There will always be good and bad points.
good points
Yes this app does have good it's points.
You can earn something by just unlocking your phone and there's also the option of completing surveys, there is also no pressure involved in doing this.
Also, the s'more's app allows you to earn points' in exchange for placing ads and content on your lock screen so in essence you're not really doing anything.
Ideal gift cards for Christmas, birthdays etc and it hasn't cost you a penny.
final thoughts
Can you really make money from this app? in so many words yes but it is the form of gift cards, not cold hard cash.
You will earn the equivalent $3 a month in monetary value.
You will never make a living out of this app but you will get something out of it by just unlocking your phone.
If this app is for you then i would suggest you go for it.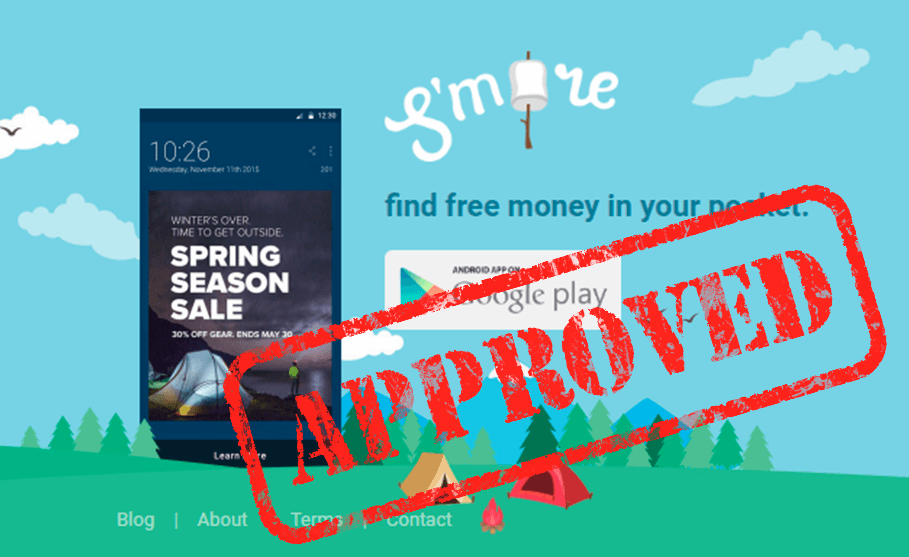 what now
If earning the equivalent of $3 a month isn't enough for you then i would highly suggest you follow me on the path that showed me how to make a full time income from affiliate marketing.
To the best of my knowledge, and I've seen my fair share before joining and after, Wealthy Affiliate is without doubt THE #1 platform around at the moment for the development of ordinary people like me and you to enable us to live a life most can only dream of.
If you want to join me on this exciting journey, but would like to know a bit more about this fantastic platform first, hen you can check out my review here.
Do you have a favourite app for earning some extra money? We'd love you to share it with us.