Welcome to my Simple Traffic review. Today we're going to be looking at a company called Simple Traffic.co that claims to be able to send you real visitors to your site or any URL you want including your Facebook page.
Now this type of claim sounds really good doesn't it, but you know what they say about things that sound too good to be true don't you…..
So, without further ado, let's jump right in and see what we have.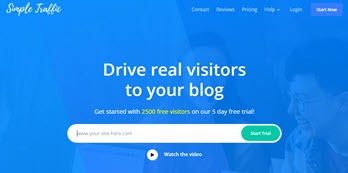 NAME: Simple Traffic
OWNER: Ascend Group
PRICE: $15 – $400 per month
WEBSITE: https://www.simpletraffic.co/
WHAT IS SIMPLE TRAFFIC ABOUT?
As I touched on above Simple Traffic is about sending you a specific amount of traffic for a specific amount of money. They claim to have an abundance of traffic that they will match to your individual targeting needs.
They claim they don't use bots and that the traffic they send you are real people which of course is the minimum you'd expect, unfortunately there is evidence that may not be the case which I'll elaborate on in a later section.
HOW DOES IT WORK?
Simple Traffic works by using 3 different types of website traffic; Link shorteners, monetized sites and parked domains.
The link shorteners get traffic from URLs that have expired and are not active anymore. The example they use is www.shared.xyz.
The monetized sites method relies on websites giving Simple Traffic some of their traffic as a way of monetizing.
They also have a large amount of parked domains that generate visitors that will in turn get forwarded to your website.
The main problem I see with this traffic from all 3 methods is that the people who are clicking any of those links are not expecting to be redirected to your site which means the traffic is not just cold, but totally frozen!
You are only allowed 1 URL per subscription, but you can change that URL as many times as you from within your dashboard.

WHAT CAN YOU USE THE TRAFFIC FOR?
I'm not really sure what you can use this traffic for. As I've already said the traffic is cold and to their credit Simple Traffic openly admits this. They also admit that any conversions resulting out of this cold traffic will rely totally on your websites ability to convert that traffic.
So with that in mind any URL you promote be that a Clickbank or a Warrior+ product is going to need to be super successful at knowing how to tempt that traffic.
Could you use it for Facebook? I suppose, but I don't know the reason you'd want to do something like that and the reason I say that will become clear when we go over the complaints.
INSIDE SIMPLE TRAFFIC
To be fair there isn't too much to see once you've signed up. It's basically just a dashboard area where you can change your targeted URL as well as your targeting setting.
As you scroll down you will see the daily visitor count which is their interpretation of how many visitors you are receiving and from which country they are from which is something many people have disagreement with.
THE FREE TRIAL
The thing I like about this is they offer a free trial so you can see exactly for yourself if this is something that would benefit you and your circumstances.
The trial lasts for 5 days and you'll receive 500 visitors each day. One thing to note is you do need to supply your cc details or Paypal details even though this is a free trial.
This is because your chosen subscription will continue every 30 days after the 5 days have expired if you don't cancel before that time.
Either way I think the inclusion of a free trial is a great addition. HINT: you can increase the free trial to 7 days and 3500 visitors simply by going to click away from the sign up page.
HOW MUCH DOES IT COST?
If you decide to to stick around after the free trial you're going to need to pay for the service and the prices vary wildly depending on how many visitors you want.
The price starts off at $15 a month for 15k visitors and rises all the way to $400 a month if you want 600k visitors with various plans inbetween.
PROS
5 7 day free trial
30 day money back guarantee
CONS
Seriously cold traffic
Conflicting traffic stats
Extremely high bounce rate
very low session duration
IS THE TRAFFIC REAL?
This is a question that many people are asking, if you ask Simple Traffic they say yes it's 100% real people, but then again they would say that wouldn't they.
In the course of researching for this review my own experience was that people who have used Simple Traffic aren't convinced.
The majority seem to think that the traffic is bot traffic, traffic that is engineered to increase visitor numbers, but they are never going to have any meaningful outcome.
COMPLAINTS
During the course of my research for this review I couldn't help but find numerous complaints from sites like Trustpilot including some people calling it a scam.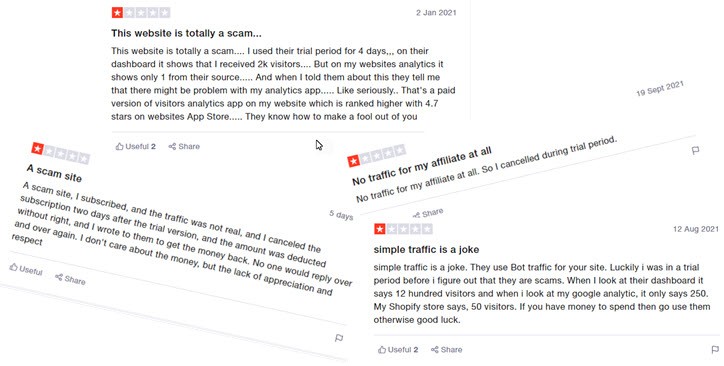 For all the negative complaints I found I came across as many positive reviews calling them a professional outfit, recommending them as they've been sending unique visitors to their blog. Or people calling them the cheapest form of traffic.
Truly a mixed bag.
FINAL THOUGHTS
How shall I sum this Simple Traffic review up? On the face of it it seems a great way to get visitors, but if you dig a little deeper under the surface you end up questioning how real the actual 'visitors' are.
Even if they are real they are cold traffic and you'll need to be very experienced in converting cold traffic to stand any chance of a conversion.
Simple Traffic even admit this themselves by saying it'll take creativity and trial and error to convert cold traffic which means that this really isn't for someone who is just beginning.
Now if you think you'll use this service to get people to your website that has Adsense on it in the hope of increasing your earning then think again because it's in the TOS of Adsense that they don't pay you for forwarded traffic.
The same goes for Youtube. If you're hoping to get views on your videos by using Simple Traffic it won't work because Youtube has to have a certain time spent viewing the video to count as a view so because of the extremely high bounce rate you won't get the views you think you will.
My advice would be to take advantage of the free trial and see what happens, just be sure to cancel before your trial end or you might end up paying the subscription fee.
Also be aware that the high bounce will more than likely have a detrimental effect on the ranking of your website as this is a ranking metric.
I'm afraid I won't be approving this one.
WHAT NOW?
Getting traffic is the lifeblood of any website which is why Simple Traffic is so tempting to people. but it's not the IMO.
Getting traffic from search engine optimization is the best type of traffic for the simple reason people are actively searching for something be that an answer or information about a physical product.
And if you can answer their question you stand a chance of getting that hot traffic from places like Google or Bing, you just have to know the best way to do that.
There is so much misinformation on how to get your website on the first page of the search engines that trying out every single way until you hit on a way that works just isn't feasible.
Which is why I'm going to fast track you to the best one I've found for training cutting out all that trial and error and a serious amount of money wasted on sub standard courses.
Wealthy Affiliate will teach you how to turn something you are passionate about or even just a hobby into a money making machine.
After all they've been doing just that since 2005 and have seen countless people become successful online.
If you want to know more about them I have a full review for Wealthy Affiliate that you can read here and if you like what you see all you need to do is click the banner below for free access.
You don't need a credit card or anything like that, just an email and your name and you're good to go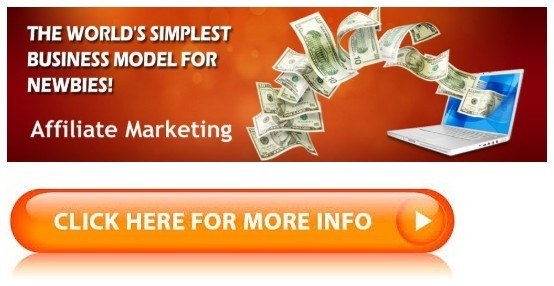 I'll meet you on the inside and be there to help you every step of the way. You'll even meet the owners who will stop by to welcome you, but whatever you decide to do I sincerely wish you all the best because there is honestly no feeling like it when you can earn money online ?