When it comes to talking some of us hate to hear our own voice, others absolutely love the sound of their own voice (some a little too much) so love it or hate it, how good would it be to be able to earn extra money as a voice over artist using your very own dulcet tones.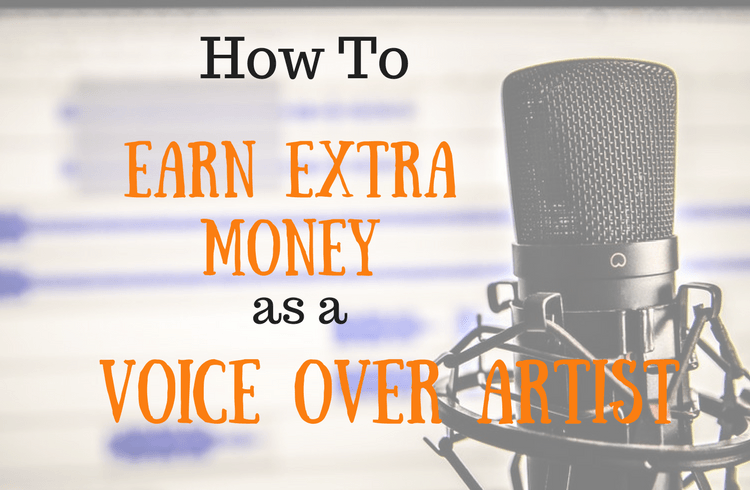 You may think that you have to have the voice of an angel to be able to qualify for voice over work….You couldn't be more wrong. Companies are constantly on the lookout for all sorts of voices to fulfill their needs.
Think about it for a second, the amount of possibilities is vast considering the opportunities on offer ranging from radio commercials to video games… yes video games. Not to mention cartoons!
They all have talking in them and as i'm sure you know Bugs Bunny and Daffy Duck can't actually speak for themselves (sorry if i spoiled that for you)
Now i'm not saying your going to be the next voice for Bugs or Daffy, but you get the idea.
Take a quick look at the video below to get some idea of what its like to be a voice over artist.
tools of the trade
If you thought you were going to get away with only your voice as the only piece of equipment then i'm sorry to say you're going to have to spend some money on some vital stuff to get you going.
You don't need top of the range stuff just yet, but you are going to need the basics to get started.
A quiet area/room with sound-proofing
 A microphone and xlr cable
A computer with recording software installed (something like audacity which is a free program)
A mixer
Now these items don't need to be brand new, they just need to work properly. Get the best you can for your budget.
show me the money
So, what can you expect to earn as a voice over artist.
The image below courtesy of voices.com shows a snapshot what you can expect to earn from radio and television commercials.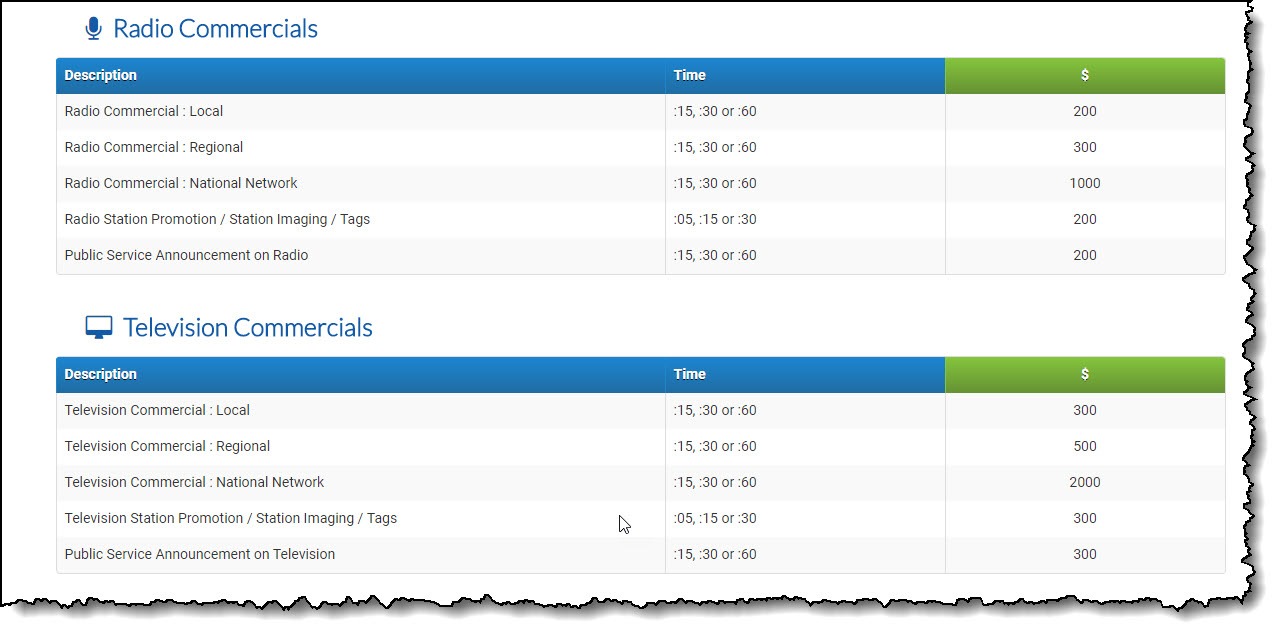 As you can see the earning potential is pretty damn good!        
so how do i get started
Well there are various ways to enter the voice over world and i'll list some of them here for you to make it that little bit easier.
Voices.com was founded in 2005 by David and Stephanie Ciccarelli with the idea of crating a business that solely focused on one area…voice overs…pure and simple.
Their website is a goldmine of information for anyone looking to learn a little bit more about the business, such as 'the beginners guide to voice acting' or if you have a bit more experience 'the professionals guide to voice acting'.
Their client list includes the likes of GoDaddy and Microsoft.
There are 3 different plans:
Guest…………………..free
Premium Lite……….$49.95 a month billed every month
Premium……………..$33.25 a month billed every year
All memberships have 4 basic features such as personal profile, storage for your demo, the ability to be found in the directory and payment protection
Premium as you would expect has the most features which you are encouraged to join up to but, if you are a complete beginner then the Guest plan would be a good starting point.
They also strongly recommend having your own website to showcase your talent, however they don't actually tell you how to build one, but this is your lucky day, i can offer you not 1 but 2 totally free websites and the opportunity to learn how to make it a success.
Voice123 was launched on the 13th of June 2003 and some of their clients include the likes of History channel, Pixar and electronic Arts to name a few.
With Voice123 a buyer will post a project on the website then the companies 'smartcast' will find the actor best suited to the needs of the buyer. This is done by an algorithm which uses data from the actors profile as well as factors such as deadlines, delivery method, gender and voice age, etc.
To start with you can make use of the free standard subscription which if you are new to this industry is a great way to get a feel for the way things work.
The profile you create on this plan will actually be indexed by Google and other search engines so buyers can also find you that way as well as the search feature on Voice123.
When you're more comfortable you can upgrade to premium which gives you a much better chance of landing a project because all premium members are invited to audition if that particular project matches your profile. This option doesn't come cheap at $395.00 a year, but should give you more work as a result.
Founded in 2012, Voicebunny is a sister company of Voice123, but unlike it's older sister Voicebunny is a place for experienced voice actors.
If you have experience as a voice over artist then you can join their application process which entails determining certain attributes, if you make through this then your work will be shown to their many clients.
But, as Voicebunny is clear to point out, less than 2% of the people that apply actually get put on their books.
The ones that do make it can dictate what their own rates will be and won't have to pay commission or subscription fees.
going it alone
If you have your home studio set up and are quite confident of your voice over skills then you might want to go it alone and approach potential customer directly.
youtube
But where do you start….well have you heard of YouTube……only kidding of course you have.
Now YouTube has just about every subject under the sun and a lot of them have no actual spoken word only music.
Now what if you were to find one of these videos with a reasonable sized audience and pretty recent uploads. You would then contact the owner to see if they would be interested in your services.
amazon acx
Audiobook Creation Exchange or ACX for short offers a vast library of books that accept auditions for voice over narration.
As a narrator you would audition for any books you think you could do a good job of providing a voice over for. You simply record a sample of the book and submit it, then you just have to wait and see if you're the authors No1 choice.
If you're lucky enough to be picked then it's time to hit the recording studio.
podcasts
Podcasts are a great way to listen to blogs rather than read them, a lot of people don't have the time to sit down at their computer and read a lengthy post, but would find it much more convenient to listen to them perhaps while doing the everyday chores or working out down the gym or simply lying on a sunbed on a sun drenched Caribbean beach………
Anyway back to the post.
Blogs cover virtually any subject you can think of. But a lot of them don't have the time to create a podcast, a bit like myself.
Find a blog you're interested in and make contact with the owner stating your idea. It may just be that the owner has been thinking about getting a podcast up and running and you've come along at just the right time.
The thing is there are so many blogs out there that if the first one isn't interested then just move on to the next.
SO THERE YOU HAVE SOME GREAT IDEAS FOR USING YOUR VOICE WHICH WILL GIVE YOU THE OPPORTUNITY TO START EARNING MONEY.
Are you a voice over artist? Has it been great success or a miserable failure? Or do you have any other suggestions?
Either way i'd love to hear from you 🙂