Have you ever thought of trying out data entry as a way of making some extra cash but asked yourself are data entry jobs legit?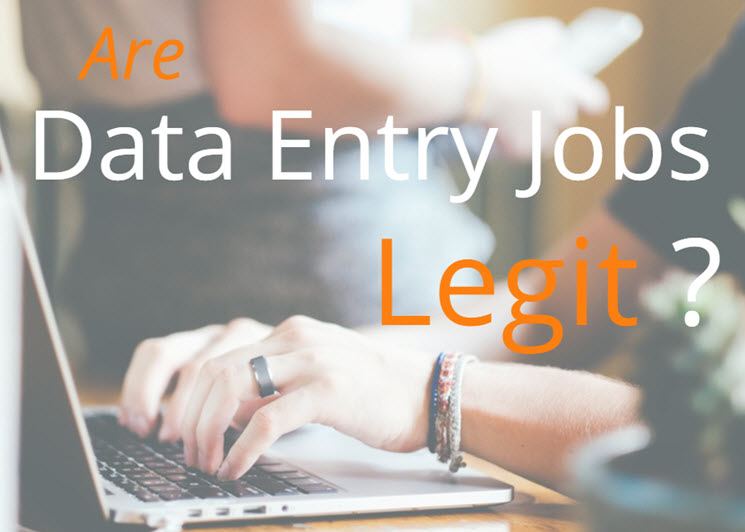 Well this post will answer your question and leave you in no doubt whether this line of income is legit or not and if you can indeed earn some money while doing it.
what is data entry
Data entry is a broad term used to descibe the input or update of data into a computer.
This data can be from a variety of sources and can either be done in an office enviroment or online at home which if you have the necessary equipment ( an internet connection and a Computer) is an increasingly popular choice for some.
qualifications 
Although there are no formal qualifications needed you will need a fundamental level of education including the ability to read and write, what is more important is your skill set.
Along with good eyesight the ability to read information is paramount.
The ability to type at a reasonable speed is of course beneficial, it's not really going to work if you can only do one finger typing, but practise makes perfect so if your words per minute are a little bit on the low side…practise to make it faster!
You would also need to be comfortable using computers as well as computer programs such as spreadsheets. If you don't yet have these skills there is nothing stopping you from going out there and getting them from your local education centre.
You will need to work to a deadline without making mistakes so a good attention to detail is a good skill to have.
places to find data entry jobs
If you are interested in data entry then a good place to start would be to visit job boards like Indeed, Monster and Flexjobs which have a good selection of jobs on offer, you just need to make sure they're home based or in an office, or you could go direct to the companies that deal with data entry.
#1
axion
Axion is a company that does not advertise for data entry operators, instead they ask you to register with them to considered for jobs that become available in the future. They give no guarantee that you will ever be contacted.
Now, to be able to be placed on their register you need to pay an 'admin fee' which is
$5 usd for 60 days
$7 usd for 120 days
$10 usd for 1 year
Pay is usually around  4-8 cents for a form or  $5-9 for a document. You can expect to complete 2-4 forms a minute while the documents can take anywhere from 30 mins to 60 mins to complete.
I found a rather interesting warning on Axions employment page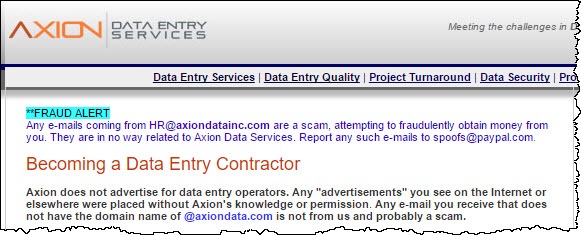 and unfortunately this is something we all need to be aware of.
There are people out there that just want to SCAM YOU out of your hard earned money, SO PLEASE BE CAREFUL! 
#2 

scribie
Scribie is a bit different than normal data entry in the fact that you actually transcribe audio/video files.
These files are 6 minutes or less and pay between $5 to $20 per audio hour. What this means is that they pay you for the length of the audio file not the amount of time it takes for you to transcribe it.
You will need a good understanding of English, a verified PayPal account and the usual computer, internet connection and a headset.
A pretty neat aspect of scribie is that you get to choose which files you want to work with, you don't automatically get given them.
Unlike Axion there is no registration fee involved.
#3 

the smart crowd
Probably the lowest pay of most data entry companies.
Although their site states they offer a 'competitive rate' reports claim they pay around $0.10 to $0.30 per 1000 keystrokes depending on the task.
Again there is no signing up fee.
After signing up you have you will need to fill out some information about yourself so you can be better matched for different tasks that are available including data research and data entry.
#4 

xerox
You might not necessarily think of a big organisation like Xerox offering home based work….but they do.
They call it the Virtual Office Program and they have an army of home based workers fulfilling various tasks including data entry. Be warned though the data entry jobs don't stick around for long.
#5 

mechanical turk
This is Amazons' very own Human Intelligence Tasks or HITs for short.
They have numerous tasks that need fulfilling, at the moment they have one transcribing task that is paying $189.39. These sort of higher paying HITs require you to qualify for them by completing enough HITs to be able to be granted qualification.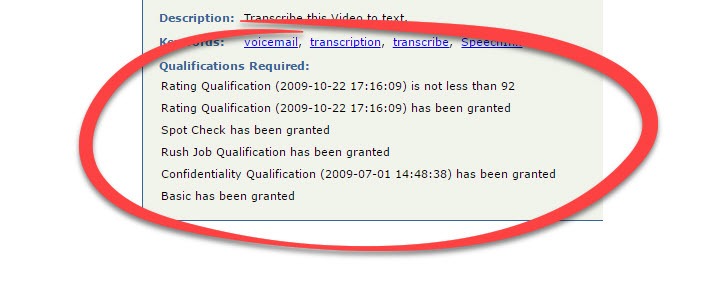 If you were willing to put in the time at this then the potential is there to make some reasonable money.
There are reports of some people earning anywhere from $150 – $300 a week. 
so are data entry jobs legit?
Absolutley, you just have to be careful in choosing what companies you want to work with. if you're not sure about the legitimacy of a data entry job then you might want to join Flexjobs because they screen every job and company to ensure there are no scams so you can feel safe with any potential job.
Do you have a particular favorite you want to try?
Any other suggestions?
Let me know, i'd love to hear from you ?
Have fun!